Best Fishing Guides In Maryland
Hire a guide to take you fishing in MD.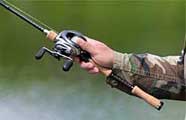 Hire a fishing guide to fish for largemouth bass, smallmouth bass, channel catfish, blue catfish, black crappie, white crappie, walleye, rainbow trout, cutthroat trout, brook trout, brown trout, bluegill, redear sunfish, rock bass, warmouth, white perch, yellow perch, stripers, chain pickerel, muskie, northern pike and tiger muskie in local lakes.

Maryland Fishing Guides
Other Local Guides
For the ultimate fishing experience, hire a professional guide. They know the MD fishery inside out and have determined the best techniques for catching fish at various times of the year.
Tight Lines Unlimited - 443 955-3304
Tim Carver - [email protected]
Focus Species: Trout. Fly fishing guide service in the Western Maryland area. Wade and float trips on the Casselman, Savage and North Branch of the Potomac. Whether you are a beginner or expert, some of the world's best fresh water fly fishing areas are located in Western Maryland.
Maryland Fishing Guide Services
In addition to catching fish, guides teach you techniques which you will use over a lifetime of fishing. Learn tips on rods, reels, line, knots, lures, hook types, techniques and much more...all by spending the day in a boat with a local guide.
Fishing guide information for other states.
MARYLAND