Fishing At Triadelphia Reservoir
AKA: Triadelphia Lake
What to fish for...
Guide to fishing for largemouth bass, smallmouth bass, channel catfish, white crappie, walleye, bluegill, yellow perch, muskie and northern pike at Triadelphia Reservoir in Maryland.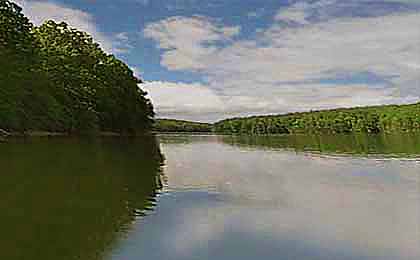 Peace and serenity are a major attraction at Triadelphia Reservoir which is an 800-acre lake in the central part of the state. The quiet comes from a lack of gasoline boat motors, as the lake only allows canoes, kayaks, row boats and car-toppers.
Triadelphia Reservoir, located in Maryland, is a haven for fishing enthusiasts seeking a tranquil and rewarding angling experience. The reservoir is known for its diverse fish population, making it a prime spot for various popular fish species. Anglers can target a range of fish, including largemouth bass, smallmouth bass, crappie, catfish, and sunfish. Triadelphia Reservoir's pristine waters, submerged structures, and ample forage provide excellent conditions for these species, ensuring an exciting fishing adventure.
Boating is a popular activity at Triadelphia Reservoir, allowing visitors to explore the expansive waters and enjoy the surrounding natural beauty. Non-motorized watercraft such as kayaks, canoes, and paddleboards are permitted, offering a peaceful and environmentally friendly boating experience. Boaters can leisurely cruise along the reservoir's calm waters, search for secluded fishing spots, and take in the scenic vistas that the reservoir has to offer.
These boating restrictions deters some anglers, and reduces the fishing pressure. Come enjoy the scenic, 15 miles of shoreline where you can target crappie, yellow perch and bass, as well as muskie, northern pike, walleye and catfish. There are no campgrounds, marinas, rental boats or RV hookups. Services available include supplies, tackle, restaurants and two boat launch ramps.
Camping is not available directly at Triadelphia Reservoir; however, there are nearby camping options that allow visitors to extend their outdoor experience. Patuxent River State Park, which encompasses the reservoir, offers camping facilities and scenic campsites. Camping at Patuxent River State Park provides an opportunity to combine fishing at Triadelphia Reservoir with a peaceful camping retreat, allowing visitors to immerse themselves in nature and enjoy the tranquil ambiance of the area.
Triadelphia Reservoir offers a serene and picturesque setting for fishing, boating, and outdoor recreation in Maryland. With its diverse fish species, tranquil boating opportunities, and nearby camping options, the reservoir provides a well-rounded outdoor experience for enthusiasts. Whether you're casting a line for bass, paddling across the calm waters, or enjoying a camping getaway surrounded by nature, Triadelphia Reservoir offers ample recreational opportunities for visitors to relax, reconnect with the outdoors, and create lasting memories.

Primary fish species residing in Triadelphia Reservoir
Click images for fishing tips and details about each species.
Triadelphia Reservoir Amenities
Marina: NO
Boat Rental: NO
Boat Launch Ramp: YES - 2
Campgrounds: NO
RV Hookups: NO
Lodging: NEARBY
Convenience Store: YES
Bait & Tackle: YES
Restaurant: YES
Today's Weather & Forecast
Public Boat Launch Ramps & Landings
Greenbridge Recreation Area Boat Launch Ramp
Located in the southwest section of the lake, off Greenbridge Road, this is a one-lane, concrete ramp with paved parking.
Click here for a Maryland Fishing License.
Campgrounds & RV Parks Nearby
No campgrounds or RV hookups are at, or nearby, the lake.
Triadelphia Reservoir MD Map - Fishing & Camping Areas
Lake Video
Contact Information
Triadelphia Reservoir
Triadelphia Recreation Area
Brighton Dam Information Center
2 Brighton Dam Road
Brookville, MD 20833
301 206-7485
Fishing lakes in each state.
Triadelphia Reservoir in MD
MARYLAND


Fishing for crappie, yellow perch and bass in central MD.
Triadelphia Reservoir, in Maryland.