Guide To Fishing At Lake Lillinonah
AKA: Lake Lillinonah Boat Launch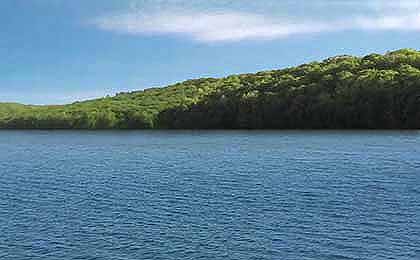 Spanning a section of the Housatonic River and the Shepaug River, Lake Lillinonah is a 1,900-acre lake in the northwest corner of the state, nearby Newtown. The vast majority of the 45 miles of shoreline are wooded with plenty of brush, timber and laydowns for fish to use as hiding places.
Lake Lillinonah, located on the Housatonic River in western Connecticut, is a popular destination for fishing enthusiasts. This 1,900-acre lake offers a variety of fishing opportunities and is known for its abundant fish population.
One of the most sought-after fish species in Lake Lillinonah is the trophy-sized smallmouth bass. Anglers from far and wide come to this lake to target these hard-fighting and acrobatic game fish. The rocky shorelines, submerged structures, and deep channels provide excellent habitat for smallmouth bass. Anglers often use techniques such as casting with jigs, soft plastic baits, or crankbaits to entice the smallmouth bass lurking in the lake's clear waters.
Lake Lillinonah is also home to other popular fish species, including largemouth bass, northern pike, walleye, and various panfish species such as yellow perch and black crappie. Largemouth bass can be found near the weed beds and submerged vegetation, while pike and walleye often inhabit the deeper sections of the lake. Anglers can enjoy targeting these species using a variety of baits and lures, including spinnerbaits, live minnows, or swimbaits.
Boating is a popular activity on Lake Lillinonah, allowing anglers to explore its expansive waters and access different fishing spots. The lake permits motorized boats, making it convenient for anglers to navigate the waters and cover larger areas. Additionally, canoes, kayaks, and paddleboards are also commonly seen on the lake, offering a quieter and more intimate fishing experience.
While camping is not directly available at Lake Lillinonah, there are nearby campgrounds and state parks where anglers can set up their tents or RVs to extend their fishing trips. These camping options provide amenities such as picnic areas, restroom facilities, and access to hiking trails, allowing anglers to fully immerse themselves in the natural beauty of the area.
When planning a fishing trip to Lake Lillinonah, anglers should familiarize themselves with the fishing regulations specific to the lake, including size and creel limits for different fish species. It is important to respect these regulations to preserve the health of the fish populations and ensure sustainable fishing practices.
Lake Lillinonah in Connecticut offers anglers a rewarding fishing experience with its diverse fish populations, ample boating opportunities, and beautiful surroundings. Whether you're targeting bass, pike, walleye, or panfish, Lake Lillinonah provides a memorable fishing adventure in the heart of Connecticut's scenic landscape.
Bass, sunfish, chain pickerel and northern pike use these shallow banks in spring, summer and fall. In winter they join catfish and perch in varying depths of deeper water. Ice fishing is popular in winter. The Lake Lillinonah Boat Launch is open to the public and has over 50 parking spaces for vehicles with trailers. Due to the thick woods it is difficult to find places to fish from the bank, but one option is around the boat launch. Note, this lake is subject to algae blooms that can be harmful to the fish population and impact fishing success.

What to fish for...
Fishing for largemouth bass, smallmouth bass, white catfish, bluegill, green sunfish, pumpkinseed sunfish,white perch, yellow perch, chain pickerel and northern pike at Lake Lillinonah in Connecticut.
Primary fish species residing in Lake Lillinonah
Click images for fishing tips and details about each species.
Lake Lillinonah Amenities
Marina: NO
Boat Rental: NO
Boat Launch Ramp: YES
Campgrounds: YES
RV Hookups: NO
Lodging: NEARBY
Convenience Store: YES
Bait & Tackle: YES
Restaurant: YES
Today's Weather & Forecast
Public Boat Launch Ramps & Landings
Lake Lillinonah Boat Launch Ramp
Located mid lake, northeast side, at the north end of the State Route 133 Bridge, this is a two-lane, concrete ramp with a dock and paved parking.
Lake Lillinonah - Pond Brook Boat Launch Ramp
Located mid lake, southwest side, off Hanover Road, this is a two-lane, concrete ramp with gravel parking.
Click here for a Connecticut Fishing License.
Campgrounds & RV Parks Nearby
Kettletown State Park Campground - 203 264-5678
Webb Mountain Park - 203 452-2806
Lake Lillinonah CT Map - Fishing & Camping Areas
Lake Video
Contact Information
Lake Lillinonah
Lake Lillinonah Boat Launch
Newtown, CT 06470
203 270-2800
Fishing lakes in each state.
Lake Lillinonah in CT
CONNECTICUT


Fishing for bass, perch and sunfish in northwest CT.
Lake Lillinonah, in Connecticut.