Taking Kids Fishing In Connecticut
Ideas and locations to take kids fishing in CT.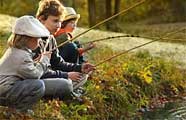 Connecticut provides wonderful opportunities for kids to get into fishing and enjoy the outdoors. Several fish species are ideal for kids to target, offering a rewarding and exciting fishing experience.
One popular species for kids to catch in Connecticut is the sunfish. Sunfish, including bluegill and pumpkinseed, can be found in many lakes, ponds, and rivers throughout the state. These colorful and eager biters are perfect for young anglers to practice their fishing skills. They can be caught using simple fishing rigs such as a bobber and worm, making it easy for kids to get started.
Another great species for kids to target is the stocked trout. Connecticut's lakes, ponds, and rivers receive regular trout stockings, providing excellent opportunities for kids to reel in these prized game fish. Rainbow trout, brown trout, and brook trout can be caught using bait such as worms, corn, or PowerBait. Popular locations for trout fishing include rivers like the Farmington and Housatonic, as well as stocked ponds and lakes.
Connecticut also offers urban fishing locations that are convenient for families. Places like Stanley Quarter Park in New Britain, Keney Park Pond in Hartford, and Mohegan Park Pond in Norwich are just a few examples of urban fishing spots where kids can enjoy fishing close to home. These locations are often stocked with a variety of fish species, including trout, sunfish, and catfish, providing a great opportunity for kids to experience the thrill of catching fish.
When taking kids fishing in Connecticut, it's important to make the experience enjoyable and safe. Teach them the basics of fishing, including casting, reeling, and handling fish responsibly. Always ensure they have appropriate safety gear, such as life jackets when fishing near water bodies. It's also important to follow fishing regulations and obtain the necessary fishing licenses for adults.
Introducing kids to fishing in Connecticut not only fosters a love for the outdoors but also teaches them important skills such as patience, responsibility, and respect for nature. The state's abundant fish populations and accessible fishing locations make it an ideal place for families to create lasting memories while enjoying the sport of fishing together.
Fishing and the great outdoors offers kids an alternative to many influences they encounter in their busy lives today. A single fishing trip could be the turning point in a young life, and we encourage you to invest the time in kids. Ice fishing is fun for kids and teaches them the basics of fishing. The rewards are endless and it takes so little effort.

Places in Connecticut to take kids fishing
Consider these small lakes, ponds, creeks and urban fishing locations as places to take a kid fishing in the Constitution State.
Danbury
- Kaatz Pond Park
Hartford
- Birge Pond Park
- Crescent Lake
- Page Park
- Stanley Quarter Pond
Middletown
- Beseck Lake
New Haven
- Beaver Ponds Park
- Criscuolo Park
- East Rock Park
- Edgewood Park
Salem
- Gardner Lake
Stamford
- Cove Island Park
- Cummings Park
- River Trail in Mianus River Park
Top 3 tips for taking kids fishing in IL
1. Make sure that the goal is to have fun. Catching fish is a bonus.
2. Keep it simple. Simple tackle, techniques and locations.
3. Keep the focus on the kids. Be a hero by helping them enjoy the day.
Click here for additional tips to create a successful day of fishing for kids.
Kids Fishing Video
Youngsters with their prized catch
This could be your child, grandchild or any kid you took fishing. Take a picture and send it to us. We will happily post it here for them.
---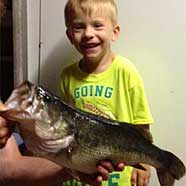 Caden Belisle, age 3 with his 5 lb, trophy bass from Cedar Lake in Wolcott. Caden caught it on a plastic worm.
---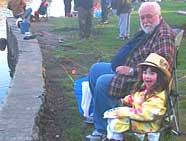 Makendra Mowad fishing with her Papa on opening day. She caught her first fish too!
---
Take a kid fishing and bring your camera! These are a few of the places to take them fishing and get some great pictures.
Kids, fishing and smiles naturally go together. Take a kid fishing and you just might change the course of their life. Then take pictures and send us one of them holding their prized catch. We will happily post it here.
Click here for additional tips to create a successful day of fishing for kids.
Kids fishing locations and information, by state.
Help us identify other youth fishing spots in CT.
If you are aware of a great place to take kids fishing in your area, please let us know. We can add it to our list. Every kid that catches a fish will appreciate the fact that you made the effort.
CONNECTICUT