Fishing At Lake McDonough
AKA: Barkhamsted Lake
What to fish for...
Guide to fishing for largemouth bass, smallmouth bass, rainbow trout, brook trout, brown trout, bluegill, pumpkinseed sunfish, yellow perch and chain pickerel at Lake McDonough in Connecticut.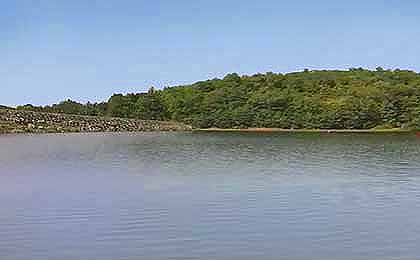 An ideal lake for fishing from the bank, Lake McDonough aka Barkhamsted Lake is a 390-acre lake in the northwest corner of the state at Hartland. The lake has about 9 miles of shoreline, and sections in many areas around the lake are accessible to fish from shore.
The purpose of this page is to deliver an overview of this lake, the fishing options, and area amenities. Our goal is to provide info to first time visitors, as well as beginner and novice anglers. We gathered details from personal experience, numerous trusted websites that each offer select bits of information, and videos of fishing activity on the lake. These websites include the Department of Energy & Environmental Protection, marinas at the lake, campgrounds, boat rental agencies and others. By consolidating this information to one page it allows visitors to see the entire picture, all in one place.
Lake Video
Lake McDonough, located in Barkhamsted, Connecticut, is a pristine and serene destination for fishing enthusiasts. This 116-acre lake, nestled within the scenic surroundings of the Nepaug State Forest, offers a tranquil setting for anglers to enjoy a day of fishing.
One of the popular fish species found in Lake McDonough is trout. The lake is stocked with both rainbow trout and brown trout, providing ample opportunities for anglers to test their skills. Trout fishing is particularly popular in the spring and fall when the water temperatures are cooler. Anglers often use a variety of baits and lures, such as live worms, artificial flies, or spinners, to entice these prized game fish.
In addition to trout, Lake McDonough is also home to other fish species such as largemouth bass, smallmouth bass, and yellow perch. Bass fishing enthusiasts can explore the lake's shorelines, submerged structures, and weed beds in search of these game fish. Anglers often use techniques like casting with soft plastic baits, crankbaits, or topwater lures to attract the attention of the bass.
When planning a fishing trip to Lake McDonough, anglers should familiarize themselves with the fishing regulations specific to the lake, including size and creel limits for different fish species. It is important to follow these regulations to preserve the fish population and maintain the integrity of the fishery.
Lake McDonough in Connecticut offers anglers a peaceful and scenic fishing experience, with its diverse fish species, calm waters, and surrounding forested landscapes. Whether you're targeting trout, bass, or perch, Lake McDonough provides a tranquil setting for anglers to enjoy a memorable fishing adventure in the heart of nature.
Boats are limited to 10 mph maximum which makes this an ideal body of water for kayaks, canoes and row boats. The Lake McDonough Boathouse offers rowboat rentals and has a boat launch ramp open to the public for a fee. Bass, trout, sunfish and perch are all plentiful here as fishing pressure is low due to the speed limit.

Primary fish species residing in Lake McDonough
Click images for fishing tips and details about each species.
Lake McDonough Amenities
Marina: NO
Boat Rental: YES
Boat Launch Ramp: YES
Campgrounds: NEARBY
RV Hookups: NEARBY
Lodging: NEARBY
Convenience Store: NEARBY
Bait & Tackle: YES
Restaurant: YES
Today's Weather & Forecast
Boating is a popular activity on Lake McDonough, allowing anglers to access different areas of the lake and find their preferred fishing spots. The lake permits non-motorized boats, including canoes, kayaks, and paddleboards, creating a peaceful and environmentally friendly fishing experience.
Public Boat Launch Ramps & Landings
Lake McDonough Boat Launch Ramp
Located in the northeast section of the lake, off Reservoir Road, this is a six-lane, concrete ramp with docks and paved parking.
Click here for a Connecticut Fishing License.
Camping facilities are available at Lake McDonough, offering anglers the opportunity to extend their fishing trips and fully immerse themselves in the natural beauty of the area. The nearby American Legion State Forest provides campsites and amenities such as picnic areas, restrooms, and hiking trails, ensuring a comfortable and enjoyable camping experience.
Campgrounds & RV Parks Nearby
Austin Hawes Campground - 860 379-0922
White Pines Campsites - 860 379-0124
Lake McDonough CT Map - Fishing & Camping Areas
Contact Information
Lake McDonough
Lake McDonough Boat Launch
Reservoir Rd
Barkhamsted, CT 06063
860 278-7850
Fishing lakes in each state.
Lake McDonough in CT
CONNECTICUT


Fishing for bass, trout, sunfish and perch in northwest CT.
Lake McDonough, in Connecticut.