Striped Bass Fishing In Indiana
Indiana offers excellent opportunities for striped bass fishing, with several major lakes in the state providing exciting angling experiences for anglers pursuing these powerful and highly prized fish. While striped bass are not native to Indiana, they have been introduced to certain lakes, creating exciting fishing opportunities for anglers.
Lake Monroe, located in south-central Indiana, is one of the primary destinations for striped bass fishing in the state. Anglers target striped bass in Lake Monroe using a variety of techniques, including trolling with deep-diving plugs, casting with swimbaits, or fishing with live bait such as shad or large minnows. The sheer size and depth of Lake Monroe create an ideal habitat for striped bass, offering anglers the chance to hook into some trophy-sized fish.
Another notable lake for striped bass fishing in Indiana is Patoka Lake. Patoka Lake boasts a healthy population of striped bass, providing anglers with ample opportunities to pursue these hard-fighting fish. Anglers can target striped bass in Patoka Lake using similar techniques to those used in Lake Monroe, such as trolling with deep-diving plugs or casting with swimbaits.
Striped bass can reach impressive sizes, and Indiana has seen its fair share of record-breaking catches. The state record for striped bass in Indiana is currently held by a fish over 39 pounds. This record serves as a testament to the potential for trophy-sized striped bass in Indiana's lakes.
When pursuing striped bass in Indiana, it is crucial to familiarize yourself with local fishing regulations, including size and bag limits, as well as any specific rules and seasons related to striped bass fishing. Adhering to these regulations helps maintain the sustainability of the striped bass population and ensures a positive fishing experience for all anglers.
Indiana's striped bass fishing offers a thrilling angling experience for those seeking a challenging and rewarding pursuit. Whether fishing in Lake Monroe, Patoka Lake, or other bodies of water where striped bass are found, anglers have the opportunity to hook into these powerful fish and create lasting memories. With proper preparation, knowledge of fishing techniques, and respect for the environment, Indiana's striped bass fishing provides anglers with an exhilarating fishing adventure.
Striped Bass Lakes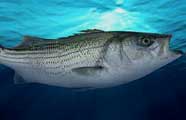 In Indiana you have several good choices for striper fishing. The Ohio River is home to big stripers, Lake Michigan is always a great bet, plus you can try your luck at major lakes including Cagles Mill Lake, Cecil M Harden Lake, Geist Lake, Lake Freeman, Lake Monroe, Lake Papakeechie, Patoka Lake and Tippecanoe Lake.

Striped Bass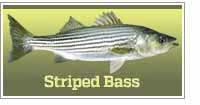 Inland world record: 64 lbs 8 oz
State Record: 39.08 lbs
Click the images and links above for species details.
The Cecil M. Harden Lake yielded the Indiana state record striper.
Fishing for Stripers in Indiana
When fishing for stripers concentrate on the deeper waters in the lake. If you can locate schools of shad, stripers are often close by. When the baitfish are shallow over the deep water, you can catch stripers on crankbaits or by swimming spoons at appropriate depths. Check Indiana fishing reports for current striper information. And for the ultimate thrill try large topwater baits if you see any surface feeding action. When the stripers are deep, jigs and jigging spoons work well. Live and cut bait will also take striped bass when they are in medium to deeper water. Fish nearby or in the river channel if it is a defined depth change. Trolling is also an excellent way to fish for stripers. Use flashy lures in bigger sizes.
Click here for a Indiana Fishing License.
Striper Fishing Video
Learn the basics for catching striped bass.
While stripers are native to salt water, they naturally migrate into fresh water streams to spawn. Their eggs must remain in motion in order to hatch so the fresh water rivers and streams become the ideal spawning grounds for stripers. Landlocked stripers then populate the lakes.
Striped bass fishing information, by state.
Learn the migration of stripers
The more you know about the seasonal migration of striped bass, the more likely you are to be looking in the right area next time you visit Indiana striper fishing lakes. Visit the striped bass fishing page for more in-depth information about striper movements.
INDIANA