Indiana Crappie Fishing
Crappie Waters In IN
All about fishing for white and black crappie.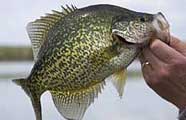 Like many states, the state record crappie was caught in a private pond. However, the most consistent stringers come from massive schools of crappie in major lakes including Barbee Lake, Bass Lake, Big Long Lake, Big Turkey Lake, Bluegrass FWA, Brookville Lake, Cagles Mill Lake, Cecil M Harden Lake, Dewart Lake, Dogwood Lake, Eagle Creek Reservoir, Geist Lake, Hamilton Lake, Hardy Lake, Hovey Lake, J C Murphey Lake, J Edward Roush Lake, Jimmerson Lake, Kuhn Lake, Lake Freeman, Lake Lemon, Lake Manitou, Lake Maxinkuckee, Lake Michigan, Lake Papakeechie, Lake Shafer, Lake Wawasee, Mississinewa Reservoir, Monroe Lake, Morse Reservoir, Nyona Lake, Patoka Lake, Pine Lake, Prairie Creek Reservoir, Salamonie Lake, Summit Lake, Sylvan Lake, Syracuse Lake, Tippecanoe Lake, Turtle Creek Reservoir, Waubee Lake, Webster Lake, West Boggs Lake, Winona Lake, Witmer Lake and Worster Lake.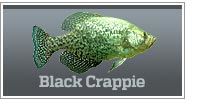 World record: 6 lbs 0 oz
State Record: 4 lbs 11 oz*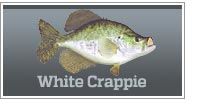 World record: 5 lbs 3 oz
State Record: 4 lbs 11 oz*
Click the images and links above for species details.
The state record crappie was caught in a private pond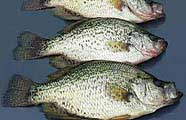 Crappie are actually a member of the sunfish family and can be found in many Indiana lakes. Crappie are known by many different local names. Paper mouth, goggleye, bridge perch, slabs and speckled perch, are just a few.
Click here for a Indiana Fishing License.
Crappie Fishing Basics
Check out crappie information, by state.
The life cycle of crappie.
The more you know about crappie, the easier it will be to locate and catch them in Indiana lakes and rivers. Visit the crappie fishing page for details about their seasonal migrations.
INDIANA