Fishing At Lake Wawasee
AKA: Wawasee Lake
What to fish for...
Guide to fishing for largemouth bass, smallmouth bass, black crappie, walleye, bluegill, rock bass, yellow perch and northern pike at Lake Wawasee in Indiana.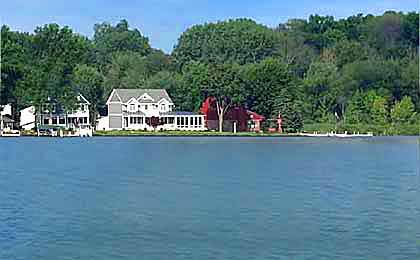 At over 3,000 surface acres with a wide variety of fish species to pursue, Lake Wawasee is an anglers paradise. It is located in the northeast Indiana along the southeast outskirts of Syracuse. If you like fishing around boat docks, the lake is lined with them. The lake is populated with healthy schools of bluegill and sunfish. The lake also provides some good bass fishing as well as walleye and northern pike. There are some opportunities for shoreline fishing, but the most efficient way to catch fish here is by boat.
Lake Wawasee, situated in northern Indiana, is a magnificent destination for fishing enthusiasts seeking a memorable angling experience. With its sprawling 3,500-acre surface area, this glimmering lake offers abundant fishing opportunities for all skill levels. Lake Wawasee is known for its diverse fish population, making it a favored spot among local anglers and visitors alike. Popular fish species found in Lake Wawasee include largemouth bass, smallmouth bass, crappie, bluegill, perch, and northern pike. Anglers can cast their lines from the shore or venture out onto the water in a boat to find their perfect fishing spots.
Boating is also a cherished activity at Lake Wawasee, as its expansive waters provide a perfect setting for leisurely cruises and water sports adventures. Boaters can navigate the lake's gentle waves, admire the breathtaking shoreline, and partake in activities such as water skiing or wakeboarding. Lake Wawasee offers boat ramps and marinas, ensuring convenient access for boaters to launch their vessels and make the most of their time on the water.
While camping directly at Lake Wawasee may not be available, there are nearby campgrounds and parks that offer camping facilities. These campgrounds provide options for both tent camping and RV camping, allowing visitors to immerse themselves in nature and enjoy the tranquility of the area. Camping near Lake Wawasee offers the chance to wake up to stunning lake views, enjoy hiking trails, and have convenient access to fishing and boating activities throughout their stay.
Lake Wawasee in Indiana is a true haven for fishing, boating, and camping enthusiasts. Its diverse fish population, scenic beauty, and recreational opportunities make it an ideal destination for outdoor adventures and relaxation. As with any fishing or boating excursion, it's important to familiarize yourself with local regulations, obtain the necessary permits, and practice responsible fishing and camping to help preserve the natural resources and ensure a sustainable environment for future generations to enjoy the beauty of Lake Wawasee.
Ice fishing during winter at Lake Wawasee can often produce nice catches. Check with local officials for authorization and Indiana DNR for regulations before attempting to fish through the ice on any lake.

Primary fish species residing in Wawasee Lake
Click images for fishing tips and details about each species.
Lake Wawasee Amenities
Marina: YES
Boat Rental: YES
Boat Launch Ramp: YES
Campgrounds: NO
RV Hookups: NO
Lodging: YES
Convenience Store: YES
Bait & Tackle: YES
Restaurant: YES
Today's Weather & Forecast
Fishing Boat Rentals
Griffith's Wawasee Marina
Rentals: Pontoon boats
260 856-2286
Wawasee Boat Company
Rentals: Pontoon boats
574 457-4404
Marinas
Griffith's Wawasee Marina
9171 E Ross Dr
Syracuse, IN 46567
260 856-2286
Public Boat Launch Ramps & Landings
Lake Wawasee Public Access
Located in the southeast corner of the lake, off N Turkey Creek Road, this is a two-lane, concrete ramp with a dock and paved parking.
Click here for a Indiana Fishing License.
Campgrounds & RV Parks Nearby
Harper Lake Campground - 260 856-2655
Pick A Spot Campground - 574 594-2635
Quaker Haven Campground - 574 834-4193
Lake Wawasee, IN Map - Fishing & Camping Areas
Lake Video
Contact Information
Lake Wawasee
Wawasee Boat Company
6521 E. Cornelius Rd.
Syracuse, IN 46567
574 457-4404
Fishing lakes in each state.
Lake Wawasee in Indiana.
INDIANA


Sunfish, perch, bass and northern pike fishing in northeast IN.
Fishing at Lake Wawasee, in Indiana.