Enjoy Excellent Striper Fishing In Arizona
Hybrid Stripers & Striped Bass Lakes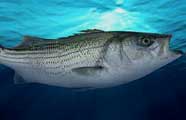 While stripers are native to salt water, they naturally migrate into fresh water streams to spawn. Their eggs must remain in motion in order to hatch so the fresh water rivers and streams become the ideal spawning grounds for stripers. Landlocked stripers then populate the lakes.
Arizona offers exciting opportunities for striped bass fishing, with one of the main attractions being the hybrid striped bass. These hybrids are a cross between striped bass and white bass, resulting in a hard-fighting and robust fish species that can reach impressive sizes. They are known for their voracious feeding habits and acrobatic fights, making them a favorite target among anglers.
Several major lakes in Arizona are renowned for their striped bass and hybrid striper fisheries. Lake Pleasant, located near Phoenix, is known for its abundant population of striped bass and offers excellent fishing opportunities. Other lakes like Lake Mead, Lake Powell, and Alamo Lake are also popular destinations for targeting striped bass. These lakes provide expansive waters and ample forage, creating an ideal habitat for these trophy fish.
Arizona has seen some remarkable striped bass catches over the years, resulting in impressive state records. The current state record for striped bass stands at over 67 pounds. This record showcases the potential for landing trophy-sized striped bass in Arizona's waters. Anglers targeting striped bass and hybrid stripers can employ various techniques, including trolling with deep-diving lures, live bait fishing, and casting artificial baits to mimic their preferred prey.
When planning a striped bass fishing trip in Arizona, it is essential to familiarize oneself with the specific regulations and bag limits for each lake. Conservation measures are in place to ensure the sustainability of these fish populations. Additionally, hiring a knowledgeable fishing guide or seeking local advice can greatly enhance the chances of success and provide valuable insights into locating these elusive and hard-fighting fish.
Arizona's striped bass and hybrid striper fisheries provide an exciting and challenging angling experience for both novice and experienced fishermen. With its breathtaking lakes, impressive state records, and the chance to land trophy-sized fish, striped bass fishing in Arizona promises adventure and memorable catches for dedicated anglers.
Striper Lakes
Lake Powell, Lake Mead, Lake Havasu, Lake Mohave and Alamo Lake are your best bets with Lake Mead having the largest population.
Striped Bass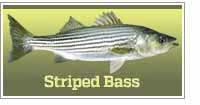 World record: 81 lbs 14 oz
State Record: 67 lbs 1 oz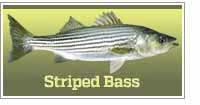 Inland world record: 64 lbs 8 oz
State Record: 29 lbs 13.76 oz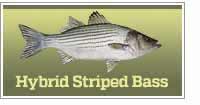 World record: 27 lbs 5 oz
State Record: 2 lbs 13.76 oz
Click the images and links above for species details.

The state record inland hybrid striper and striped bass were both caught out of Lake Pleasant.
The state record for stripers from the Colorado River was caught at Willow Beach.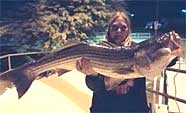 Cindy Carpenter Caught this striper in Bullhead City Arizona on October 24, 2016. It weighed 22 pounds and was 42 inches long. It took her about a half hour to land it.
Fishing for Stripers in Arizona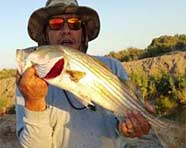 Chris Yoakum from Yuma AZ landed this striped bass on a Yum dinger, his personal best size and weight. Chris said "What a fight, drag was right, never seen line run like that,except in Jaws, have never caught a striped bass like this before. Fish On!"
When fishing for stripers concentrate on the deeper waters in the lake. If you can locate schools of shad, stripers are often close by. When the baitfish are shallow over the deep water, you can catch stripers on crankbaits or by swimming spoons at appropriate depths. Check Arizona fishing reports for current striper information. And for the ultimate thrill try large topwater baits if you see any surface feeding action. When the stripers are deep, jigs and jigging spoons work well. Live and cut bait will also take striped bass when they are in medium to deeper water. Fish nearby or in the river channel if it is a defined depth change. Trolling is also an excellent way to fish for stripers. Use flashy lures in bigger sizes.
Striper Fishing Video
Learn the basics for catching striped bass.
Striped bass fishing information, by state.
Learn the migration of stripers
The more you know about the seasonal migration of striped bass, the more likely you are to be looking in the right area next time you visit Arizona striper fishing lakes. Visit the striped bass fishing page for more in-depth information about striper movements.
ARIZONA