Salmon Fishing In North Carolina
Guide to fishing for kokanee salmon in NC.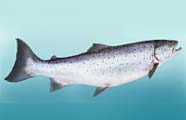 Lake Nantahala is the only recognized area in North Carolina for salmon fishing. There is a population of kokanee salmon that reach over three pounds.
Kokanee salmon are the land-locked version of sockeye salmon. Kokanee do not attain the size of sockeye because they are restricted from migrating out to the ocean to feed and bulk up. Other than their smaller size, kokanee have very similar markings and characteristics to the sockeye. Since they live in a lake for most of their lives, so you can usually locate them spawning near tributary waters that feeds into a lake.
North Carolina is not known for kokanee salmon fishing, as this species is typically found in the western parts of North America, particularly in the Pacific Northwest. Kokanee salmon are landlocked sockeye salmon and are primarily found in freshwater lakes and reservoirs. They are known for their vibrant colors and acrobatic fights, making them a popular target for anglers.
However, North Carolina does offer a variety of other exciting fishing opportunities, including saltwater fishing along its extensive coastline and freshwater fishing in its numerous lakes, rivers, and streams. Anglers in North Carolina can target a wide range of species such as largemouth bass, smallmouth bass, catfish, trout, striped bass, and more.
When it comes to state records, North Carolina recognizes and keeps records for various fish species caught within the state's waters. The North Carolina Wildlife Resources Commission maintains an official list of state records, including the largest specimens of different fish species caught by anglers.
While kokanee salmon may not be part of North Carolina's fishing landscape, anglers in the state can explore the diverse fishing opportunities available to them and try their luck at landing trophy-sized fish in their respective species. It's always a good idea to check local regulations and licensing requirements before embarking on a fishing adventure in North Carolina.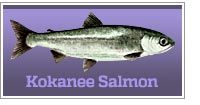 World record: 9 lbs 10 oz
State Record: 4 lbs 1 oz
Click the images and links above for species details.
The state record kokanee salmon was caught out of Nantahala Lake.
About The Pacific Salmon Family
Pacific Salmon are born in and remain in freshwater streams for the early years of life. The number varies by species. Afterward they migrate to the Pacific Ocean waters where they bulk up and prepare for their once in a lifetime spawning run up the freshwater stream where they were born. They will instinctively return to their birthplace, spawn and die. They are found in the streams which empty into the ocean and adjoining ocean waters.
North Carolina Salmon Fishing
The preferred method for catching salmon is fly fishing. Depending on the activity level, salmon may be caught on wet or dry flies, as well as a variety of other lures and baits.
Salmon fishing waters and information, by state.
Learn the life cycle of salmon
The more you know about the life cycle and seasonal migration of salmon, the more likely you are to be looking in the right area next time you visit North Carolina salmon fishing waters. Visit the salmon fishing page for more information about the life cycle of the different species of salmon.
Contribute NC Salmon Fishing Knowledge
If you have information, articles or photos relating to salmon fishing in North Carolina, which you would like to see published here, please submit them for consideration.
NORTH CAROLINA


Best salmon fishing waters in North Carolina!