Guide To Fishing For Salmon In Colorado
All about fishing for Atlantic (landlocked) salmon, chinook and kokanee salmon.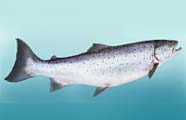 Colorado offers limited salmon fishing. They cannot spawn in Colorado, so populations of salmon are replenished by stocking. Two types of Pacific salmon are stocked in lakes and streams. They are the kokanee and the chinook salmon.
Salmon Fishing Waters In Colorado
Blue Mesa Reservoir, Carter Lake, Chambers Lake, Dillon Reservoir, Eleven Mile Reservoir, Grand Lake, Green Mountain Reservoir, Gross Reservoir, Lake Granby, Lake San Cristobal, McPhee Reservoir, Morrow Point Reservoir, Ridgway Reservoir, Ruedi Reservoir, Shadow Mountain Lake, Spinney Mountain Reservoir, Taylor Park Reservoir, Williams Fork Reservoir and Wolford Mountain Reservoir are the primary salmon fishing lakes in the state.

Rivers & Streams
The Upper Gunnison River valley provides the top tier of kokanee fishing in flowing water. River systems surrounding the lakes on the Colorado Front Range also provide some action.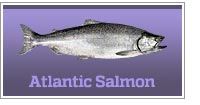 World record: 79 lbs 2 oz
State Record: Unknown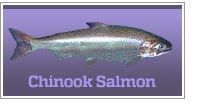 World record: 97 lbs 4 oz
State Record: 11 lbs 0 oz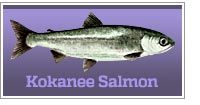 World record: 9 lbs 10 oz
State Record: 7 lbs 5 oz
Click the images and links above for species details.
Williams Fork Reservoir produced the state record chinook salmon (king).
The state record kokanee salmon came out of Blue Mesa Reservoir.
Colorado Salmon Fishing
Kokanee salmon are stocked in many Colorado waters including Beaver Creek, Eleven Mile Reservoir, Blue Mesa, Clear Creek, Grand Lake, Blue Mesa, Shadow Mountain Reservoir, Williams Fork Reservoir, Taylor Reservoirs and others.
Salmon Organizations
Salmon fishing waters and information, by state.
Learn the life cycle of salmon
The more you know about the life cycle and seasonal migration of salmon, the more likely you are to be looking in the right area next time you visit Colorado salmon fishing waters. Visit the salmon fishing page for more information about the life cycle of the different species of salmon.
COLORADO


Best salmon fishing waters in Colorado!