Guide To The Thrill Of Fishing For Salmon In North Dakota
All about fishing for chinook salmon in ND.
North Dakota offers a unique opportunity for Chinook salmon fishing, particularly in Lake Sakakawea. Chinook salmon, also known as king salmon, are a prized game fish known for their large size, aggressive strikes, and strong fighting ability.
Chinook salmon are not native to North Dakota but were introduced to Lake Sakakawea as a part of the state's fisheries management efforts. These salmon are landlocked and spend their entire lives in freshwater, making them a popular target for anglers seeking a challenging and rewarding fishing experience.
Lake Sakakawea is renowned for its Chinook salmon population, with fish reaching impressive sizes. The deep, cold waters of the lake provide an ideal habitat for these salmon to thrive. Anglers often target Chinook salmon using trolling techniques with downriggers, flashers, and bait or artificial lures to mimic their preferred prey.
Chinook salmon fishing in North Dakota typically peaks during the summer months when water temperatures are cooler and the fish are more active. This is when anglers have the best chance of landing these hard-fighting fish. However, it's important to note that Chinook salmon fishing regulations and seasons can vary, so it's essential to consult local fishing regulations before planning a trip.
Anglers targeting Chinook salmon in North Dakota should be prepared for a thrilling battle as these fish are known for their acrobatic leaps and powerful runs. Landing a trophy-sized Chinook salmon is a memorable accomplishment and a testament to the angler's skill and perseverance.
Chinook salmon fishing in North Dakota provides an exciting and unique angling experience. Whether you're a seasoned angler or a novice looking for a new challenge, pursuing these mighty salmon in the waters of Lake Sakakawea is sure to leave you with unforgettable memories and the opportunity to reel in a true trophy fish.
Salmon Fishing Waters in North Dakota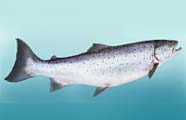 In North Dakota there are limited options for salmon fishing. Lake Oahe, Lake Sakakawea and Garrison Tailrace are the primary waters stocked with salmon.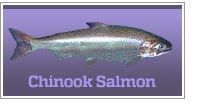 World record: 97 lbs 4 oz
State Record: 31 lbs 2 oz
Click the images and links above for species details.
North Dakota State Record Salmon
The state record chinook salmon came from Garrison Tailrace.
North Dakota Salmon Fishing
The preferred method for catching salmon is fly fishing. Depending on the activity level, salmon may be caught on wet or dry flies, as well as a variety of other lures and baits.
About The Pacific Salmon Family
Chinook are the largest member of the Pacific Salmon which are born in and remain in freshwater streams for the early years of life. The number varies by species. Afterward they migrate to the Pacific Ocean waters where they bulk up and prepare for their once in a lifetime spawning run up the freshwater stream where they were born. They will instinctively return to their birthplace, spawn and die. They are found in the streams which empty into the ocean, and adjoining ocean waters.
The preferred method for catching salmon is fly fishing. Depending on the activity level, salmon may be caught on wet or dry flies. For more details check here for articles about fly fishing.
Salmon Organizations
Salmon fishing waters and information, by state.
Learn the life cycle of salmon
The more you know about the life cycle and seasonal migration of salmon, the more likely you are to be looking in the right area next time you visit North Dakota salmon fishing waters. Visit the salmon fishing page for more information about the life cycle of the different species of salmon.
Contribute ND Salmon Fishing Knowledge
If you have information, articles or photos relating to salmon fishing in North Dakota, which you would like to see published here, please submit them for consideration.
NORTH DAKOTA


Best salmon fishing waters in North Dakota!