Guide To Fishing For Salmon In Idaho
All about fishing for Atlantic and coho salmon in ID.
Idaho is renowned for its exceptional salmon fishing opportunities, attracting anglers from far and wide. The state is home to two main species of salmon: Chinook salmon (also known as king salmon) and sockeye salmon. These iconic fish species undertake remarkable journeys to reach their spawning grounds, providing anglers with thrilling fishing experiences.
Chinook salmon, known for their large size and impressive fighting ability, are highly sought after by anglers in Idaho. These prized fish can weigh up to 50 pounds or more, making each catch an adrenaline-pumping adventure. The Salmon River and Clearwater River are popular destinations for Chinook salmon fishing in Idaho. Anglers employ various techniques, such as drift fishing, trolling, or back-bouncing, to entice these powerful fish to bite.
Sockeye salmon, while smaller in size compared to Chinook salmon, offer their own unique fishing experience. Idaho is home to one of the most remarkable sockeye salmon runs in the country, with fish returning to Redfish Lake in the Sawtooth Mountains. The journey of the sockeye salmon from the Pacific Ocean to the mountain lakes is awe-inspiring, and anglers have the opportunity to catch these vibrant and flavorful fish during their return.
Salmon fishing in Idaho typically occurs during specific seasons and is subject to regulations to ensure sustainable populations. Anglers should familiarize themselves with the rules and regulations set by the Idaho Department of Fish and Game to participate in responsible and ethical fishing practices.
Whether it's battling a Chinook salmon on the end of the line or witnessing the spectacle of sockeye salmon returning to their ancestral waters, Idaho's salmon fishing offers a captivating and memorable experience. Anglers can immerse themselves in the beauty of Idaho's rivers and witness the natural wonder of these magnificent fish species as they complete their remarkable life cycle.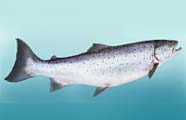 The major lakes in Idaho with quality populations of salmon include Anderson Ranch Reservoir, Arrowrock Reservoir, C J Strike Reservoir, Cascade Reservoir, Coeur D'Alene Lake, Deadwood Reservoir, Dworshak Reservoir, Hayden Lake, Island Park Reservoir, Lake Lowell, Lake Pend Oreille, Little Payette Lake, Lucky Peak Reservoir, Palisades Reservoir, Payette Lake, Priest Lake, Redfish Lake, Ririe Reservoir, Salmon Falls Creek Reservoir, Spirit Lake, Upper Priest Lake and Warm Lake. Try ice fishing for salmon at several lakes in the state.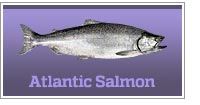 World record: 79 lbs 2 oz
State Record: 13.25 lbs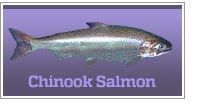 World record: 54 lbs 0 oz
State Record: 42.0 lbs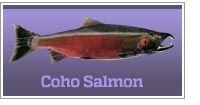 World record: 33 lbs 7 oz
State Record: 6.0 lbs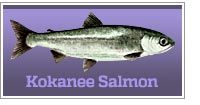 World record: 9 lbs 10 oz
State Record: 6.59 lbs
Click the images and links above for species details.
Idaho state record salmon
The state record atlantic salmon came out of Deadwood Reservoir.
The state record king-chinook salmon came from Coeur d' Alene Lake.
The state record coho salmon came from Cascade Reservoir.
The state record kokanee salmon was caught in Priest Lake.
About The Pacific Salmon Family
Pacific Salmon are born in and remain in freshwater streams for the early years of life. The number varies by species. Afterward they migrate to the Pacific Ocean waters where they bulk up and prepare for their once in a lifetime spawning run up the freshwater stream where they were born. They will instinctively return to their birthplace, spawn and die. They are found in the streams which empty into the ocean, and adjoining ocean waters.
The preferred method for catching salmon is fly fishing. Depending on the activity level, salmon may be caught on wet or dry flies. For more details check here for articles about fly fishing.
Salmon Organizations
Idaho Salmon Fishing
The preferred method for catching salmon is fly fishing. Depending on the activity level, salmon may be caught on wet or dry flies, as well as a variety of other lures and baits.
Salmon fishing waters and information, by state.
Learn the life cycle of salmon
The more you know about the life cycle and seasonal migration of salmon, the more likely you are to be looking in the right area next time you visit Idaho salmon fishing waters. Visit the salmon fishing page for more information about the life cycle of the different species of salmon.
Contribute ID Salmon Fishing Knowledge
If you have information, articles or photos relating to salmon fishing in Idaho, which you would like to see published here, please submit them for consideration.
IDAHO


Best salmon fishing waters in Idaho!