California Salmon Fishing
All about chinook, coho and kokanee fishing in CA.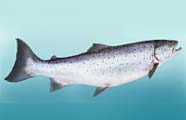 Much of the salmon fishing in CA takes place in rivers running to the Pacific Ocean. The Sacramento River, Klamath River, Smith River, and others are favorites.
Northern California lakes with a population of salmon include Donner Lake, Folsom Lake, Lake Almanor, Lake Berryessa, Lake Oroville, Los Vaqueros Reservoir, New Bullards Bar Reservoir, Shasta Lake, Trinity Lake and Whiskeytown Lake.
In Central California, Bass Lake, Cherry Lake, Lake Don Pedro, Fallen Leaf Lake, Huntington Lake, Lake Camanche, Lake Tahoe, New Melones Lake, Pine Flat Lake, Pinecrest Lake, Shaver Lake and The Delta are some of the primary lakes with a notable salmon population.
No major lakes in Southern California contain salmon.
The California state record chinook salmon (king salmon) was caught out of the Sacramento River. Paper Mill Creek produced the California state record coho salmon. Lake Tahoe was home to the CA state record kokanee salmon.
About The Pacific Salmon Family
Pacific Salmon are born in and remain in freshwater streams for the early years of life. The number varies by species. Afterward they migrate to the Pacific Ocean waters where they bulk up and prepare for their once in a lifetime spawning run up the freshwater stream where they were born. They will instinctively return to their birthplace, spawn and die. They are found in the streams which empty into the ocean, and adjoining ocean waters.
The preferred method for catching salmon is fly fishing. Depending on the activity level, salmon may be caught on wet or dry flies. For more details check here for articles about fly fishing.
Salmon Organizations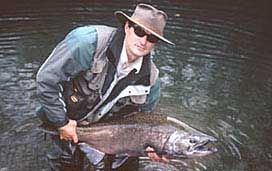 California Salmon Fishing
The preferred method for catching salmon is fly fishing. Depending on the activity level, salmon may be caught on wet or dry flies, as well as a variety of other lures and baits.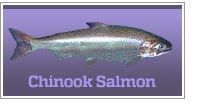 World record: 97 lbs 4 oz
Inland State Record: 20 lbs 15 oz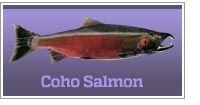 World record: 33 lbs 7 oz
Inland State Record: 8 lbs 1 oz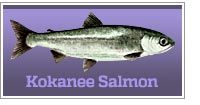 World record: 9 lbs 10 oz
State Record: 5 lbs 2 oz
By clicking on the images and links above, you will be taken to a page offering more information about the selected species.
Salmon fishing waters and information, by state.
Learn the life cycle of salmon
The more you know about the life cycle and seasonal migration of salmon, the more likely you are to be looking in the right area next time you visit California salmon fishing waters. Visit the salmon fishing page for more information about the life cycle of the different species of salmon.
CALIFORNIA


Best salmon fishing waters in California!