Fishing Guides In North Dakota
Hire a guide to take you fishing in ND.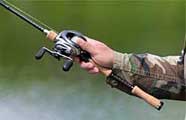 Hire a fishing guide to fish for largemouth bass, smallmouth bass, channel catfish, flathead catfish, black crappie, white crappie, walleye, rainbow trout, cutthroat trout, brown trout, lake trout, bluegill, white bass, yellow perch, chinook salmon, muskie, northern pike, paddlefish, sauger, saugeye and tiger muskie in local lakes.

North Dakota Fishing Guides
Other Local Guides
For the ultimate fishing experience, hire a professional guide. They know the ND fishery inside out and have determined the best techniques for catching fish at various times of the year.
Van Hook Guide Service - 701-421-0360
Evan Barker - [email protected]
Focus Species: Walleye. We have seven great, licensed, and insured guides with over 75 years of guiding experience. All of our boats are safe and comfortable 18 to 21ft boats. Our guides work together as a team to put you on the best fish possible.
Terry's Guide Service - 701-220-3368
Terry Focke - [email protected]
Focus Species: Walleye, Salmon, Northern Pike, Trout, Bass. Have been guiding in North Dakota for 15+ years and am a Coast Guard Captain and a member of the North Dakota Professional Guides and Outfitters Association. I specialize in fishing the Missouri River system and Lake Sakakawea for Walleye and Salmon but also fish for Trout, Pike, Bass, and other species in North Dakota.
Trophy Cat Adventures - 701 741-0724
Kent Hollands - [email protected]
Focus Species: channel catfish. Trophy Cat Adventures in is the only Coast Guard licensed guide service operating out of Grand Forks. With over 30 years of experience why trust anyone else.
North Dakota Fishing Guide Services
In addition to catching fish, guides teach you techniques which you will use over a lifetime of fishing. Learn tips on rods, reels, line, knots, lures, hook types, techniques and much more...all by spending the day in a boat with a local guide.
Fishing guide information for other states.
NORTH DAKOTA