Fishing At Fishing Creek Lake
AKA: Fishing Creek Reservoir
What to fish for...
Guide to fishing for largemouth bass, channel catfish, black crappie, bluegill and striped bass at Fishing Creek Lake in South Carolina.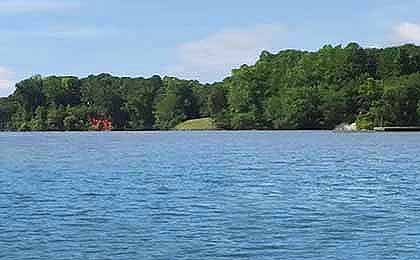 Known for big catfish, Fishing Creek Lake is a 3,100-acre lake in the north-central part of the state, 5 miles west of Springdale. Bass crappie, bluegill and striped bass share the water and create excellent fishing for all species at times. The lake has 85 miles of shoreline, most of which has wood cover for bass, crappie and sunfish.
The purpose of this page is to deliver an overview of this lake, the fishing options, and area amenities. Our goal is to provide info to first time visitors, as well as beginner and novice anglers. We gathered details from personal experience, numerous trusted websites that each offer select bits of information, and videos of fishing activity on the lake. These websites include the South Carolina Department of Natural Resources, marinas at the lake, campgrounds, boat rental agencies and others. By consolidating this information to one page it allows visitors to see the entire picture, all in one place.
Lake Video
Fishing Creek Lake, situated in the Piedmont region of South Carolina, is a hidden gem for fishing enthusiasts. Spanning approximately 3,700 acres, this picturesque reservoir offers excellent fishing opportunities for anglers seeking a peaceful and rewarding experience. The lake is well-stocked with a variety of fish species, including largemouth bass, crappie, catfish, and bream, making it an ideal destination for both recreational and tournament fishing.
Anglers can explore Fishing Creek Lake's many coves, points, and submerged structures, increasing their chances of landing a prized catch. The lake's calm waters and abundant fish population provide an optimal environment for anglers of all skill levels. Whether you prefer casting from the shoreline or navigating the lake in a boat, Fishing Creek Lake offers plenty of options to accommodate different fishing preferences.
Fishing Creek Lake in South Carolina is a hidden paradise for fishing, boating, and camping enthusiasts. Its abundant fish population, serene waters, and scenic surroundings make it a perfect getaway for those seeking a tranquil and rewarding outdoor experience. Whether you're an avid angler, a boating enthusiast, or simply looking to connect with nature through camping, Fishing Creek Lake provides ample opportunities for relaxation and adventure.
Channel catfish feed on bream and grow to giant size. Several boar ramps, a marina, bait, campgrounds, convenience stores and rental boats are all located at the lake. Canoes and kayaks can be portaged from additional access areas around the lake many of which allow fishing from the bank.

Primary fish species residing in Fishing Creek Lake
Click images for fishing tips and details about each species.
Fishing Creek Lake Amenities
Marina: YES
Boat Rental: YES
Boat Launch Ramp: YES (3)
Campgrounds: YES
RV Hookups: YES
Lodging: NEARBY
Convenience Store: YES
Bait & Tackle: YES
Restaurant: YES
Today's Weather & Forecast
Boating enthusiasts will find Fishing Creek Lake equally enticing. The lake allows various types of watercraft, including motorboats, canoes, and kayaks. Boaters can leisurely cruise along the lake's tranquil surface, enjoying the scenic beauty and the opportunity to access more secluded fishing spots. The lake's boat ramps and designated boating areas ensure convenient and safe access for boaters.
Fishing Boat Rentals
Edgewater Sunset Pointe Marina
Rentals: Kayaks and canoes
803 283-9800
Twin Rivers Landing
Rentals: Pontoon boats and kayaks
864-554-6498
Public Boat Launch Ramps & Landings
Fishing Creek Boat Launch Ramp
Located in the southwest section of the lake, off US Highway 21, this is a two-lane, concrete ramp with a dock and paved parking.
Springs Park Boat Launch Ramp
Located in the southeast section of the lake, off Springs Park Road, this is a two-lane, concrete ramp with a dock and paved parking.
Marinas
Edgewater Sunset Pointe Marina
4272 State Rd S-29-296
Lancaster, SC 29720
803 283-9800
Click here for a South Carolina Fishing License.
For those looking to spend more time in nature, Fishing Creek Lake offers camping facilities near its shores. Campgrounds with well-maintained amenities, such as picnic areas, fire pits, and restrooms, provide a comfortable and enjoyable camping experience. Whether you prefer pitching a tent or parking your RV, there are camping options available to suit different preferences. Waking up to the gentle sounds of nature and being just steps away from the fishing action make camping near Fishing Creek Lake a delightful choice.
Campgrounds & RV Parks Nearby
Riverview Campground - 803 285-4877
Oak Grove Plantation - 803 482-2696
Fishing Creek Lake SC Map - Fishing & Camping Areas
Contact Information
Fishing Creek Lake
Edgewater Sunset Pointe Marina
2380 Catawba Ridge Boulevard,
Lancaster, South Carolina 29720
803 283-9800
Fishing lakes in each state.
Fishing Creek Lake in SC
SOUTH CAROLINA


Fishing for catfish, bass and crappie in north-central SC.
Fishing Creek Lake, in South Carolina.