Guide To Crappie Fishing In South Carolina
All about fishing for white and black crappie.
South Carolina is a fantastic destination for crappie fishing, with its lakes and rivers offering excellent opportunities to catch both black crappie and white crappie. Black crappie and white crappie are two distinct species of crappie that can be found throughout the state.
Black crappie, known for their dark speckled patterns, are prevalent in many lakes and reservoirs in South Carolina. Anglers target black crappie using various techniques, including vertical jigging, casting, and trolling. They often gather around submerged structures such as brush piles, fallen trees, and underwater vegetation. Popular crappie fishing destinations in South Carolina, such as Lake Moultrie and Lake Wateree, are well-known for their black crappie populations, providing anglers with ample opportunities to reel in these tasty and spirited fish.
White crappie, on the other hand, are characterized by their lighter coloration and vertical stripes. They can also be found in lakes, reservoirs, and rivers across South Carolina. White crappie tend to congregate near underwater structures, including docks, bridge pilings, and weed beds. Anglers targeting white crappie often employ similar techniques as those used for black crappie, such as jigging or casting with small lures or live bait. Lakes such as Lake Greenwood and Lake Wylie are known for their productive white crappie fisheries, attracting anglers looking to test their skills and fill their stringers with these tasty panfish.
Crappie fishing in South Carolina can be particularly rewarding during the spring spawning season, when crappie move into shallower water to reproduce. Anglers can capitalize on this period by targeting spawning areas with jigs, live minnows, or other enticing baits.
Whether you're pursuing black crappie or white crappie, South Carolina offers a wealth of opportunities for crappie fishing. Anglers can enjoy the challenge of locating and enticing these prized panfish, while also savoring the thrill of a successful catch. With its diverse waterways and abundant crappie populations, South Carolina is a top destination for crappie anglers of all levels of experience.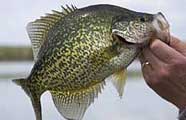 Crappie Waters In SC
Find water in South Carolina and it is likely to have a school or two of crappie. Ponds, rivers and small lakes are often populated with crappie. The major lakes with a significant population of crappie include Fishing Creek Lake, Clarks Hill Lake, Lake Blalock, Lake Bowen, Lake Greenwood, Lake Hartwell, Lake Jocassee, Lake Marion, Lake Monticello, Lake Moultrie, Lake Murray, Lake Wylie, Parr Reservoir, Lake Russell and Wateree Lake.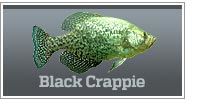 World record: 6 lbs 0 oz
State Record: 5 lbs 0 oz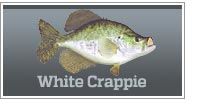 World record: 5 lbs 3 oz
State Record: 5 lbs 1 oz
Click the images and links above for species details.
Top 5 Crappie Fishing Lures For South Carolina
Crappie jigs work well in water from 2' to 40' deep, and are the most popular artificial lure for crappie ever. When crappie are shallow, spinners, small crankbaits and underspins are the often very productive. As they move deeper, spoons are among the top producers if the crappie are active. Review details for the best crappie rig options. Understanding the seasonal movements of crappie can enhance your chances of using these lures in the ideal locations.
South Carolina State Record Crappie
The state record black crappie was caught from Lake Moultrie.
The state record white crappie came out of Lake Murray.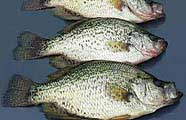 Crappie are actually a member of the sunfish family and can be found in many South Carolina lakes. Crappie are known by many different local names. Paper mouth, goggleye, bridge perch, slabs and speckled perch, are just a few.
Crappie Fishing Basics Video
Check out crappie information, by state.
The life cycle of crappie.
The more you know about crappie, the easier it will be to locate and catch them in South Carolina lakes and rivers. Visit the crappie fishing page for details about their seasonal migrations.
SOUTH CAROLINA