Guide To Taking Kids Fishing In South Carolina
Ideas and locations to take kids fishing in SC.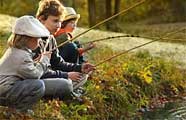 South Carolina offers excellent opportunities for kids to experience the joy of fishing. With its abundant fish species and convenient urban fishing locations, young anglers can have a memorable fishing experience while exploring the outdoors.
A variety of fish species can be found in South Carolina's waters, providing kids with exciting targets to catch. Popular fish species for kids' fishing include bluegill, sunfish, crappie, and catfish. These fish are often found in lakes, ponds, and rivers throughout the state and are known for their willingness to bite and put up a good fight. Bluegill and sunfish, in particular, are great introductory fish for kids, as they are commonly found in abundant numbers and readily take bait or small lures.
Urban fishing locations in South Carolina make it convenient for families to introduce their children to the sport. Many cities and towns have designated urban fishing ponds that are stocked with fish specifically for recreational angling. These ponds often have amenities such as fishing piers, picnic areas, and restrooms, making them family-friendly destinations for a day of fishing. Examples of popular urban fishing locations in South Carolina include West Columbia's Lake Murray Dam, Greenville's Lake Conestee Nature Park, and Myrtle Beach State Park.
These urban fishing locations provide a safe and accessible environment for kids to learn and practice their fishing skills. Parents can teach their children the basics of casting, baiting hooks, and landing fish in a controlled setting. The thrill of hooking their first fish and the sense of accomplishment that follows is a memorable experience for young anglers.
Additionally, South Carolina offers various fishing events and programs specifically designed for kids. These events often provide educational activities, hands-on demonstrations, and opportunities for children to fish under the guidance of experienced anglers. The South Carolina Department of Natural Resources, local fishing organizations, and community centers frequently organize such events, creating a supportive and fun environment for kids to develop their fishing skills and foster a love for the outdoors.
In summary, South Carolina provides an ideal setting for kids to enjoy the sport of fishing. With a variety of fish species and convenient urban fishing locations, young anglers have plenty of opportunities to cast their lines and create lasting memories. The combination of diverse fish species, family-friendly urban fishing spots, and special events make South Carolina a fantastic place for kids to learn, explore, and develop a lifelong passion for fishing.
Fishing and the great outdoors offers kids an alternative to many influences they encounter in their busy lives today. A single fishing trip could be the turning point in a young life, and we encourage you to invest the time in South Carolina kids. The rewards are endless and it takes so little effort.

Places in South Carolina to take kids fishing
Consider these small lakes, ponds, creeks and urban fishing locations as places to take a kid fishing in the Palmetto State.
Bennettsville
- Lake Wallace Fishing Piers
Charleston
- Brittle Bank Park
- James Island County Park
- Remleys Point
- Waterfront Park
Columbia
- Granby Park
- Saluda Shoals Park
- Three Rivers Greenway
Hampton
- Lake Warren State Park
Madison
- Lake Madison
Monticello
- Monticello Reservoir
Top 3 tips for taking kids fishing in SC
1. Make sure that the goal is to have fun. Catching fish is a bonus.
2. Keep it simple. Simple tackle, techniques and locations.
3. Keep the focus on the kids. Be a hero by helping them enjoy the day.
Click here for additional tips to create a successful day of fishing for kids.
Kids Fishing Video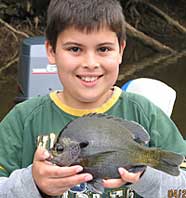 Fathers, sons and Bluegills...Nic Kmett and his father, Mark had a wonderful day fishing the Savannah River. They launched at Stokes Bluff Landing in South Carolina and went up river to a large 'oxbow' lake. The Blue Gill and other brim types were really biting that day. We brought home 18 fish, released a dozen others that on another day would have been keepers, all in about 4 hours. Many of the keeper Blue Gills were nearly 10 inches in length, and very plump.
Very nice bluegills, good job Nic!
---
Little Kids - Big Brim - Big Smiles
By Richard Lee
My wife, Jean, and I teach the Single Parent Bible Fellowship Class at Rock Springs Baptist Church in Easley SC. For three years now we have taken the kids and adults fishing at Harold Wilson's pond. This is a 1.5 acre pond which he installed for irrigating his nursery. Being an avid fisherman, he has nurtured this pond to the point that 1.5 to 2 lb. brim are the norm. Please imagine an 8 year boy who had never caught a fish hauling a 2 lb. brim on light weight gear and saying repeatedly "come to daddy, come to daddy'. Our desire is to see kids get hooked on fishing rather than all the other things this world has to offer.
---
Take a kid fishing and bring your camera! These are a few of the places to take them fishing and get some great pictures.
Kids, fishing and smiles naturally go together. Take a kid fishing and you just might change the course of their life. Then take pictures and send us one of them holding their prized catch. We will happily post it here.
Kids fishing locations and information, by state.
Help us identify other youth fishing spots in SC.
If you are aware of a great place to take kids fishing in your area, please let us know. We can add it to our list. Every kid that catches a fish will appreciate the fact that you made the effort.
SOUTH CAROLINA