Best Fishing Guides In South Carolina
Hire a guide to take you fishing in SC.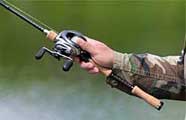 Hire a fishing guide to fish for largemouth bass, smallmouth bass, spotted bass, redeye bass, channel catfish, flathead catfish, blue catfish, white catfish, black crappie, white crappie, walleye, rainbow trout, brook trout, brown trout, bluegill, flier sunfish, pumpkinseed sunfish, redbreast sunfish, redear sunfish, warmouth, white bass, white perch, yellow perch, stripers, bowfin, chain pickerel, muskie and sauger in local lakes.

South Carolina Fishing Guides
Catfishnfool - 803-238-0596
Captain Wayne Vining - [email protected]
Big catfish, crappie, bream and rockfish. We fish out of a 26ft Triton hardtop, in closer, and privacy room. Fish on Santee Cooper SC My promise to you! keep you safe, give you 100%, to keep you on fish and to be honest.
Little River Guide Service - 706 210-3474
Clark's Hill striped bass and hybrid stripers. All equipment is provided and fish cleaning is included.
Other Local Guides
For the ultimate fishing experience, hire a professional guide. They know the SC fishery inside out and have determined the best techniques for catching fish at various times of the year.
Capt Rick Hiott's Inshore Fishing - 843-412-6776
Captain Rick Hiott - [email protected]
Focus Species: Giant red drum (over 50 lbs.) and other inshore species. All Inshore salt water
SC Big Bass - 888-854-9635
Captain Brad - [email protected]
Focus Species: Largemouth Bass, Red drum, Sea Trout and all Panfish. Fish out of a 2006 Z21 Ranger for Largemouth Bass, Red Drum, sea Trout, and Panfish. Our Captain has over 30 years of experience fishing Santee Cooper, Lake Murray, Lake Wateree, and the coast of SC Also Catfish and Striper trips!
Fightin Da Blues Guide Service - 864 992 2352
[email protected]
Focus Species: trophy catfish and striper. I guide on Lake Greenwood, Monticello,Wateree,Thurmond, and Murray. I have lots of different lakes to choose from so that something will be biting at any time of the year.
Thames Bass Fishing Adventures - 803-359-9515
Rob Thames - [email protected]
Focus Species: Largemouth Bass. I operate a very customer oriented angling service specializing on largemouth bass. I focus on lakes Murray, Santee Cooper, and Wateree; however I will take parties on other South Carolina lakes and rivers.
Fishboy Adventures - 864 718-1356
Capt. Chris "fishboy" Schuber - [email protected]
Focus Species: Largemouth bass and spotted bass. Fish comfortably on a 2005 Triton Tr196 on beautiful Lake Keowee. For rainbow and brown trout lets head up to the Chattooga River for a fun filled adventure. Both artificial and live bait available.
Keith & Jason's Catfish Guides - 843 665-5320
Keith Leggett - [email protected]
Focus Species: Blue Catfish. We specialize in drift fishing for large Blue catfish and monster Flatheads on the Santee Cooper lake system of south-central South Carolina.
GoFishSC - 843 602-4946
Paul Sasser - [email protected]
Focus Species: Redfish, spotted sea trout and flounder.
South Carolina's premier website for saltwater fishing
Blacks Camp - 843 753-2231
Kevin Davis - [email protected]
Focus Species: Big catfish, bass, stripers, crappie, shellcracker and saltwater inshore. Fishing paradise in the heart of Santee Cooper country.
Slab Master Guide Services - 864 993-8868
Rod Wall - [email protected]
Focus Species: Crappie. Year round crappie guide. Keeping up with crappie movements by season and knowing proper techniques is our specialty. As a tournament angler, I have had to keep up with these pattern in order to be competetive. Quantity or quality trips. 21' Lund.
South Carolina Fishing Guide Services
In addition to catching fish, guides teach you techniques which you will use over a lifetime of fishing. Learn tips on rods, reels, line, knots, lures, hook types, techniques and much more...all by spending the day in a boat with a local guide.
Fishing guide information for other states.
SOUTH CAROLINA