Guide To Fishing At Lake Kissimmee
AKA: Kissimmee Lake
Fishing for largemouth bass, channel catfish, black crappie, bluegill, redear sunfish, spotted sunfish, warmouth, chain pickerel and longnose gar at Lake Kissimmee in Florida.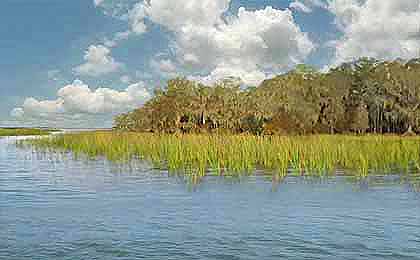 Lake Kissimmee is a 34,900-acre lake located in the central part of the state, 25 miles south of Kissimmee, Florida. The lake is approximately fifteen miles long by five miles wide. Within the lake are five islands: Brahma Island, Sturm Island, Bird Island, Rabbit Island and Ox Island. The weather is comfortable year-round which allows for boating and camping any time you want to get away. There are plenty of accommodations, restaurants and activities in the area for the whole family. Bring a kayak, canoe, jon boat, pontoon, family boat or fishing boat and enjoy the water activities, boating and fishing.
Fishing At Lake Kissimmee
Lake Kissimmee in Florida is a prime fishing destination that offers a wide range of angling opportunities and an abundance of popular fish species. As part of the Kissimmee Chain of Lakes, this expansive water body covers over 34,000 acres and is known for its excellent bass fishing.
Bass fishing is the highlight of Lake Kissimmee, with largemouth bass being the most sought-after species. Anglers flock to this lake in pursuit of trophy-sized bass, as it has a reputation for producing some of the biggest bass in the state. The lake's diverse structure, including submerged vegetation, hydrilla beds, and lily pads, provides ideal habitat for bass. Anglers can employ various techniques, such as flipping, pitching, and topwater fishing, to entice these elusive and hard-fighting predators.
Catfish are also abundant in Lake Kissimmee, offering anglers a chance to reel in some hefty catches. Both channel catfish and bullhead catfish can be found in good numbers. Anglers can target catfish using a variety of baits such as chicken liver, cut bait, or stink baits. Fishing near the lake's channels or around submerged structures can yield great results.
Crappie, or speckled perch, are another popular species in Lake Kissimmee. These tasty panfish can be found near submerged structures, such as fallen trees or brush piles. Anglers can use small jigs or live minnows to entice crappie into biting. The spring spawning season is particularly productive for crappie fishing, with schools of fish congregating in shallower waters.
Sunfish, including bluegill and redear sunfish, are plentiful in Lake Kissimmee and provide fun and accessible fishing opportunities for anglers of all ages. These colorful and feisty fish can be caught using small hooks baited with worms, crickets, or small pieces of bread. Fishing around the lake's shoreline vegetation, docks, or submerged trees can yield consistent action for sunfish.
Chain pickerel, with their elongated bodies and sharp teeth, are an exciting species to target in Lake Kissimmee. These voracious predators readily strike at artificial lures or live bait. Anglers can find chain pickerel near vegetation edges, submerged structures, or areas with ample cover.
Lake Kissimmee is not only a fantastic fishing destination but also offers ample opportunities for boating and camping. Boaters can explore the lake's vast expanse and navigate its various fishing hotspots. The lake is well-suited for both motorized boats and kayaks, providing anglers with different options for their fishing adventures. Camping facilities are available around the lake, allowing anglers to extend their stay and enjoy the serene surroundings.
In summary, Lake Kissimmee in Florida is a premier fishing destination known for its excellent bass fishing opportunities. With abundant populations of bass, catfish, crappie, sunfish, and chain pickerel, the lake offers a diverse angling experience for all types of anglers. Boating and camping facilities further enhance the overall fishing adventure, making Lake Kissimmee a top choice for both local and visiting anglers.
Kissimmee is known for monster Florida bass. It also has a good population of crappie, bluegill, sunfish, gar, pickerel and big channel catfish. There are over 60 miles of shoreline, much of which can be accessed for fishing from the bank.

Primary fish species residing in Lake Kissimmee
Click images for fishing tips and details about each species.
Lake Kissimmee Amenities
Marina: YES
Boat Rental: YES
Boat Launch Ramp: YES
Campgrounds: YES
RV Hookups: YES
Lodging: YES
Convenience Store: YES
Bait & Tackle: YES
Restaurant: NEARBY
Today's Weather & Forecast
Public Boat Launch Ramps & Landings
Lake Kissimmee South Boat Launch Ramp
Located in the southeast corner of the lake, west side, off State Highway 60, this is a one-lane, concrete ramp with gravel parking.
Shady Oaks Boat Launch Ramp
Located in the southeast section of the lake, off Shady Oak Drive, this is a three-lane, concrete ramp with a dock and paved parking.
Click here for a Florida Fishing License.
Campgrounds & RV Parks Nearby
Harbor RV Resort & Marina - 863 696-1194
State Park
Lake Kissimmee State Park - 863 696-1112
Marinas
Marinas & Boat Slips
Kissimmee River Park & Marina - 863 696-3182
Boat, Houseboat & Jet Ski Rental
Royal Boat Rentals - 352 394-2880
Weather
Average high and average low, monthly temperatures at Lake Kissimmee.
January 71° - 47°
February 74° - 50°
March 78° - 53°
April 82° - 58°
May 87° - 65°
June 90° - 70°
July 91° - 73°
August 92° - 73°
September 88° - 72°
October 84° - 65°
November 80° - 57°
December 73° - 51°
Rentals & Lodging Nearby Lake Kissimmee
There is very little lodging at the lake proper. However, there is ample accommodation options less than an hour from the water.
Hotels & Motels
Green Gables Inn - 863 676-2511
Hampton Inn and Suites Lake Wales - 863 734-3000
Three Oaks Bed and Breakfast - 863 676-4470
Vacation Rentals
Celebration Vacation Rentals - 407 217-5246
Osceola Vacation Rentals - 407 892-4495
Real Estate, Homes & Property
Olde Kissimmee Realty - 407 944-4822
Lake Kissimmee FL Map - Fishing & Camping Areas
Lake Video
Contact Information
Lake Kissimmee
Lake Kissimmee State Park
14248 Camp Mack Rd
Lake Wales, FL 33898
863 696-1112
Fishing lakes in each state.
Lake Kissimmee in Florida.
FLORIDA


Information about fishing lakes in Florida
Lake Kissimmee offers crappie, bluegill, sunfish, gar, pickerel, catfish and bass fishing, plus family boat, pontoon boat and fishing boat rentals in central FL.
Fishing on Lake Kissimmee.