Guide To Fishing At East Lake Tohopekaliga
AKA: East Lake Toho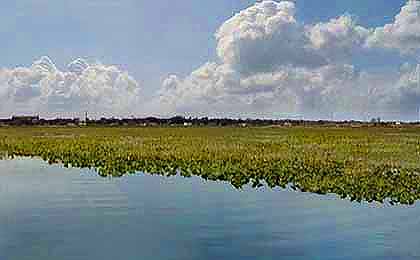 Big bass and sandy beaches make East Lake Tohopekaliga an ideal location for a fishing, boating and camping vacation. Pretty much circular in shape, it is a 12,000-acre lake, located in the central part of the state, 4 miles east of Kissimmee, FL.
East Lake Tohopekaliga, commonly known as Lake Toho, is a renowned fishing destination located in Florida. It is part of the Kissimmee Chain of Lakes and is famous for its exceptional fishing opportunities and abundance of popular fish species.
Bass fishing on Lake Toho is a major attraction for anglers. The lake is known for its trophy-sized largemouth bass, making it a premier bass fishing destination. The lake's expansive grass flats, submerged vegetation, and underwater structure provide ideal habitats for bass to thrive. Anglers can employ a variety of techniques, such as flipping, pitching, and topwater lures, to target these prized game fish.
Catfish are also abundant in Lake Toho, offering anglers the chance to reel in some impressive catches. Channel catfish and bullhead catfish can be found throughout the lake, and anglers often target them using baits like chicken liver, stinkbaits, or cut bait. These hard-fighting fish provide exciting action and are a favorite among catfish enthusiasts.
Black crappie, sunfish, and other panfish are prevalent in Lake Toho as well. Anglers can enjoy catching crappie using small jigs or live minnows, while sunfish can be caught using worms or crickets. These species are perfect for family-friendly fishing and provide fun-filled experiences for anglers of all ages.
Chain pickerel, with their toothy grins and aggressive nature, are another sought-after species in Lake Toho. Anglers often target these predatory fish using spoons, jerkbaits, or flashy lures that imitate small fish. Chain pickerel provide thrilling strikes and challenging fights, adding an exciting dimension to the fishing experience.
Lake Toho is not only a haven for fishing but also offers excellent boating and camping opportunities. Anglers can explore the lake's vast waters by motorized boats, kayaks, or canoes. The lake features public boat ramps, marinas, and fishing piers for convenient access. Camping facilities are available nearby, allowing anglers to extend their fishing trip and enjoy the beautiful surroundings of the lake.
It's essential for anglers to be familiar with the fishing regulations and license requirements set by the Florida Fish and Wildlife Conservation Commission for Lake Toho. Adhering to these regulations helps preserve the fishery's health and ensures sustainable fishing for future generations.
With its diverse fish species, including bass, catfish, crappie, sunfish, and chain pickerel, combined with its boating and camping amenities, Lake Toho offers an unforgettable fishing experience in Florida. Whether you're a seasoned angler or a recreational fisherman, Lake Toho promises excitement, relaxation, and the chance to create lasting fishing memories.
About 18 miles of shoreline await watersport and fishing enthusiasts wishing to spend a day in the sun. The lake has a nice mixture of species including crappie, bass, sunfish, gar, catfish and chain pickerel. Much of the shoreline is accessible for fishing and swimming. Fluctuating water levels play a role in the effectiveness of fishing from the bank. There are boat launch ramps at East Lake Toho Boat Ramp on the northern shore, and Ralph V. Chisholm Regional Park on the east side. Other areas around the lake may work for portage of a canoe, kayak or small fishing boat - depending on lake levels.

What to fish for...
Fishing for largemouth bass, channel catfish, black crappie, bluegill, redear sunfish, spotted sunfish, warmouth, chain pickerel and longnose gar at East Lake Tohopekaliga in Florida.
Primary fish species residing in East Lake Toho
Click images for fishing tips and details about each species.
East Lake Tohopekaliga Amenities
Marina: NO
Boat Rental: NEARBY
Boat Launch Ramp: YES
Campgrounds: YES
RV Hookups: YES
Lodging: YES
Convenience Store: YES
Bait & Tackle: YES
Restaurant: YES
Today's Weather & Forecast
Public Boat Launch Ramps & Landings
Chisholm Park Public Boat Ramp
Located mid lake, east side, off S Lake Avenue, this is a two-lane, concrete ramp with a dock and paved parking.
East Lake Toho Boat Launch Ramp
Located mid lake, on the north side of the lake, off Big Bass Road, this is a four-lane, concrete ramp with docks and paved parking.
Lakefront Boat Launch Ramp
Located mid lake, on the south side of the lake, off E Lakeshore Blvd, this is a three-lane, concrete ramp with docks and paved parking.
Click here for a Florida Fishing License.
Campgrounds & RV Parks Nearby
Orlando SE-Lake Whippoorwill KOA Campground - 407 277-5075
St Cloud RV Park - 407 892-6900
East Lake Fish Camp RV Park - 407 348-2040
East Lake Tohopekaliga FL Map - Fishing & Camping Areas
Lake Video
Contact Information
East Lake Tohopekaliga
East Lake Fish Camp - RV Park
3705 Big Bass Rd
Kissimmee, FL 34744
407 348-2040
Fishing lakes in each state.
East Lake Tohopekaliga in Florida.
FLORIDA


Information about fishing lakes in Florida
East Lake Tohopekaliga offers crappie, bass, sunfish, gar, catfish and chain pickerel fishing in central FL.
Fishing on East Lake Toho.