Fishing At Newnans Lake
AKA: Lake Newnans
What to fish for...
Guide to fishing for largemouth bass, channel catfish, black crappie, bluegill, redear sunfish, spotted sunfish and bowfin at Newnans Lake in Florida.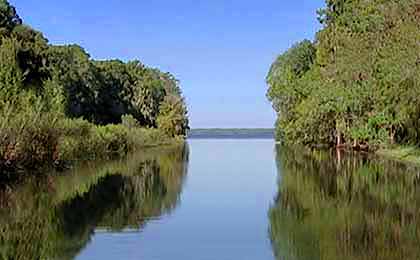 20 miles of shoreline wrap around Newnans Lake, with plenty of places to wet a line. This 7,500-acre lake is located in the northeast Florida, at Gainesville. Vegetation is thick all around the shoreline, making it difficult to fish from the bank, however there are several access areas.
The purpose of this page is to deliver an overview of this lake, the fishing options, and area amenities. Our goal is to provide info to first time visitors, as well as beginner and novice anglers. We gathered details from personal experience, numerous trusted websites that each offer select bits of information, and videos of fishing activity on the lake. These websites include the Florida Fish and Wildlife Conservation Commission, marinas at the lake, campgrounds, boat rental agencies and others. By consolidating this information to one page it allows visitors to see the entire picture, all in one place.
Lake Video
Newnans Lake in Florida is a fishing gem. The lake is known for its abundant fish populations, making it a prime destination for fishing enthusiasts.
Bass fishing is a major draw on Newnans Lake, with both largemouth and Suwannee bass being popular targets. The lake's varied structure, including submerged vegetation, cypress trees, and fallen logs, provides excellent habitat for bass to thrive. Anglers can use a variety of techniques such as topwater lures, soft plastic baits, or spinnerbaits to entice these prized game fish.
Catfish are also plentiful in Newnans Lake, offering anglers the opportunity to catch some impressive specimens. Channel catfish and bullhead catfish can be found throughout the lake's waters. Anglers often use a variety of baits such as stinkbaits, chicken liver, or cut bait to target catfish. Catfish provide a fun and rewarding fishing experience, especially for those who enjoy the thrill of a hard-fighting fish.
Crappie and sunfish are abundant in Newnans Lake, making it a great spot for anglers of all ages and skill levels. Crappie can be caught using small jigs or live minnows, while sunfish can be targeted using worms or crickets. These species offer a great opportunity for family-friendly fishing and provide plenty of action for anglers.
It's important for anglers to familiarize themselves with the fishing regulations and licensing requirements set by the Florida Fish and Wildlife Conservation Commission for Newnans Lake. Adhering to these regulations helps protect the fishery and ensures sustainable fishing for future generations.
With its diverse fish populations, scenic beauty, and opportunities for boating and camping, Newnans Lake in Florida offers a rewarding and memorable fishing experience. Whether you're targeting bass, catfish, crappie, or sunfish, this lake provides anglers with ample opportunities to enjoy the thrill of the catch in a serene and picturesque setting.
A fishing pier is open to the public at the Newnans Lake Boat Ramp. Jon boats, canoes and kayaks are ideal for exploring the shallows, while power boats, pontoons and a variety of fishing boats can get access to the structure and fish not accessible from the bank. The lake has healthy populations of crappie, catfish, bass, panfish and bowfin. Local fishing guides can provide the boat, fishing gear and expertise to put you on catchable fish.

Primary fish species residing in Newnans Lake
Click images for fishing tips and details about each species.
Newnans Lake Amenities
Marina: NO
Boat Rental: YES
Boat Launch Ramp: YES
Campgrounds: YES
RV Hookups: YES
Lodging: NEARBY
Convenience Store: NEARBY
Bait & Tackle: NEARBY
Restaurant: NEARBY
Today's Weather & Forecast
Boating is a popular activity on Newnans Lake, allowing anglers to access different areas of the lake and explore various fishing spots. Anglers can use motorized boats, kayaks, or canoes to navigate the lake's waters. The lake features boat ramps and convenient access points for launching watercraft.
Public Boat Launch Ramps & Landings
Newnans Lake Boat Launch Ramp
Located in the southwest section of the lake, off SE Hawthorne Road, this is a four-lane, concrete ramp with a dock and paved parking.
Click here for a Florida Fishing License.
Camping facilities are available near Newnans Lake, providing anglers with the option to extend their fishing trip and enjoy the beauty of the surrounding area. Camping allows anglers to fully immerse themselves in the natural environment and make the most of their fishing experience.
Campgrounds & RV Parks Nearby
Kate's Fish Camp Campground - 352 372-1026
Newnans Lake FL Map - Fishing & Camping Areas
Contact Information
Newnans Lake
Kate's Fish Camp
6518 SE Hawthorne Rd
Gainesville, FL 32641
352 372-1026
Fishing lakes in each state.
Newnans Lake in Florida.
FLORIDA


Information about fishing lakes in Florida
Newnans Lake offers rental boats plus fishing for crappie, catfish, bass, panfish and bowfin in northeast FL.
Fishing on Newnans Lake.