Fishing At Crescent Lake
AKA: Lake Crescent
What to fish for...
Guide to fishing for largemouth bass, channel catfish, white catfish, black crappie, bluegill, redear sunfish, spotted sunfish, warmouth, striped bass, hybrid striped bass, chain pickerel and longnose gar at Crescent Lake in Florida.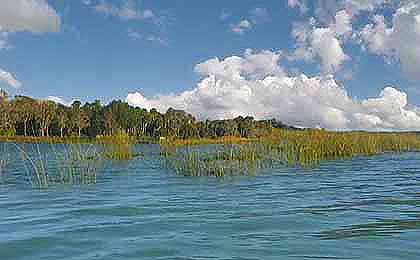 Natural beauty and good fishing make Crescent Lake an enjoyable getaway for a vacation or a quick fishing trip. This 16,000-acre lake is located in the northeast part of the state at Crescent City, FL.
Crescent Lake in Florida is a picturesque and popular fishing destination that attracts anglers from near and far. The lake is well-known for its excellent fishing opportunities, offering a wide range of popular fish species.
Bass fishing is a major draw for anglers on Crescent Lake. Largemouth bass can be found in abundance, making it an ideal spot for bass enthusiasts. The lake's structure, including submerged vegetation, fallen trees, and boat docks, provides ample cover for bass, creating perfect ambush points. Anglers can use a variety of techniques such as casting topwater lures, flipping plastic worms, or slow-rolling spinnerbaits to entice these prized game fish.
Catfish are another popular species found in Crescent Lake. Anglers can target both channel catfish and bullhead catfish. These hard-fighting fish are known for their strong presence in the lake and can be caught using a variety of baits such as chicken liver, stinkbaits, or cut bait.
Crappie, sunfish, and other panfish can also be found in Crescent Lake. These species provide excellent opportunities for anglers, especially those looking for a relaxing day of fishing with family and friends. Crappie are often targeted using small jigs or live minnows, while sunfish can be caught using small hooks baited with worms or crickets.
One unique feature of Crescent Lake is the presence of chain pickerel. These aggressive and toothy predators offer an exciting challenge for anglers. Chain pickerel can be caught using a variety of lures, such as spoons or jerkbaits, in and around the lake's vegetation and structure.
Crescent Lake also provides opportunities for boating and camping. Anglers can explore the lake's waters by boat, whether it's a motorized vessel or a kayak/canoe. The lake offers public boat ramps for easy access. Camping facilities are available in nearby parks, allowing anglers to extend their fishing trip and enjoy the peacefulness of the lake and its surroundings.
Anglers visiting Crescent Lake should be aware of the fishing regulations and license requirements set by the Florida Fish and Wildlife Conservation Commission. Respecting these regulations ensures the sustainability of fish populations and the overall health of the fishery.
Crescent Lake's abundant fish species, combined with its scenic beauty and recreational amenities, make it a top choice for anglers seeking a memorable fishing experience in Florida. Whether you're targeting bass, catfish, crappie, sunfish, or seeking the thrill of catching a chain pickerel, Crescent Lake has something to offer for every angler.
About 40 miles of shoreline are available by boat, and much of it accessible by land for fishing from the bank. Some areas may require a short trek. Bring a kayak, canoe, pleasure boat or fishing boat as both public and private boat launch ramps are available for use. Fishing enthusiasts will be happy to know the lake has healthy populations of crappie, bass, catfish, sunfish, stripers, hybrid striped bass, chain pickerel and gar. Campgrounds, RV spaces, lodging, stores and restaurants are all convenient to campers, boaters and anglers.

Primary fish species residing in Crescent Lake
Click images for fishing tips and details about each species.
Crescent Lake Amenities
Marina: NO
Boat Rental: YES
Boat Launch Ramp: YES
Campgrounds: YES
RV Hookups: YES
Lodging: YES
Convenience Store: YES
Bait & Tackle: YES
Restaurant: YES
Today's Weather & Forecast
Public Boat Launch Ramps & Landings
Bull Creek Boat Launch Ramp
Located in the northeast section of Dead Lake, off W County Road 2006, this is a two-lane, concrete ramp with a dock and gravel parking.
Crescent Lake Boat Launch Ramp
Located mid lake, east side, off Shell Bluff Road, this is a one-lane, concrete ramp with docks and gravel parking.
Central Avenue Boat Access
Located mid lake, west side, off Central Avenue, this is a two-lane, concrete ramp with a dock and street parking.
Sunrise Boat Launch Ramp
Located mid lake, west side, off Cypress Avenue, this is a two-lane, concrete ramp with docks and gravel parking.
Click here for a Florida Fishing License.
Campgrounds & RV Parks Nearby
Sned-Acres Family Campground - 386 698-2020
Bull Creek Campground - 386 313-4020
St Johns Campground - 386 328-4470
Crescent Lake FL Map - Fishing & Camping Areas
Lake Video
Contact Information
Crescent Lake
Sned-Acres Family Campground
South, 2359 US-17
Crescent City, FL 32112
386 698-2020
Fishing lakes in each state.
Crescent Lake in Florida.
FLORIDA


Information about fishing lakes in Florida
Crescent Lake offers crappie, bass, catfish, sunfish, stripers, hybrid striped bass, chain pickerel and gar fishing, plus boat rentals in northeast FL.
Fishing on Crescent Lake.