Guide To Fishing At Lake Tohopekaliga
AKA: Lake Toho, West Lake, Toho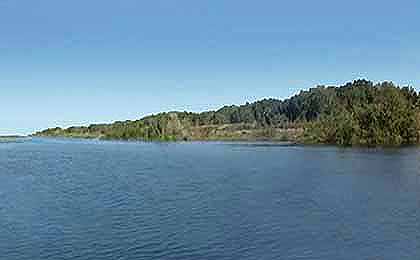 Big bass, and lots of them, are the reason Lake Tohopekaliga is a popular fishing destination. 42 miles of shoreline wrap around this 18,800-acre lake, located in the central part of Florida, on the southern edge of Kissimmee.
Lake Tohopekaliga, also known as Lake Toho, is a popular fishing destination in Central Florida, renowned for its exceptional bass fishing opportunities. Anglers from all over come to this lake to target largemouth bass, one of the most sought-after freshwater game fish. Lake Toho is known for producing trophy-sized bass, making it a haven for anglers looking for a thrilling fishing experience. The lake's extensive grass beds, submerged structures, and vegetation create ideal habitats for bass to thrive.
Apart from bass, Lake Toho is home to a variety of other popular fish species. Catfish, including channel catfish, can be found in abundance throughout the lake. Anglers can target catfish using a variety of baits, such as cut bait, stinkbaits, or live bait, and enjoy a rewarding catfishing experience.
Crappie, known for their delicious taste and exciting fights, can also be found in Lake Toho. Both black crappie and white crappie can be caught in good numbers during the appropriate seasons. Anglers often focus on submerged structures, such as brush piles or submerged trees, using small jigs, minnows, or crappie-specific baits.
Sunfish, including bluegill and redear sunfish, provide additional angling opportunities on Lake Toho. These panfish are abundant and can be easily caught using small hooks, worms, or crickets. They are often found near the shoreline, around docks, or near submerged vegetation, making them an excellent target for beginners and young anglers.
Chain pickerel, also known as "jackfish," are another exciting species found in Lake Toho. These predatory fish are known for their aggressive strikes and strong fights. Anglers can use artificial lures, such as spinnerbaits or jerkbaits, to entice chain pickerel and enjoy an exhilarating fishing experience.
Boating is a popular activity on Lake Toho, allowing anglers to explore its vast expanse and access prime fishing spots. The lake offers various boat ramps and marinas for convenient launching. Additionally, camping facilities are available in the surrounding area, providing anglers with the opportunity to extend their fishing trips and immerse themselves in the serene natural beauty of the lake.
When fishing on Lake Tohopekaliga, anglers should familiarize themselves with the fishing regulations and licensing requirements set by the Florida Fish and Wildlife Conservation Commission. It is essential to follow these regulations to preserve the fishery and ensure the sustainability of the resource.
With its abundance of popular fish species, excellent bass fishing opportunities, and options for boating and camping, Lake Tohopekaliga offers a memorable fishing experience for anglers of all skill levels. Whether you're a seasoned angler or a novice, Lake Toho is sure to provide exciting moments and the chance to reel in some impressive catches.
Lake Toho's claim to fame is exceptional bass fishing. It is home to many bass tournaments annually, including Bassmaster Opens. In addition to the great bass fishing, the lake has healthy populations of crappie, bluegill, redear sunfish, gar, pickerel and catfish. Bring your canoe, kayak or fishing boat, hire a fishing guide, or fish from the bank. There are plenty of fish to catch in this fertile water with tons of vegetation for cover. There are boat launch ramps, fishing guides, a marina and airboat rides available on the lake.

What to fish for...
Fishing for largemouth bass, channel catfish, black crappie, bluegill, redear sunfish, spotted sunfish, warmouth, chain pickerel and longnose gar at Lake Tohopekaliga in Florida.
Primary fish species residing in Lake Tohopekaliga
Click images for fishing tips and details about each species.
Lake Tohopekaliga Amenities
Marina: YES
Boat Rental: NEARBY
Boat Launch Ramp: YES
Campgrounds: YES
RV Hookups: YES
Lodging: YES
Convenience Store: YES
Bait & Tackle: YES
Restaurant: YES
Today's Weather & Forecast
Public Boat Launch Ramps & Landings
Big Toho Marina Boat Launch Ramp
Located in the northeast section of the lake, off Lakeview Drive, this is a six-lane, concrete ramp with docks and paved parking.
Granada Public Boat Launch Ramp
Located mid lake, west side, off Ridgeway Drive, this is a two-lane, concrete ramp with a dock and gravel parking.
Whaleys Landing Public Boat Launch Ramp
Located in the southeast section of the lake, off Lake Tohopekaliga Road, this is a two-lane, concrete ramp with a dock and gravel parking.
Click here for a Florida Fishing License.
Campgrounds & RV Parks Nearby
Lake Toho RV Resort - 407 892-8795
Southport Park Campground - 407 933-5822
Ponderosa RV Park - 407 847-6002
Canoe Creek Campground - 407 892-7010
Orlando - Kissimmee KOA Campground - 407 396-2400
Kissimmee RV Park - 407 396-6655
Lake Tohopekaliga FL Map - Fishing & Camping Areas
Lake Video
Contact Information
Lake Tohopekaliga
Big Toho Marina
69 Lakeview Dr
Kissimmee, FL 34741
407 846-2124
Fishing lakes in each state.
Lake Tohopekaliga in Florida.
FLORIDA


Information about fishing lakes in Florida
Lake Tohopekaliga offers crappie, bluegill, redear sunfish, gar, pickerel, catfish and bass fishing in central FL.
Fishing on Lake Tohopekaliga.