Guide To Fishing At Lake Seminole
AKA: Seminole Reservoir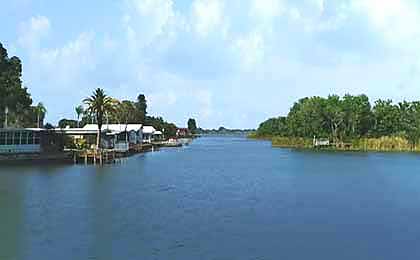 A premiere bass fishing lake in a beautiful setting, Lake Seminole aka Jim Woodruff Reservoir has 376 miles of shoreline to fish and explore. These fertile waters covers 37,000 surface acres and provide an ideal location for water sports, boating and fishing.
Lake Seminole, located in the Florida Panhandle, is a renowned fishing destination known for its diverse fish populations and scenic beauty. Anglers flock to this lake for the opportunity to catch a variety of popular fish species.
Bass fishing is a major draw on Lake Seminole, with both largemouth bass and the prized Florida strain largemouth bass being abundant. The lake's structure, including submerged grass beds, fallen trees, and channels, provides ideal habitat for bass to thrive. Anglers can employ a variety of techniques such as topwater lures, plastic worms, or jigs to entice these powerful game fish.
Catfish are also plentiful in Lake Seminole, with both channel catfish and flathead catfish being popular targets. These bottom-dwelling species can be caught using a variety of baits, including cut bait, worms, or stinkbaits. Anglers often target catfish in deeper areas of the lake or near submerged structures.
Crappie, including both black crappie and white crappie, are highly sought after on Lake Seminole. These panfish congregate near submerged structures, such as brush piles or bridge pilings, making them relatively easy to locate. Anglers can use small jigs, live minnows, or crappie-specific baits to target these tasty fish.
Sunfish, including bluegill and redear sunfish, provide additional angling opportunities on Lake Seminole. These species can be caught using simple and affordable tackle, such as worms or crickets. They are commonly found near the lake's shorelines, submerged vegetation, or around structure.
Lake Seminole is also home to striped bass and hybrid stripers, which offer exciting fishing experiences. These fish are known for their aggressive strikes and strong fights. Anglers often target them using live bait, such as shad or shiners, or by trolling with artificial lures.
Boating is a popular activity on Lake Seminole, allowing anglers to access different parts of the lake and explore prime fishing spots. The lake offers opportunities for motorized boats, kayaks, and canoes, with boat ramps available for easy launching. Boaters can enjoy the scenic beauty of the lake while seeking their favorite fishing areas.
Camping facilities are available near Lake Seminole, allowing anglers to extend their fishing trips and fully immerse themselves in the natural surroundings. Camping adds to the overall experience, providing anglers with the opportunity to relax and enjoy the tranquility of the lake.
Anglers should familiarize themselves with the fishing regulations and licensing requirements set by the Florida Fish and Wildlife Conservation Commission for Lake Seminole. Adhering to these regulations ensures the preservation of the fishery and the sustainability of the resource.
Whether you're an avid angler or a recreational fisherman, Lake Seminole in Florida offers a variety of fishing opportunities. With its popular fish species such as bass, catfish, crappie, sunfish, striped bass, and hybrid stripers, as well as the options for boating and camping, Lake Seminole provides a memorable fishing experience surrounded by the natural beauty of the area.
This reservoir is located in the northwest corner of the state on the Florida-Georgia border at Chattahoochee, FL. Good fishing is available when fishing from a boat, or from the bank. Fish species residing in the reservoir include striped bass, hybrid stripers, catfish, crappie, sunfish, chain pickerel and largemouth bass. Thick aquatic vegetation is a major factor in making the lake so fertile and provides shelter to baitfish and fish alike. Over a dozen boat launch ramps, plus a few primitive launch areas, serve boaters launching canoes, kayaks, pontoon boats, sailboats, pleasure boats and a wide variety of fishing boats including bass boats. A couple marinas, several campgrounds-RV parks, shopping, dining, lodging and other amenities are available at or nearby the lake. Swimming here is discouraged as these waters are inhabited by alligators, and caution is recommended anywhere near the lake water.

What to fish for...
Fishing for largemouth bass, shoal bass, channel catfish, flathead catfish, black crappie, white crappie, bluegill, redear sunfish, striped bass, hybrid striped bass and chain pickerel at Lake Seminole in Florida.
Primary fish species residing in Lake Seminole
Click images for fishing tips and details about each species.
Lake Seminole Amenities
Marina: YES
Boat Rental: NO
Boat Launch Ramp: YES
Campgrounds: YES
RV Hookups: YES
Lodging: YES
Convenience Store: YES
Bait & Tackle: YES
Restaurant: YES
Today's Weather & Forecast
Public Boat Launch Ramps & Landings
Howells Landing Boat Launch Ramp
Located in the northeast section of the lake, off River Road, this is a two-lane, concrete ramp with a dock and paved parking.
Sneads Park Boat Launch Ramp
Located mid lake, west side, off Legion Road, this is a two-lane, concrete ramp with a dock and paved parking.
Click here for a Florida Fishing License.
Campgrounds & RV Parks Nearby
Three Rivers State Park Campground - 850 482-9006
Seminole Lodge & Marina Campground - 850 593-6886
Chattahoochee RV Campground & Fishing Resort - 850 663-4475
Visit the Georgia Lake Seminole page for additional resources.
Lake Seminole FL Map - Fishing & Camping Areas
Lake Video
Contact Information
Lake Seminole
Three Rivers State Park
7908 Three Rivers Park Rd
Sneads, FL 32460
850 482-9006
Fishing lakes in each state.
Lake Seminole in Florida.
FLORIDA


Information about fishing lakes in Florida
Lake Seminole offers rental boats plus great fishing for striped bass, hybrid stripers, catfish, crappie, sunfish, chain pickerel and especially largemouth bass in northwest FL.
Fishing on Lake Seminole.