Guide To Fishing At Lake Istokpoga
AKA: Istokpoga Reservoir
Fishing for largemouth bass, channel catfish, black crappie, bluegill and redear sunfish at Lake Istokpoga in Florida.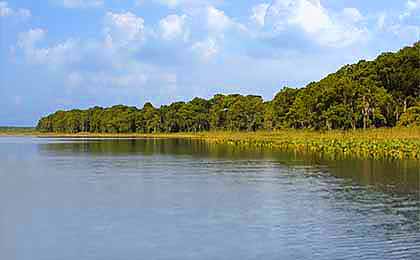 This 27,700-acre lake is located in the central-southern part of the state, five miles east of Lake Placid, Florida. Lake Istokpoga is ten miles long and five miles wide with an average depth of four feet. The deepest area of the lake is only ten feet deep.
Lake Istokpoga in Florida is renowned for its excellent fishing opportunities and is considered one of the premier bass fishing destinations in the state. Spanning over 27,000 acres, this expansive lake attracts anglers from near and far who are eager to reel in some trophy-sized fish.
Bass fishing is the main draw at Lake Istokpoga, with largemouth bass being the most sought-after species. This lake is known for its abundant bass population and is home to some of the largest bass in the state. Anglers can employ various techniques, such as flipping, pitching, and topwater fishing, to entice these powerful predators. With the right strategy and a little luck, anglers have the chance to catch bass weighing over 10 pounds.
In addition to bass, Lake Istokpoga offers excellent fishing opportunities for other popular species. Catfish, including channel catfish and bullhead catfish, can be found in good numbers. Anglers can target catfish using cut bait, live bait, or stink baits, and they often catch them near the lake's deeper channels or submerged structures.
Crappie, also known as speckled perch, are abundant in Lake Istokpoga and provide exciting angling opportunities. Anglers can catch crappie throughout the year, but the best time is during the spring spawning season. Fishing around submerged trees, vegetation, or fishing docks using jigs or live minnows can yield impressive catches of these tasty panfish.
Sunfish, including bluegill and redear sunfish, are plentiful in Lake Istokpoga and offer fun fishing for anglers of all ages. These colorful and scrappy fish can be caught using small hooks baited with worms or small pieces of bread. Fishing around the lake's shorelines, docks, or near vegetation can yield a steady stream of sunfish action.
Lake Istokpoga not only provides fantastic fishing opportunities but also offers boating and camping facilities. Boaters can explore the lake's vast waters, targeting their preferred species in different areas of the lake. The lake is also popular for recreational boating activities such as water skiing and tubing.
For those looking to extend their fishing adventure, camping facilities are available around Lake Istokpoga. Camping allows anglers to immerse themselves in the tranquility of the lake's surroundings, enjoy the beautiful sunsets, and have convenient access to early morning fishing spots.
In summary, Lake Istokpoga in Florida is a premier fishing destination, especially for bass anglers. With its abundant bass population and opportunities to catch catfish, crappie, and sunfish, the lake provides a diverse and rewarding fishing experience. Boating and camping facilities further enhance the allure of this scenic lake, making it a favorite among anglers and outdoor enthusiasts alike.
Five boat ramps, two parks and numerous fish camps are located around the lake. There are camping facilities as well as hookups for RVs. During summer the lake level is often dropped to accommodate farming. This may limit access for boat ramps and docks.

Primary fish species residing in Lake Istokpoga
Click images for fishing tips and details about each species.
Fishing At Lake Istokpoga
This 27,692-acre lake has quality fishing for black crappie and is one of the best largemouth bass fisheries in the state. There are 21 miles of shoreline and plenty of cover. In all, fishing enthusiasts can catch bass, catfish, crappie and sunfish. Area fishing guides offer packaged trips which include the boat and all gear.
Largemouth Bass Fishing At Lake Istokpoga
Due to warm, shallow water, autumn, winter and spring are the best times to fish for bass. The southwest corner of the lake has some of the deepest water - ten feet. Bass tend to congregate in the areas with deeper water and can be caught in weedy areas nearby the deeper water. Some of the consistent producing areas include Istokpoga Canal, Arbuckle and Josephine Creek. Flowing water in these waterways seems to trigger the bass to feed.
Be aware of the enforced slot limit before fishing Lake Istokpoga if you plan to take fish home. At the time of this writing the regulation required that all bass between 15" and 24" must be returned to the water immediately.
Crappie Fishing At Lake Istokpoga
The best crappie fishing occurs during winter months in the northeast and southwest sections of the lake.
Other Fishing At Lake Istokpoga
Bluegill and redear sunfish are abundant throughout the lake and summer is the best time to catch these fun panfish. Catfish fishing is also available.
Lake Istokpoga Fishing Reports, Forums & Blogs
Lake Istokpoga Amenities
Marina: YES
Boat Rental: YES
Boat Launch Ramp: YES
Campgrounds: YES
RV Hookups: YES
Lodging: YES
Convenience Store: YES
Bait & Tackle: YES
Restaurant: NEARBY
Today's Weather & Forecast
Fishing Boat Rentals
Trails End Fishing Resort
Rentals: Fishing boats and kayaks
863 655-0134
Public Boat Launch Ramps & Landings
98 Boat Launch Ramp
Located mid lake, on the north side of the lake, off Istokpoga Park Access Road, this is a four-lane, concrete ramp with a dock and paved parking.
Rutledge Boat Launch Ramp
Located mid lake, west side, off Lakesedge Drive, this is a one-lane, concrete ramp with a dock and gravel parking.
Windy Point Boat Launch Ramp
Located in the southwest section of the lake, off Boat Ramp Road, this is a two-lane, concrete ramp with a dock and lots of paved parking.
Click here for a Florida Fishing License.
Camping & Campgrounds At Lake Istokpoga
There are numerous campgrounds and RV parks within minutes of Lake Istokpoga. Contact them directly for rates and reservations.
Camp Florida RV Resorts - 863 699-1991
Cypress Isle RV Park & Marina - 863 465-5241
Lake Placid Campground - 863 465-2934
Marinas
Marinas, Fish Camps & Boat Slips
Bring your boat or hire a guide to take you fishing. The fishing is great and there are plenty of ways to enjoy Lake Istokpoga.
Henderson's Fish Camp - 863 465-2101
Lake Istokpoga Marina - 863 699-9585
Mossy Cove Fish Camp - 863 655-0119
Boat, Houseboat & Jet Ski Rental
Lake Istokpoga Marina - 863 699-9585
Weather
Average high and average low, monthly temperatures at Lake Istokpoga.
January 73° - 46°
February 77° - 49°
March 80° - 52°
April 84° - 55°
May 89° - 61°
June 91° - 68°
July 93° - 69°
August 92° - 70°
September 90° - 69°
October 86° - 63°
November 80° - 56°
December 75° - 50°
Lake Istokpoga FL Map - Fishing & Camping Areas
Lake Video
Contact Information
Lake Istokpoga
Henderson's Fish Camp
35 Henderson Rd
Lake Placid, FL 33852
863 465-2101
Fishing lakes in each state.
Lake Istokpoga in Florida.
FLORIDA


Information about fishing lakes in Florida
Lake Istokpoga offers catfish, crappie, sunfish and bass fishing plus plenty of boat and pontoon boat rentals in south-central Florida.
Fishing on Lake Istokpoga.