Guide To Fishing At Lochloosa Lake
AKA: Lake Lochloosa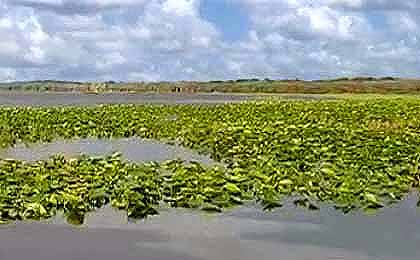 Over 30 miles of shoreline, with thick vegetation, makes Lochloosa Lake an ideal home for bass, crappie and panfish. This picturesque, 5,700-acre lake is located in northeast FL, 5 miles south of Hawthorne.
Lochloosa Lake in Florida is a hidden gem for anglers seeking a memorable fishing experience. The lake is known for its excellent fishing opportunities and abundance of popular fish species.
Bass fishing is a major draw on Lochloosa Lake, with largemouth bass being the most sought-after species. The lake's extensive vegetation, submerged structure, and varying depths create an ideal habitat for bass to thrive. Anglers can use a variety of techniques, such as flipping, pitching, or topwater lures, to entice these prized game fish. Lochloosa Lake has a reputation for producing trophy-sized bass, providing anglers with the chance to land a lunker.
Crappie and sunfish are also plentiful in Lochloosa Lake, making it a great spot for family-friendly fishing. Crappie can be caught using small jigs or live minnows, while sunfish can be targeted using worms or crickets. These species provide anglers of all ages with enjoyable fishing opportunities and are perfect for introducing young anglers to the sport.
Lochloosa Lake offers a serene environment for boating enthusiasts. Anglers can explore the lake's waters by motorized boats, kayaks, or canoes. The lake features boat ramps and convenient access points for launching watercraft. Boating on Lochloosa Lake allows anglers to cover more water and explore different fishing spots.
Camping facilities are available near Lochloosa Lake, providing anglers with the option to extend their fishing trip and immerse themselves in the natural beauty of the area. Camping allows anglers to fully experience the peacefulness of the lake and enjoy the outdoors.
It's important for anglers to familiarize themselves with the fishing regulations and licensing requirements set by the Florida Fish and Wildlife Conservation Commission for Lochloosa Lake. Following these regulations helps protect the fishery and ensures sustainable fishing for future generations.
Overall, Lochloosa Lake in Florida offers a fantastic fishing experience. With its popular fish species such as bass, crappie, and sunfish, as well as the opportunity for boating and camping, Lochloosa Lake is a perfect destination for anglers looking to enjoy the beauty of nature while reeling in some impressive catches.
There are areas accessible for fishing from the bank, plus fishing piers. Plenty of cypress trees and aquatic plants provide cover for fish and baitfish. A kayak, canoe or small fishing boat allows easy access to the shallow cover here. Amenities to enhance a fishing trip here include campgrounds, RV spaces, marina services, bait and tackle, shopping and restaurants. Several boat launch ramps easily handle pleasure boats, pontoons and fishing boats.


What to fish for...
Fishing for largemouth bass, black crappie, bluegill and redear sunfish at Lochloosa Lake in Florida.
Primary fish species residing in Lochloosa Lake
Click images for fishing tips and details about each species.
Lochloosa Lake Amenities
Marina: YES
Boat Rental: YES
Boat Launch Ramp: YES
Campgrounds: YES
RV Hookups: YES
Lodging: YES
Convenience Store: YES
Bait & Tackle: YES
Restaurant: YES
Today's Weather & Forecast
Fishing Boat Rentals
Twin Lakes Fish Camp
Rentals: Canoes
352 466-3194
Public Boat Launch Ramps & Landings
Lochloosa Lake Park Boat Launch Ramp
Located in the southeast section of the lake, east side, off SE 207th Street, this is a one-lane, concrete ramp with a dock and gravel parking.
Click here for a Florida Fishing License.
Campgrounds & RV Parks Nearby
Twin Lakes Fishing & Camping - 352 466-3194
Lochloosa Harbor RV Park - 352 481-2114
Royal Palm RV Park - 352 595-3779
Water's Edge Oaks RV Park - 352 595-4590
Lochloosa Lake FL Map - Fishing & Camping Areas
Lake Video
Contact Information
Lochloosa Lake
Twin Lakes Fishing & Camping
17105 Co Rd 325
Hawthorne, FL 32640
352 466-3194
Fishing lakes in each state.
Lochloosa Lake in Florida.
FLORIDA


Information about fishing lakes in Florida
Lochloosa Lake offers bass, crappie, bluegill and other sunfish fishing, plus boat rentals in northeast FL.
Fishing on Lochloosa Lake.