Guide To Fishing At Lake Harris
AKA: Harris Chain of Lakes, Ocklawaha Chain of Lakes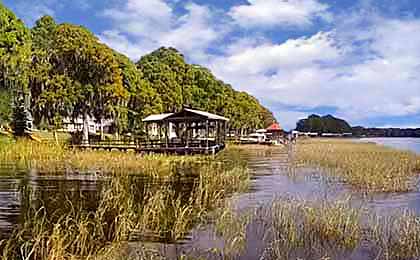 Boating and great fishing are the main draws at Lake Harris, a 13,800-acre lake located in the central part of Florida, immediately south of Leesburg. Harris Lake has over 40 miles of shoreline for fishing and other recreation.
Lake Harris in Florida is a great fishing destination that attracts anglers from all over. The lake is known for its diverse fish populations and offers a variety of species to target.
Bass fishing is a popular pursuit on Lake Harris, and anglers come here in search of largemouth bass. The lake's extensive vegetation, submerged structure, and ample forage provide an ideal habitat for bass to thrive. Anglers can use various techniques such as flipping, pitching, or topwater lures to entice these prized game fish.
Catfish are also abundant in Lake Harris, providing anglers with exciting opportunities. Channel catfish and bullhead catfish can be found throughout the lake's waters. Anglers often target them using a variety of baits, including stinkbaits, chicken liver, or cut bait. Catfish are known for their hard-fighting nature, making them a favorite among many anglers.
Crappie, sunfish, and other panfish species are prevalent in Lake Harris, making it an excellent destination for family-friendly fishing. Anglers can enjoy catching crappie using small jigs or live minnows, while sunfish can be caught using worms or crickets. These species provide a fun and rewarding fishing experience, particularly for younger anglers.
Lake Harris is also home to striped bass, which add an exciting dimension to the fishing opportunities. Striped bass are known for their strong fights and can be targeted using a variety of techniques such as trolling, casting with artificial lures, or live bait fishing.
Chain pickerel, with their toothy jaws and aggressive feeding habits, are another sought-after species in Lake Harris. Anglers targeting chain pickerel often use spoons, jerkbaits, or flashy lures that imitate small fish. These predatory fish provide an additional challenge and excitement for anglers.
In addition to fishing, Lake Harris offers boating and camping amenities. Anglers can explore the lake's waters by motorized boats, kayaks, or canoes. The lake features boat ramps and marinas for convenient access. Camping facilities are available in nearby parks, providing anglers with the opportunity to extend their fishing trip and enjoy the natural beauty of the surroundings.
It is important for anglers to be aware of the fishing regulations and licensing requirements set by the Florida Fish and Wildlife Conservation Commission for Lake Harris. Adhering to these regulations helps maintain the health of the fishery and ensures sustainable fishing for future generations.
Whether you're a dedicated angler or a recreational fisherman, Lake Harris in Florida offers a variety of fishing opportunities. With its popular fish species such as bass, catfish, crappie, sunfish, striped bass, and chain pickerel, along with the options for boating and camping, Lake Harris provides a memorable fishing experience for all.
Bass, striped bass, crappie, sunfish, chain pickerel and gar all reside here awaiting anglers. Bank fishing is available from a few locations around the lake at parks, campgrounds and nearby several boat launch ramp areas. The lake is ideal for all type of boats from canoes and kayaks to sophisticated fishing boats, pleasure boats and speed boats. Marinas, stores, restaurants and shopping are all available at or nearby the lake.

What to fish for...
Fishing for largemouth bass, channel catfish, white catfish, black crappie, bluegill, redbreast sunfish, redear sunfish, spotted sunfish, warmouth, striped bass, bowfin, chain pickerel and longnose gar at Lake Harris in Florida.
Primary fish species residing in Lake Harris
Click images for fishing tips and details about each species.
Lake Harris Amenities
Marina: YES
Boat Rental: NO
Boat Launch Ramp: YES
Campgrounds: YES
RV Hookups: YES
Lodging: YES
Convenience Store: YES
Bait & Tackle: YES
Restaurant: YES
Today's Weather & Forecast
Fishing Boat Rentals
Lake Harris Boat Rentals
Rentals: Fishing pontoon boats
407 928-1035
Public Boat Launch Ramps & Landings
Lake Harris Boat Ramps
Located mid lake, east side, at the north end of the State Highway 19 Bridge, this is a ten-lane, concrete ramp with docks and paved parking.
Little Lake Harris - Astatula Boat Launch Ramp
Located mid lake on Little Lake Harris, east side, off Florida Avenue, this is a two-lane, concrete ramp with a dock and paved parking.
Ski Beach Boat Launch Ramp
Located in the northwest section of the lake, off Ball Park Road, this is a four-lane, concrete ramp with docks and paved parking.
Marinas
Fisherman's Cove Marina
3950 N. Eichelberger Road
Tavares, Florida 32778
352 343-1233
Marina del Rey
10400 County Road 48
Howey-in-the-Hills, FL 34737
352 268-9574
Click here for a Florida Fishing License.
Campgrounds & RV Parks Nearby
Holiday Travel Resort Campground - 352 787-5151
Fisherman Cove RV Park - 352 343-1233
Banana Cove Marina & RV Park - 352 343-7951
Lake Harris FL Map - Fishing & Camping Areas
Lake Video
Contact Information
Lake Harris
Fisherman Cove RV Park
3950 N Eichelberger Rd
Tavares, FL 32778
352 343-1233
Fishing lakes in each state.
Lake Harris in Florida.
FLORIDA


Information about fishing lakes in Florida
Lake Harris offers bass, striped bass, crappie, sunfish, chain pickerel and gar fishing in central FL.
Fishing on Lake Harris.