Fishing On Lake Erie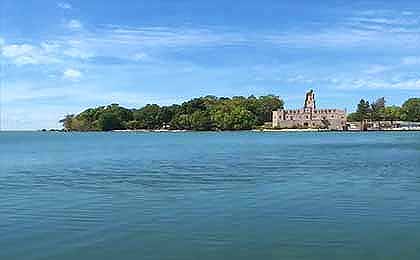 Bordering four states and Canada, Lake Erie is one of America's Great Lakes. It covers 9,910 square miles, and provides numerous, fantastic fishing opportunities. The lake is one of the premiere smallmouth bass fisheries in the country, and supports healthy populations of a wide variety of fish species as well. Bass, trout, salmon, walleye, crappie, perch, sunfish, muskie and pike all reside here in both quantity and quality.
Fish species* residing in Lake Erie
Click images for fishing tips and details about each species.
Click the images and links above for species details.
*Species covered in this website
Fishing for largemouth bass, smallmouth bass, channel catfish, black crappie, walleye, sauger, rainbow trout, brown trout, lake trout, steelhead, bluegill, green sunfish, pumpkinseed sunfish, rock bass, white bass, white perch, yellow perch, chinook (king) salmon, coho salmon, pink salmon, muskie and northern pike in Lake Erie.
While fishing opportunities are greatly enhanced from a boat, there is 871 miles of shoreline offering endless fishing options. Always check weather conditions before venturing out, as this lake can become very dangerous, in very short order. Follow all Coast Guard warnings and be prepared for potentially rough seas.
Fishing charters and guided fishing trips are an ideal way to experience the great fishing on Lake Erie. These are some of the major charter services.
Access from Michigan
A2Z Charter Service - 734 417-6703
DownDay Charters - 734 320-5293
Talon Sport Fishing Charter - 248 542-1563
Access from New York
Times Two Charters - 716 785-3088
Lake Erie Fishing Guides - 716 316-3567
Sam I Am Charters - 716 947-4452
Access from Ohio
DB Sport Fishing Charters - 440 479-5158
Four Aces Sport Fishing Charters - 330 392-9691
Great Lakes Charters - 216 287-1096
Access from Pennsylvania
Several marinas and numerous boat launches are available for boating of all kinds. Presque Isle State Park is the hub of activity and boat access out of the town of Erie, PA. The area is famous for Lake Erie perch.
A&A Fishing Charters - 814 205-1747
A Day Away Fishing Charter - 724 272-1479
Walleye Charters Offshore Lake Erie - 907 315-1724
Lake Erie Map
States with access to Lake Erie
Michigan
New York
Ohio
Pennsylvania
Lake Erie Contact Information
Lake Erie Fisheries Research Unit
178 Point Drive North
Dunkirk, NY 14048
716 366-0228
Fishing lakes in each state.
Lake Erie
THE GREAT LAKES


Fishing for trout, salmon, walleye, bass, muskie, perch and other fish species in the Great Lakes
Lake Erie Fishing