Fishing On Lake Huron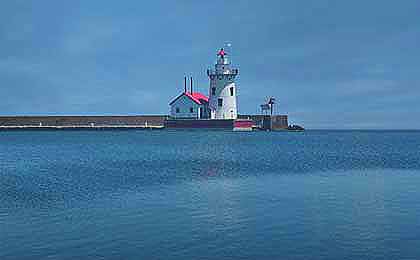 The second largest Great Lake, Lake Huron covers 23,000 square miles and has 3,830 miles of shoreline. Not only is this fishery grand in size, it is also grandiose in fishing opportunities. Salmon, walleye, perch and trout are among the big draws for chartered fishing trips, but this amazing lake also serves up bass, catfish, muskie, pike and sunfish. It would be difficult to find an area that did not support schools of sport fish.
Fish species* residing in Lake Huron
Click images for fishing tips and details about each species.
Click the images and links above for species details.
*Species covered in this website
Fishing for largemouth bass, smallmouth bass, channel catfish, walleye, sauger, rainbow trout, brown trout, lake trout, steelhead, bluegill, green sunfish, pumpkinseed sunfish, rock bass, white bass, white perch, yellow bass, yellow perch, Atlantic salmon, chinook (king) salmon, coho salmon, pink salmon, muskie and northern pike in Lake Huron.
Fishing Boat Rentals
Harbor Beach Kayak Rental
Rentals: Kayaks
989 551-1314
Jays Marine Boat Rentals
Rentals: Pontoon boats
810 294-0294
Port Austin Kayak Rentals
Rentals: Kayaks
989 550-6651
Portside Pontoon Rentals
Rentals: Pontoon boats
586 907-6422
Numerous charter services and fishing guides offer fishing trips from various ports along the eastern shores of Michigan. These are just a few.
Access from Michigan
Absolutlee Fun Charters - 989 876-4729
Stormy Chinook Fishing Charters - 586 212-4030
Trophy Specialists Fishing Charters - 734 475-9146
Sandpiper Sport Fishing Charters - 239 246-7101
Lake Huron Map
States with access to Lake Huron
Lake Huron Contact Information
The Great Lakes Fishery Commission
2200 Commonwealth Blvd., Suite 100
Ann Arbor, MI, 48105
734 662-3209
Fishing lakes in each state.
Lake Huron
THE GREAT LAKES


Fishing for trout, salmon, walleye, bass, muskie, perch and other fish species in the Great Lakes
Lake Huron Fishing