Guide To Fishing At Alcova Lake
AKA: Alcova Reservoir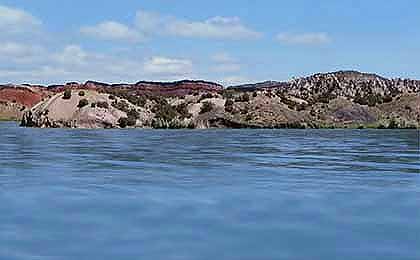 Water sports and fishing are popular at Alcova Lake, a 2,500-acre lake in the central part of the state. There are over a dozen miles of shoreline, much of which is steep canyons. Some of the developed areas are accessible for fishing from the bank.
Located in central Wyoming, Alcova Lake is a beloved destination for fishing enthusiasts seeking a memorable angling experience. This picturesque reservoir is renowned for its excellent fishing opportunities and breathtaking natural beauty. Anglers flock to Alcova Lake primarily for its abundance of game fish, including walleye, trout, perch, and crappie. The lake's thriving walleye population draws anglers from far and wide, as these fish provide thrilling fights and are highly sought after for their delectable taste.
In addition to its fishing prospects, Alcova Lake offers various amenities for outdoor enthusiasts. Boating enthusiasts can take advantage of the lake's expansive surface area, perfect for cruising, water skiing, or simply enjoying a leisurely ride. The calm waters and stunning surrounding cliffs make it a prime spot for kayaking and paddleboarding as well. The lake's boat ramps provide convenient access for both motorized and non-motorized watercraft, allowing visitors to fully embrace the joys of being out on the water.
For those seeking a longer stay, Alcova Lake offers well-maintained campgrounds that cater to both tent camping and RVs. Whether you prefer to pitch a tent by the lakeshore or enjoy the comfort of an RV, there are options available to suit all preferences. Camping at Alcova Lake allows visitors to immerse themselves in the tranquility of nature, waking up to stunning sunrises and falling asleep to the soothing sounds of the nearby water.
With its bountiful fishing opportunities, recreational boating possibilities, and serene camping sites, Alcova Lake is an idyllic destination for nature lovers and fishing enthusiasts alike. Whether you're seeking the thrill of reeling in a walleye, embarking on a boating adventure, or simply enjoying the great outdoors, Alcova Lake in Wyoming offers a truly unforgettable experience.
Trout, walleye and salmon all thrive in the lake, creating good to excellent fishing opportunities. There is a boat ramp, fishing pier, restroom and parking at Black Beach. Alcova Resort, Westside Campground, Casper Boat Club and boat launch ramps are located in the northwest corner of the lake.

What to fish for...
Fishing for walleye, rainbow trout, cutthroat trout, brook trout, brown trout and kokanee salmon at Alcova Lake in Wyoming.
Primary fish species residing in Alcova Lake
Click images for fishing tips and details about each species.
Alcova Lake Amenities
Marina: NO
Boat Rental: YES
Boat Launch Ramp: YES
Campgrounds: YES
RV Hookups: YES
Lodging: YES
Convenience Store: YES
Bait & Tackle: YES
Restaurant: YES
Today's Weather & Forecast
Fishing Boat Rentals
Alcova Resort
Rentals: Fishing boats, kayaks, canoes and pontoon boats
307 472-6666
Public Boat Launch Ramps & Landings
Black Beach Campground Boat Launch Ramp
Located in the northeast corner of the lake, off Black Beach Road, this is a one-lane, concrete ramp with a dock and paved parking.
Fremont Canyon Campground Boat Launch
Located in the southwest section of the lake, off Lakeshore Drive, this is a primitive, one-lane, concrete ramp with gravel parking.
Okie Beach Campground Boat Launch Ramp
Located mid lake, west side, off Lakeshore Drive, this is a two-lane, concrete ramp with docks and paved parking.
Swim Beach Boat Launch Ramp
Located mid lake, west side, off Lakeshore Drive, this is a one-lane, concrete ramp with docks and paved parking.
Marinas
Alcova Resort
24025 Lake Shore Dr.
​Alcova WY 82620
307 472-6666
Click here for a Wyoming Fishing License.
Campgrounds & RV Parks Nearby
Black Beach Campground - 307 235-9311
Fremont Canyon Campground - 307 235-9200
Westside Campground - 307 235-9200
Alcova Dam RV Park - 307 265-6089
Alcova Lake WY Map - Fishing & Camping Areas
Lake Video
Contact Information
Alcova Lake
Alcova Resort
24025 Lakeshore Dr,
​Alcova WY 82620
307 472-6666
Fishing lakes in each state.
Alcova Lake in WY
WYOMING


Fishing for trout, walleye and salmon in central WY.
Alcova Lake, in Wyoming.