Fishing At Bighorn Lake
AKA: Bighorn River Lake
What to fish for...
Guide to fishing for largemouth bass, smallmouth bass, channel catfish, black crappie, white crappie, walleye, sauger, rainbow trout, brook trout, brown trout, green sunfish, pumpkinseed sunfish and yellow perch at Bighorn Lake in Wyoming.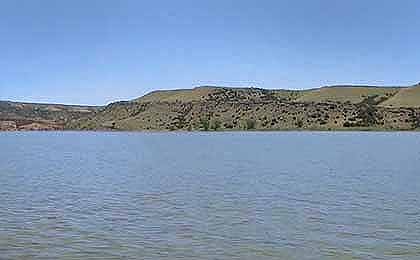 Steep cliff walls surround the better part of Bighorn Lake, a 5,500-acre lake in the northwest part of the state, at Kane. Twisting and turning along the Bighorn River bed, the lake boasts nearly 40 miles of shoreline in Wyoming.
Nestled in the picturesque Bighorn Canyon National Recreation Area, Bighorn Lake is a hidden gem for fishing enthusiasts in Wyoming. This sprawling reservoir stretches across the border of Wyoming and Montana, offering a unique fishing experience amidst stunning natural beauty. Anglers flock to Bighorn Lake in search of a variety of game fish, including walleye, smallmouth bass, catfish, and crappie. The lake's diverse ecosystem supports a healthy population of these species, making it a haven for anglers seeking a rewarding catch.
In addition to its exceptional fishing opportunities, Bighorn Lake provides ample space for boating enthusiasts to indulge in their favorite water activities. The expansive waters and breathtaking canyons create an ideal setting for boating adventures, whether it's sailing, water skiing, or simply cruising around to admire the awe-inspiring scenery. The lake's boat ramps and marinas cater to both motorized and non-motorized watercraft, ensuring everyone can make the most of their time on the water.
For those seeking an extended stay, Bighorn Lake offers several campgrounds where visitors can immerse themselves in the beauty of the surrounding wilderness. From tent camping to RV sites with hookups, there are options available to accommodate different preferences. Waking up to the serene views of the lake, exploring nearby hiking trails, and gathering around a campfire under the starry sky are all part of the unforgettable camping experience at Bighorn Lake.
With its abundant fishing opportunities, expansive boating possibilities, and scenic camping sites, Bighorn Lake stands as a hidden gem within Wyoming's natural landscapes. Whether you're a passionate angler, a boating enthusiast, or simply a nature lover seeking solace in the great outdoors, Bighorn Lake offers a captivating escape where adventure and tranquility blend seamlessly.
This expansive fishery is home to both warm-water and cold-water fish species, giving anglers plenty of choices. Bass, catfish, crappie, walleye, trout, sunfish and perch all thrive here in good numbers, and generally grow to healthy sizes. Horseshoe Bend Marina, located at the north end of the primary lake, offers typical marina services, supplies and rentals. There are plenty of places to fish from the bank, particularly on the western shores. Ice fishing in winter is a tradition here.

Primary fish species residing in Bighorn Lake
Click images for fishing tips and details about each species.
Bighorn Lake Amenities
Marina: YES
Boat Rental: YES (paddle boats)
Boat Launch Ramp: YES
Campgrounds: YES
RV Hookups: YES
Lodging: NEARBY
Convenience Store: YES
Bait & Tackle: YES
Restaurant: YES
Today's Weather & Forecast
Public Boat Launch Ramps & Landings
Cottonwood Creek Boat Launch Ramp
Located mid lake, east side, off Alt US Highway 14, this is a two-lane, concrete ramp with gravel parking.
Click here for a Wyoming Fishing License.
Campgrounds & RV Parks Nearby
Horseshoe Bend Campgrounds - 406 666-2412
Lovell Camper Park - 307 548-6551
Bighorn Lake WY Map - Fishing & Camping Areas
Lake Video
Contact Information
Bighorn Lake
Horseshoe Bend Campgrounds
Off County Rd 37
Lovell, WY 82431
406 666-2412
Fishing lakes in each state.
Bighorn Lake in WY
WYOMING


Fishing for walleye, trout and perch in northwest WY.
Bighorn Lake, in Wyoming.