Guide To Fishing At Keyhole Reservoir
AKA: Keyhole Lake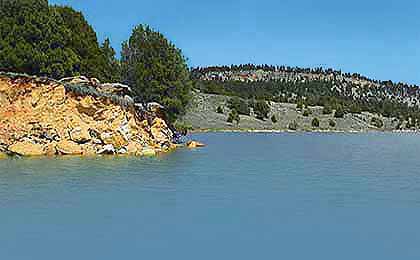 Wrapping around the town of Pine Haven, Keyhole Reservoir, aka Keyhole Lake, is a 9,300-acre lake in the northeast part of the state. The lake has over 50 miles of shoreline, much of which is park areas, some with access for fishing from the bank.
Located in northeastern Wyoming, Keyhole Reservoir is a hidden gem for fishing enthusiasts seeking a rewarding angling experience. This picturesque reservoir, formed by the Keyhole Dam on the Belle Fourche River, offers abundant fishing opportunities amidst the tranquil beauty of the surrounding landscapes. Anglers are drawn to Keyhole Reservoir for its diverse fish species, including walleye, largemouth bass, catfish, crappie, and northern pike. The reservoir's fertile waters provide a thriving habitat for these species, making it an ideal destination for those seeking both quantity and quality catches.
Keyhole Reservoir is not only a paradise for fishing but also a popular spot for boating enthusiasts. The expansive waters and calm currents create an ideal setting for various water activities. Boaters can enjoy cruising, water skiing, and exploring the reservoir's numerous coves and bays. Boat ramps and marinas are available, providing convenient access and ensuring that boaters can fully embrace the joys of being out on the water.
For those looking to extend their stay, Keyhole Reservoir offers camping facilities that allow visitors to immerse themselves in the natural beauty of the area. Campgrounds equipped with amenities such as picnic areas, fire pits, and restrooms provide a comfortable camping experience. Wake up to stunning views of the reservoir, spend the day fishing or boating, and wind down in the evenings while sharing stories around a campfire under the starry sky.
Keyhole Reservoir, with its exceptional fishing opportunities, invigorating boating experiences, and convenient camping sites, stands as a remarkable destination for outdoor enthusiasts in Wyoming. Whether you're an avid angler, a boating aficionado, or simply seeking solace in nature, Keyhole Reservoir offers a memorable retreat. Its diverse fish species, calm waters, and scenic surroundings create an unforgettable outdoor experience that will leave visitors with cherished memories of their time spent in this natural oasis.
Fish species include bass, catfish, crappie, walleye, bluegill, perch, sunfish and northern pike. Boating is open to all types of boats. Anglers use all types of fishing boats, canoes and kayaks to fish these waters. In winter, once the ice is safe, Keyhole Reservoir is a great place for ice fishing because of the wide variety of fish species. A marina, boat ramps, stores, campgrounds and restaurants are all handy at the lake.

What to fish for...
Fishing for smallmouth bass, channel catfish, black crappie, white crappie, walleye, bluegill, green sunfish, yellow perch and northern pike at Keyhole Reservoir in Wyoming.
Primary fish species residing in Keyhole Reservoir
Click images for fishing tips and details about each species.
Keyhole Reservoir Amenities
Marina: YES
Boat Rental: YES
Boat Launch Ramp: YES
Campgrounds: YES
RV Hookups: YES
Lodging: YES
Convenience Store: YES
Bait & Tackle: YES
Restaurant: YES
Today's Weather & Forecast
Fishing Boat Rentals
Keyhole Marina
Rentals: Kayaks, canoes and pontoon boats
307 756-9529
Public Boat Launch Ramps & Landings
Brandenburg Loop Boat Launch Ramp
Located mid lake, on the south side of the lake, off Brandenburg Loop, this is a two-lane, concrete ramp with a dock and gravel parking.
Keyhole Marina Boat Launch Ramp
Located in the northeast section of the lake, south side, off Marina Road, this is a two-lane, concrete ramp with a dock and paved parking.
Pine Haven Boat Launch Ramp
Located mid lake, on the south side of the lake, off Lakeview Drive, this is a one-lane, concrete ramp with a dock and gravel parking.
Marinas
Keyhole Marina
180 Marina Road
Moorcroft, WY 82721
307 756-9529
Click here for a Wyoming Fishing License.
Campgrounds & RV Parks Nearby
Keyhole State Park Campground - 307 756-3596
Keyhole Reservoir WY Map - Fishing & Camping Areas
Lake Video
Contact Information
Keyhole Reservoir
Keyhole Marina
180 Marina Rd
Pine Haven, WY 82721
307 756-9529
Fishing lakes in each state.
Keyhole Reservoir in Wyoming.
WYOMING


Information about fishing lakes in Wyoming
Keyhole Reservoir offers bass, catfish, crappie, walleye, bluegill, perch, sunfish and northern pike fishing in northeast WY.
Fishing on Keyhole Reservoir.