Guide To Fishing At Yellowstone Lake
AKA: Yellowstone Park Lake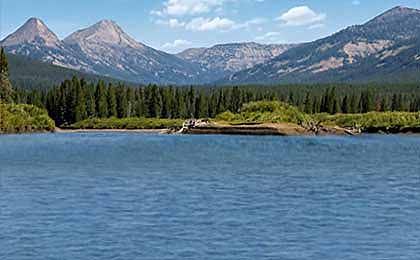 One of the most beautiful settings on earth, Yellowstone Lake is an anglers haven. This 89,000-acre lake is the center piece of Yellowstone National Park, which is located in the northwest corner of Wyoming.
Nestled within the breathtaking landscapes of Yellowstone National Park, Yellowstone Lake is a premier destination for fishing enthusiasts seeking an unforgettable angling experience. As one of the largest high-elevation lakes in North America, Yellowstone Lake boasts exceptional fishing opportunities. Anglers are drawn to the lake for its diverse fish species, including native Yellowstone cutthroat trout, lake trout, brown trout, and Arctic grayling. With its pristine waters and abundance of fish, Yellowstone Lake offers an unparalleled fishing experience in a truly remarkable setting.
While boating is allowed on Yellowstone Lake, it is restricted to non-motorized watercraft to preserve the lake's natural tranquility. Canoeing, kayaking, and paddleboarding are popular choices for exploring the lake's vast waters and admiring the surrounding grandeur of the park. The absence of motorized boats allows visitors to fully immerse themselves in the peacefulness of this iconic lake and appreciate its pristine beauty.
Camping options are available near Yellowstone Lake, allowing visitors to extend their stay and fully embrace the wonders of the national park. The Bridge Bay Campground, located along the shores of Yellowstone Lake, offers a serene camping experience with convenient access to the lake's fishing opportunities. Camping amidst the park's natural wonders allows for a unique and immersive experience, providing opportunities to witness wildlife, hike scenic trails, and marvel at the park's geothermal wonders.
Yellowstone Lake, with its exceptional fishing prospects, non-motorized boating experiences, and scenic camping opportunities, stands as a remarkable destination for outdoor enthusiasts in Wyoming. Whether you're an avid angler, a nature lover, or a seeker of adventure, Yellowstone Lake offers a captivating retreat. Its diverse fish species, tranquil waters, and awe-inspiring surroundings create an unforgettable outdoor experience that will leave visitors with cherished memories of their time spent in this natural wonderland.
Whether or not you wet a line, this is a phenomenal place to spend a day. There are over 110 miles of shoreline wrapped in the beauty of lush forests and grand mountains. The fishing here is limited to two species of trout, cutthroat and lake trout. There are numerous fishing guides in the area to introduce you to this fishing paradise. Power boats, canoes and kayaks are available for rent, or bring your own boat and launch at the Grant Village boat launch. Access to the shoreline is limited but can be very successful. Check with Yellowstone Park for regulations on fishing, boating and camping.

What to fish for...
Fishing for cutthroat trout and lake trout at Yellowstone Lake in Wyoming.
Primary fish species residing in Yellowstone Lake
Click images for fishing tips and details about each species.
Yellowstone Lake Amenities
Marina: YES
Boat Rental: YES
Boat Launch Ramp: YES
Campgrounds: YES
RV Hookups: NEARBY
Lodging: YES
Convenience Store: YES
Bait & Tackle: YES
Restaurant: YES
Today's Weather & Forecast
Fishing Boat Rentals
Bridge Bay Marina
Rentals: Fishing boats
307 344-7311
Public Boat Launch Ramps & Landings
Bridge Bay Marina Boat Launch Ramp
Located in the northwest section of the lake, off Marina Drive, this is a four-lane, concrete ramp with docks and paved parking.
Grant Marina Boat Launch Ramp
Located mid lake, west side, off Grant Marina Road, this is a two-lane, concrete ramp with docks and paved parking.
Marinas
Bridge Bay Marina
Yellowstone National Park, WY 82190
307 344-7311
Click here for a Wyoming Fishing License.
Campgrounds & RV Parks Nearby
Bridge Bay Campground - 307 344-7381
Grant Village Campground - 307 344-7311
Madison Campground - 307 344-7381
Yellowstone Holiday RV Campground - 406 646-4242
Yellowstone Lake WY Map - Fishing & Camping Areas
Lake Video
Contact Information
Yellowstone Lake
Grant Village Campground
Yellowstone National Park, WY 82190
307 344-7311
Fishing lakes in each state.
Yellowstone Lake in Wyoming.
WYOMING


Information about fishing lakes in Wyoming
Yellowstone Lake offers excellent trout fishing in Yellowstone Park, WY.
Fishing on Yellowstone Lake.