Fishing At Buffalo Bill Lake
AKA: Buffalo Bill State Park Lake
What to fish for...
Guide to fishing for walleye, rainbow trout, cutthroat trout, brown trout and lake trout at Buffalo Bill Lake in Wyoming.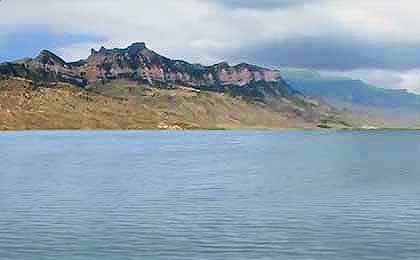 Less than 10 minutes west of Cody, WY, Buffalo Bill Lake, aka Buffalo Bill Reservoir, is an 8,500-acre body of water in the northwest part of the state. There are many access points to over 40 miles of shoreline for fishing from the bank.
Located near Cody, Wyoming, Buffalo Bill Lake offers an exceptional fishing experience in the heart of the state's scenic landscapes. This reservoir, named after the legendary showman Buffalo Bill Cody, attracts anglers from far and wide. Known for its diverse fish species, the lake is a haven for trout enthusiasts. Anglers can expect to catch a variety of trout, including rainbow, brown, and cutthroat trout, making it an enticing destination for those seeking a thrilling fishing adventure.
In addition to its excellent fishing prospects, Buffalo Bill Lake provides ample opportunities for boating enthusiasts. Whether you prefer to sail, jet ski, or simply cruise the calm waters, the lake's expansive surface area ensures there's plenty of space for all. Boat ramps are available for easy access, allowing visitors to embark on their boating adventures with ease. The picturesque surroundings, with the majestic Absaroka Mountains as a backdrop, enhance the boating experience, making it a truly memorable endeavor.
For those looking to extend their stay, Buffalo Bill Lake offers several camping options to immerse themselves in the natural beauty of the area. From lakeside campsites to nearby campgrounds, visitors can choose their preferred camping style. Waking up to the tranquil sounds of nature, enjoying a lakeside breakfast, and taking in the panoramic views create an idyllic camping experience. Hiking trails, wildlife spotting, and stargazing opportunities further enrich the camping adventure at Buffalo Bill Lake.
Buffalo Bill Lake, with its outstanding fishing opportunities, inviting boating experiences, and picturesque camping sites, is a true gem in Wyoming's outdoor offerings. Whether you're an avid angler, a boating enthusiast, or simply seeking solace in nature, Buffalo Bill Lake provides an unforgettable escape. Its diverse fish species, serene waters, and stunning landscapes ensure an enriching and memorable experience for all who venture to this remarkable lake.
Use the concrete boat launch ramp at Buffalo Bill State Park, or a few primitive ones around the lake to launch everything from canoes and kayaks to pontoons, power boats and all manner of fishing boats. Rainbow, cutthroat, trout and lake trout are the favorites of serious trout anglers here, but walleye also thrive here and grow to bragging size. Ice fishing is popular in winter for all species.

Primary fish species residing in Buffalo Bill Lake
Click images for fishing tips and details about each species.
Buffalo Bill Lake Amenities
Marina: NO
Boat Rental: NO
Boat Launch Ramp: YES
Campgrounds: YES
RV Hookups: YES
Lodging: YES
Convenience Store: NO
Bait & Tackle: NO
Restaurant: NEARBY
Today's Weather & Forecast
Public Boat Launch Ramps & Landings
Buffalo Bill State Park Boat Launch Ramp
Located mid lake, on the north side of the lake, off US Highway 16, this is a two-lane, concrete ramp with a dock and paved parking.
East Side Boat Launch Ramp
Located mid lake, east side, off Bartlett Lane, this is a three-lane, concrete ramp with a dock and gravel parking.
South Shore Boat Launch Ramp
Located in the northwest section of the lake, off S Shore Drive, this is a one-lane, concrete ramp with gravel parking.
Click here for a Wyoming Fishing License.
Campgrounds & RV Parks Nearby
Buffalo Bill State Park - 307 587-9227
Buffalo Bill State Park North Shore Campground - 307 587-9227
Buffalo Bill Lake WY Map - Fishing & Camping Areas
Lake Video
Contact Information
Buffalo Bill Lake
Buffalo Bill State Park
4192 Northfork Hwy
Cody, WY 82414
307 587-9227
Fishing lakes in each state.
Buffalo Bill Lake in WY
WYOMING


Fishing for trout and walleye in northwest WY.
Buffalo Bill Lake, in Wyoming.