Fishing At Jenny Lake
AKA: Lake Jenny
What to fish for...
Guide to fishing for cutthroat trout and lake trout at Jenny Lake in Wyoming.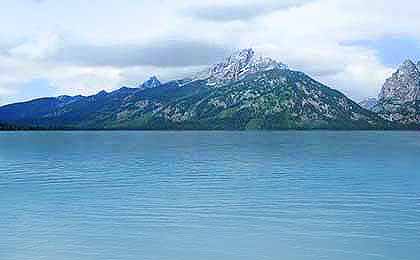 Less notorious than other popular lakes in the area, Jenny Lake is a 1,200-acre gem in the Grand Teton National Park, 5 miles north of Beaver Creek, WY. Follow the Jenny Lake Trail around the 7 miles of lake shoreline for hiking, sightseeing or fishing from the bank.
The purpose of this page is to deliver an overview of this lake, the fishing options, and area amenities. Our goal is to provide info to first time visitors, as well as beginner and novice anglers. We gathered details from personal experience, numerous trusted websites that each offer select bits of information, and videos of fishing activity on the lake. These websites include the Wyoming Game and Fish Department, marinas at the lake, campgrounds, boat rental agencies and others. By consolidating this information to one page it allows visitors to see the entire picture, all in one place.
Lake Video
Nestled within Grand Teton National Park, Jenny Lake is a pristine alpine lake that captivates visitors with its serene beauty and opportunities for outdoor recreation. While fishing is not permitted in Jenny Lake, the lake is renowned for its crystal-clear waters and the breathtaking scenery that surrounds it. Anglers can explore nearby lakes and rivers within the park, such as nearby String Lake or the Snake River, for fishing opportunities. These water bodies are home to various fish species, including trout, such as cutthroat, brown, and rainbow trout, providing anglers with thrilling fishing experiences amidst the stunning backdrop of the Teton Mountains.
Jenny Lake, with its scenic splendor, non-fishing recreational activities, and camping opportunities, offers a tranquil escape in the heart of Grand Teton National Park. Whether you're exploring the nearby fishing spots, paddling across the pristine waters, or embarking on scenic hikes, Jenny Lake provides a memorable outdoor experience in one of Wyoming's most breathtaking natural settings.

Primary fish species residing in Jenny Lake
Click images for fishing tips and details about each species.
Jenny Lake Amenities
Marina: YES
Boat Rental: YES
Boat Launch Ramp: NO
Campgrounds: NEARBY
RV Hookups: NEARBY
Lodging: YES
Convenience Store: NO
Bait & Tackle: NO
Restaurant: YES
Today's Weather & Forecast
While fishing may not be a primary activity at Jenny Lake, it offers other recreational opportunities for visitors to enjoy. Boating enthusiasts can rent canoes and kayaks at the Jenny Lake Visitor Center and paddle across the serene waters, taking in the majestic mountain views and the tranquil atmosphere. Non-motorized boating is allowed on the lake, creating a peaceful and eco-friendly experience.
There is one boat launch ramp, and boat motors are limited to 10 horsepower, so kayaks, canoes and inflatable are popular here. Cutthroat and lake trout thrive here in good numbers and grow to bragging size. This is one of the most popular ice fishing destinations in the area. Daily boat tours are available during the season.
Fishing Boat Rentals
Jenny Lake Boating
Rentals: Kayaks and canoes
307 734-9227
Public Boat Launch Ramps & Landings
Jenny Lake Boat Landing
Located mid lake, on the south side of the lake, off Lupine Meadows Road, this is a two-lane, concrete ramp with gravel parking.
Click here for a Wyoming Fishing License.
Camping options are available near Jenny Lake, allowing visitors to fully immerse themselves in the natural beauty of the park. The Jenny Lake Campground offers tent camping sites in a wooded area, providing a peaceful and rustic camping experience. From the campground, visitors can access hiking trails that lead to breathtaking viewpoints, such as Inspiration Point and Hidden Falls. These trails offer stunning vistas of the lake, the Teton Range, and the surrounding wilderness.
Campgrounds & RV Parks Nearby
Signal Mountain Campground - 307 543-2831
Jenny Lake WY Map - Fishing & Camping Areas
Contact Information
Jenny Lake
Jenny Lake Boating
Jenny Lake Visitor Center
Moose, WY 83012
307 734-6227
Fishing lakes in each state.
Jenny Lake in WY
WYOMING


Fishing for cutthroat and lake trout in northwest WY.
Jenny Lake, in Wyoming.