Fishing At Hubbard Lake
AKA: Lake Hubbard
What to fish for...
Guide to fishing for largemouth bass, smallmouth bass, walleye, bluegill, pumpkinseed sunfish, rock bass, yellow perch, muskie and northern pike at Hubbard Lake in Michigan.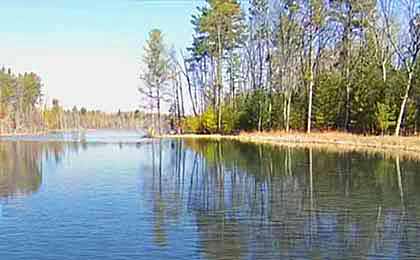 A well-stocked fishing lake, Hubbard Lake is also an 8,800-acre outdoor activity center. The lake is located in the northeast part of the lower MI peninsula, at Caledonia. Boating, camping sailing, water skiing and fishing attract visitors to play and fish around these 27 miles of shoreline.
Hubbard Lake, nestled in northeastern Michigan, is a hidden gem for fishing enthusiasts seeking a memorable angling experience. With its clear blue waters and diverse fish species, Hubbard Lake offers excellent fishing opportunities for both recreational and serious anglers. The lake is known for its abundant populations of walleye, northern pike, smallmouth bass, largemouth bass, yellow perch, and panfish. Anglers can cast their lines from the shore or venture out on a boat to target these prized catches, creating memorable fishing experiences amidst the scenic surroundings of Hubbard Lake.
Boating is a popular activity on Hubbard Lake, providing visitors with the opportunity to fully explore the vast expanse of the lake and enjoy its natural beauty. Whether it's cruising along the calm waters, water skiing, or leisurely pontoon rides, Hubbard Lake offers a tranquil and picturesque boating experience. Public boat ramps and marinas are available, ensuring convenient access for boaters to launch their watercraft and set sail on the expansive waters of the lake.
For those seeking a longer stay, Hubbard Lake offers camping facilities that allow visitors to immerse themselves in the natural beauty of the area. Nearby campgrounds provide amenities such as picnic areas, fire pits, and restrooms, ensuring a comfortable camping experience. Waking up to stunning lake views, spending the day fishing or boating, and gathering around a campfire under the starry night sky create cherished memories of outdoor relaxation and connection with nature.
Hubbard Lake, with its exceptional fishing opportunities, serene boating experiences, and convenient camping options, stands as a remarkable destination for outdoor enthusiasts in Michigan. Whether you're an avid angler, a boating aficionado, or simply seeking a tranquil camping retreat, Hubbard Lake offers an unforgettable escape. Its diverse fish species, expansive waters, and breathtaking landscapes combine to create an immersive outdoor experience that will leave visitors with cherished memories of their time spent in this natural paradise.
Three primary boat launch ramps serve fishing boats and pleasure boats of all kinds. A nearby RV park and campground is only a few minutes from the lake, and there are several lodging and dining options around the lake as well. Anglers will enjoy the well stocked lake which contain perch, walleye, muskie, northern pike, sunfish and both largemouth and smallmouth bass. There is very limited access to the shoreline for fishing from the bank, as the majority of the lake is lined with private property, homes and boat docks. A canoe, kayak or fishing boat is a real advantage for accessing the fish populations here. Rental boats are available at Churchill Pointe Inn. Ice fishing is popular here and the fishing is often excellent.

Primary fish species residing in Hubbard Lake
Click images for fishing tips and details about each species.
Hubbard Lake Amenities
Marina: NO
Boat Rental: YES
Boat Launch Ramp: YES
Campgrounds: YES
RV Hookups: YES
Lodging: YES
Convenience Store: YES
Bait & Tackle: YES
Restaurant: YES
Today's Weather & Forecast
Fishing Boat Rentals
Viking Marine
Rentals: Pontoon boats
989 727-2797
Public Boat Launch Ramps & Landings
Hubbard Lake North End Boat Launch Ramp
Located in the northern section of the lake, off Galenona Road, this is a two-lane, concrete ramp with docks and paved parking.
Tollson Park Boat Launch Ramp
Located mid lake, east side, off Tollson Road, this is a two-lane, concrete ramp with docks and paved parking.
Click here for a Michigan Fishing License.
Campgrounds & RV Parks Nearby
Whitetail Bend Campground - 989 727-2556
Hubbard Lake MI Map - Fishing & Camping Areas
Lake Video
Contact Information
Hubbard Lake
Whitetail Bend Campground
6531 Hickey Hill
Hubbard Lake, MI 49747
989 727-2556
Fishing lakes in each state.
Hubbard Lake in Michigan.
MICHIGAN


Information about fishing lakes in MI.
Fishing in the northeast part of the lower MI peninsula, at Hubbard Lake, for perch, walleye, muskie, northern pike, sunfish and bass.
Fishing on Hubbard Lake.