Fishing At Lake Michigamme
AKA: Van Riper State Park Lake
What to fish for...
Guide to fishing for largemouth bass, smallmouth bass, black crappie, walleye, brook trout, pumpkinseed sunfish, rock bass, yellow perch, muskie, northern pike and tiger muskie at Lake Michigamme in Michigan.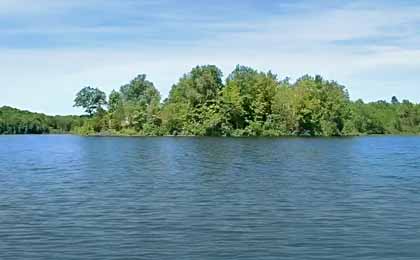 The quaint town of Michigamme wraps the northern edge of Lake Michigamme, which is a 4,300-acre lake in the central part of the upper peninsula. It is considered a big lake by locals and has 36 miles of shoreline for anglers and visitors to explore.
The purpose of this page is to deliver an overview of this lake, the fishing options, and area amenities. Our goal is to provide info to first time visitors, as well as beginner and novice anglers. We gathered details from personal experience, numerous trusted websites, and videos of fishing activity on the lake. These websites include the Michigan Department of Natural Resources, marinas at the lake, campgrounds, boat rental agencies and others. By consolidating this information to one page it allows visitors to see the entire picture, all in one place.
Lake Video
Lake Michigamme, located in the Upper Peninsula of Michigan, is a paradise for fishing enthusiasts seeking a memorable angling experience. With its vast size and abundant fish populations, Lake Michigamme offers excellent fishing opportunities for both recreational and serious anglers. The lake is known for its diverse fish species, including walleye, northern pike, smallmouth bass, largemouth bass, yellow perch, and a variety of panfish. Anglers can cast their lines from the shore or explore the expansive waters on a boat to target these prized catches, creating unforgettable fishing experiences amidst the natural beauty of Lake Michigamme.
Lake Michigamme, with its exceptional fishing opportunities, serene boating experiences, and convenient camping options, stands as a remarkable destination for outdoor enthusiasts in Michigan. Whether you're an avid angler, a boating aficionado, or simply seeking a tranquil camping retreat, Lake Michigamme offers an unforgettable escape. Its diverse fish species, expansive waters, and breathtaking landscapes combine to create an immersive outdoor experience that will leave visitors with cherished memories of their time spent in this natural gem.
While smallmouth bass, walleye and musky are favorite targets for fishing enthusiasts, the lake has nice populations of trout, crappie, perch, sunfish and northern pike. There is boat launching off Blue Road, with a boat dock. Rental boats, lodging, dining, fishing gear, bait, stores and camping are all handy at the lake.

Primary fish species residing in Lake Michigamme
Click images for fishing tips and details about each species.
Lake Michigamme Amenities
Marina: NO
Boat Rental: NO
Boat Launch Ramp: YES
Campgrounds: YES
RV Hookups: YES
Lodging: YES
Convenience Store: YES
Bait & Tackle: YES
Restaurant: YES
Today's Weather & Forecast
Boating is a popular activity on Lake Michigamme, providing visitors with ample opportunities to explore the vast expanse of the lake and enjoy the scenic surroundings. Whether it's cruising along the calm waters, water skiing, or leisurely pontoon rides, Lake Michigamme offers a serene and picturesque boating experience. Public access points and boat launches are available, ensuring convenient entry for boaters looking to set sail and navigate the lake's sparkling waters.
Fishing Boat Rentals
Lake Michigamme Rentals
Rentals: Pontoon boats
906 339-4114
Public Boat Launch Ramps & Landings
Michigamme Beach Boat Launch Ramp
Located in the northwest section of the lake, off Imp Heights Road, this is a one-lane, gravel ramp with gravel parking.
Van Riper State Park Boat Launch Ramp
Located in the southeast section of the lake, off Blue Road, this is a one-lane, concrete ramp with a dock and paved parking.
Click here for a Michigan Fishing License.
For those seeking a longer stay, Lake Michigamme offers camping facilities that allow visitors to immerse themselves in the natural beauty of the area. Nearby campgrounds provide amenities such as picnic areas, fire pits, and restrooms, ensuring a comfortable camping experience. Falling asleep to the sounds of nature, waking up to stunning lake views, and spending the day fishing or boating create cherished memories of outdoor relaxation and connection with the great outdoors.
Campgrounds & RV Parks Nearby
Van Riper State Park Campground - 906 339-4461
Michigamme Shores Campground - 906 339-2116
Lake Michigamme MI Map - Fishing & Camping Areas
Contact Information
Lake Michigamme
Van Riper State Park
851 Co Rd AKE
Champion, MI 49814
906 339-4461
Fishing lakes in each state.
Lake Michigamme in MI
MICHIGAN


Fishing for smallmouth bass, walleye and musky in the central part of the upper peninsula, MI.
Lake Michigamme, in Michigan.