Fishing At Elk Lake
AKA: Elk River Lake
What to fish for...
Guide to fishing for smallmouth bass, black crappie, walleye, rainbow trout, lake trout, bluegill, rock bass, yellow perch, muskie and northern pike at Elk Lake in Michigan.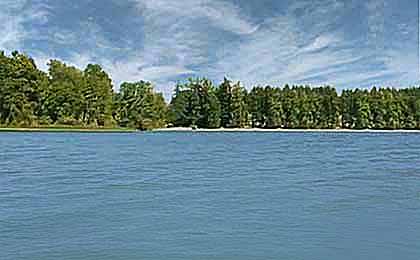 Like the proverbial deep blue sea, Elk Lake is over 200 feet deep and has a healthy population of lake trout. About 9 miles long and mile and a half wide, the lake has 7,700 surface acres. Located in the northwest part of the lower peninsula, at Elk Rapids, the lake sports 28 miles of shoreline for recreation and fishing.
The purpose of this page is to deliver an overview of this lake, the fishing options, and area amenities. Our goal is to provide info to first time visitors, as well as beginner and novice anglers. We gathered details from personal experience, numerous trusted websites, and videos of fishing activity on the lake. These websites include the Michigan Department of Natural Resources, marinas at the lake, campgrounds, boat rental agencies and others. By consolidating this information to one page it allows visitors to see the entire picture, all in one place.
Lake Video
Elk Lake, situated in northern Michigan, is a stunning destination that offers fantastic fishing opportunities for anglers of all skill levels. With its clear blue waters and diverse fish species, Elk Lake is a popular spot for both recreational and avid anglers. The lake is known for its abundant populations of lake trout, rainbow trout, brown trout, smallmouth bass, and panfish. Anglers can cast their lines from the shore or venture out on a boat to target these prized catches, creating memorable fishing experiences amidst the scenic beauty of Elk Lake.
Elk Lake, with its exceptional fishing opportunities, invigorating boating experiences, and convenient camping facilities, stands as an enticing destination for outdoor enthusiasts in Michigan. Whether you're an avid angler, a boating aficionado, or simply seeking a serene camping retreat, Elk Lake offers an unforgettable escape. Its diverse fish species, expansive waters, and breathtaking landscapes combine to create an immersive outdoor experience that will leave visitors with cherished memories of their time spent in this natural paradise.
Everything you need for a camping and fishing vacation is here at the ready. A marina, parks, camping, shopping, dining, boat launch ramps and excellent choices for fishing await your arrival. The lake has healthy populations of bass, perch, muskie, walleye, trout, pike and bluegill - among others. While most of the shore is lined with homes and boat docks, there are sections of the lake available to anglers who prefer to fish from the bank. These access areas include campgrounds, parks and public areas. The lake supports all types of watercraft including sailboats, pleasure boats, ski boats, canoes, kayaks and all manner of fishing boats.

Primary fish species residing in Elk Lake
Click images for fishing tips and details about each species.
Elk Lake Amenities
Marina: YES
Boat Rental: YES
Boat Launch Ramp: YES
Campgrounds: YES
RV Hookups: YES
Lodging: YES
Convenience Store: YES
Bait & Tackle: YES
Restaurant: YES
Today's Weather & Forecast
Boating enthusiasts will find delight in exploring the expansive waters of Elk Lake. With its vast surface area and calm conditions, the lake is perfect for various boating activities. Whether you prefer cruising along the shoreline, water skiing, or enjoying a leisurely pontoon ride, Elk Lake provides an ideal setting. Boaters can take advantage of the public access points and boat ramps to easily launch their watercraft and embark on their adventures on the crystal-clear waters.
Fishing Boat Rentals
Elk Rapids Marina on Elk Lake
Rentals: Pontoon boats
231 264-9500
Public Boat Launch Ramps & Landings
Edward C. Grace Memorial Harbor Boat Ramp
Located in the northwest section of the lake, off Cedar Street, this is a four-lane, concrete ramp with docks and plenty of paved parking.
Elk Lake Drive Boat Launch Ramp
Located in the northeast section of the lake, off Elk Lake Drive, this is a one-lane, concrete ramp with a dock and gravel parking.
Kewadin Kayak Launch
Located in the northern section of the lake, off Carin Highway, this is a portage area with paved parking.
Whitewater Township Park Boat Launch Ramp
Located in the southwest section of the lake, off Park Road, this is a two-lane, concrete ramp with a dock and paved parking.
Marinas
Elk Rapids Marina on Elk Lake
118 Bridge St
Elk Rapids, MI 49629
231 264-9500
Click here for a Michigan Fishing License.
For those seeking a longer stay, Elk Lake offers camping facilities that allow visitors to fully immerse themselves in the natural splendor of the area. Nearby campgrounds provide amenities such as picnic areas, fire pits, and restrooms, ensuring a comfortable camping experience. Waking up to breathtaking views of the lake, spending the day fishing or boating, and gathering around a campfire under the starry night sky create cherished memories of outdoor relaxation and connection with nature.
Campgrounds & RV Parks Nearby
Honcho Rest Campground - 231 264-8548
Whitewater Township Park & Campground - 231 267-5091
Everflowing Waters Campground - 231 938-0933
Elk Lake MI Map - Fishing & Camping Areas
Contact Information
Elk Lake
Honcho Rest Campground
8988 Cairn Hwy
Elk Rapids, MI 49629
231 264-8548
Fishing lakes in each state.
Elk Lake in Michigan.
MICHIGAN


Information about fishing lakes in MI.
Fishing in the northwest part of the lower MI peninsula, at Elk Lake, for bass, perch, muskie, walleye, trout, pike and sunfish.
Fishing on Elk Lake.