Bass Fishing & Bass Lakes In Michigan
Guide to smallmouth and largemouth bass fishing in MI lakes.
By Rick Seaman
Michigan is a paradise for bass fishing enthusiasts, offering a wealth of opportunities to catch both largemouth and smallmouth bass. The state's numerous lakes, rivers, and reservoirs provide ideal habitats for these popular gamefish species. The purpose of this page is to share basic information about bass fishing and bass lakes in the state.
Bass fishing basics video.
Largemouth bass can be found throughout Michigan, with some of the best fishing spots including inland lakes such as Lake St. Clair, Lake Gogebic, and Houghton Lake. These fish are known for their powerful strikes and acrobatic jumps, providing anglers with thrilling battles on the water.
Michigan is also renowned for its exceptional smallmouth bass fishing. The state boasts world-class smallmouth bass fisheries, particularly in waters like Lake St. Clair, Lake Charlevoix, and the St. Clair River. Smallmouth bass are highly regarded for their aggressive nature and hard-fighting ability, making them a favorite target for many anglers. Whether you're casting from the shore or navigating the scenic waterways in a boat, Michigan offers ample opportunities to pursue both largemouth and smallmouth bass throughout the fishing season.
Anglers employ various techniques when targeting bass in Michigan. These include using topwater lures, crankbaits, jigs, soft plastics, and live bait presentations. Different strategies may be effective depending on the time of year, water conditions, and the behavior of the fish. It's important to familiarize yourself with local regulations and practice catch-and-release to preserve the bass populations and ensure the sustainability of these fisheries for future generations.
Whether you're a seasoned angler or a novice, Michigan's bass fishing scene provides endless excitement and the chance to land trophy-sized fish. The combination of scenic waterways, diverse habitats, and robust bass populations makes Michigan a top destination for bass fishing enthusiasts from all over. So grab your fishing gear, explore the state's beautiful lakes and rivers, and get ready for an unforgettable bass fishing experience in the Great Lakes State.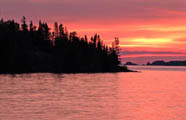 Bass Lakes In MI
While you can find bass in ponds, rivers and state park lakes, the vast majority of bass are caught out of larger major lakes including Black Lake, Brevoort Lake, Burt Lake, Crystal Lake, Elk Lake, Fletcher Pond, Glen Lake, Grand Lake, Hamlin Lake, Higgins Lake, Houghton Lake, Hubbard Lake, Indian Lake, Lake Charlevoix, Lake Erie, Lake Gogebic, Lake Huron, Lake Leelanau, Lake Michigamme, Lake Michigan, Lake St Clair, Lake Superior, Long Lake, Manistique Lake, Mullett Lake, Sanford Lake, Torch Lake and Wixom Lake. Visit the Bass Knowledge Center for valuable information about bass and bass fishing.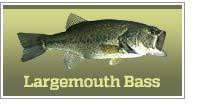 World record: 22 lbs 4 oz
State Record: 11.94 lbs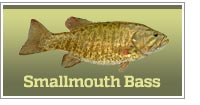 World record: 11 lbs 15 oz
State Record: 9.98 lbs
Click the images and links above for species details.
Top 5 Bass Fishing Lures For Michigan
When bass are shallow, spinnerbaits, crankbaits and stickbaits are the most productive. As they move deeper, worms and jigs are among the top producers.
The state record largemouth bass is a tie, one from Big Pine Island Lake and the other came from Alcona Dam Pond.
The state record smallmouth bass was caught from the Indian River.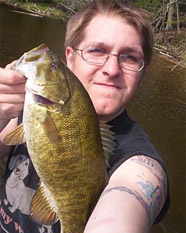 L.T. Miller shows off a real nice smallmouth bass he caught from Tippy Pond. Read his fishing article here.

Catch big bass!
Understanding the primary seasonal movements of smallmouth bass and largemouth bass is key to locating them on local lakes in the Great Lakes State. Read Ernest Miller's insight into Michigan Smallmouth fishing in Tippy Pond.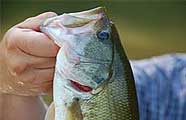 Bass are one of the most sought after of all the game fish. Its appeal spans cultures, age groups and genders to tap on the heart strings of anglers everywhere. Join us in our endeavor to offer information about bass fishing on your favorite bass lake in Michigan.
Bass fishing information by state.
The lifecycle of bass
The more you know about the seasonal migration of bass, the more likely you are to be looking in the right area next time you visit Michigan bass fishing lakes. Visit the bass fishing page for more in-depth information about bass activities.
MICHIGAN