Fishing At Allegheny Reservoir
AKA: Allegheny Lake
What to fish for...
Guide to fishing for smallmouth bass, channel catfish, white crappie, walleye, rainbow trout, brook trout, brown trout, rock bass, white bass, white perch, yellow bass and yellow perch, muskie and northern pike at Allegheny Reservoir in New York.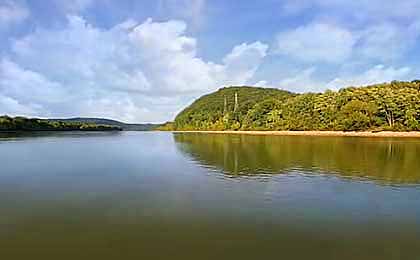 A well-documented fish factory, Allegheny Reservoir is a 12,000-acre lake on the southern border of the state, with 91 miles of shoreline. Big muskies, walleye and northern pike are quite common here.
The purpose of this page is to deliver an overview of this lake, the fishing options, and area amenities. Our goal is to provide info to first time visitors, as well as beginner and novice anglers. We gathered details from personal experience, numerous trusted websites, and videos of fishing activity on the lake. These websites include the Fishing - NYS Deptartment of Environmental Conservation, marinas at the lake, campgrounds, boat rental agencies and others. By consolidating this information to one page it allows visitors to see the entire picture, all in one place.
Lake Video
Located in southwestern New York, the Allegheny Reservoir is a popular destination for fishing enthusiasts seeking a diverse range of fish species and outdoor recreational activities. The reservoir spans across the Allegheny National Forest, offering breathtaking scenic views and a tranquil setting for anglers to enjoy their fishing experiences.
The Allegheny Reservoir is known for its excellent fishing opportunities, with species like smallmouth bass, largemouth bass, walleye, northern pike, muskellunge, and panfish inhabiting its waters. Anglers can try various techniques, such as casting with crankbaits or soft plastics, trolling with spinnerbaits or spoons, or fly fishing with streamers, to target their preferred fish species. Smallmouth bass, in particular, are highly sought after in the reservoir, with the potential for trophy-sized catches.
Overall, the Allegheny Reservoir in New York offers a captivating fishing experience, abundant with various fish species and surrounded by stunning natural landscapes. Whether casting for bass, trolling for walleye, or simply enjoying the serenity of the reservoir while camping or boating, anglers and outdoor enthusiasts can find solace and adventure in the beauty of the Allegheny Reservoir.
Stocked rainbow, brook and brown trout ensure an excellent trout fishery, plus there is an abundant supply of bass, crappie, catfish, perch and crappie. Virtually any amenity you might seek out is located at the lake to enhance your fishing, camping and boating excursions. A marina, boat launch ramps, supplies, dining, lodging and camping are all within easy access to the lake, as well as areas of accessible shoreline for bank fishing. This fish factory is quite a popular ice fishing area during winter months, once the ice is safe.

Primary fish species residing in Allegheny Reservoir
Click images for fishing tips and details about each species.
Allegheny Reservoir Amenities
Marina: YES
Boat Rental: YES
Boat Launch Ramp: YES
Campgrounds: YES
RV Hookups: YES
Lodging: YES
Convenience Store: YES
Bait & Tackle: YES
Restaurant: YES
Today's Weather & Forecast
Beyond fishing, the Allegheny Reservoir offers a wide range of recreational activities. Boating is a popular pursuit, with boat ramps available for easy access to the reservoir's expansive waters. Anglers and pleasure boaters alike can enjoy exploring the reservoir, finding secluded coves, and searching for their favorite fishing spots. Additionally, kayaking and canoeing provide a serene way to navigate the reservoir's scenic waterways and observe the surrounding wildlife.
Public Boat Launch Ramps & Landings
Friends Boat Launch Ramp
Located in the northeast section of the lake, off Allegany State Park Road, this is a two-lane, concrete ramp with docks and gravel parking.
Onoville Marina Park Boat Launch Ramp
Located in the northwest section of the lake, off W Bank Perimeter Road, this is a five-lane, concrete ramp with docks and massive, paved parking.
Click here for a New York Fishing License.
Camping is another attraction at the Allegheny Reservoir, offering the opportunity to immerse oneself in nature. Several campgrounds are available in the area, providing a range of amenities from basic sites to more developed campgrounds with facilities like showers and electricity. Camping allows anglers to extend their stay, making the most of their fishing adventures and enjoying the beauty of the Allegheny National Forest.
Campgrounds & RV Parks Nearby
Highbanks Campground - 877 764-2267
Onoville Marina Park - 716 354-2615
Allegheny Reservoir NY Map - Fishing & Camping Areas
Contact Information
Allegheny Reservoir
Onoville Marina
704 W. Perimeter Road
Frewsburg, NY 14738
716 354-2021
Fishing lakes in each state.
Allegheny Reservoir in NY
NEW YORK


Fishing for smallmouth bass, northern pike, walleye and muskie in southern NY
Allegheny Reservoir, in New York.