Guide To Taking Kids Fishing In New York
Ideas and locations to take kids fishing in NY.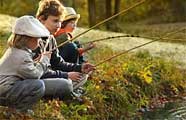 Fishing and the great outdoors offers kids an alternative to many influences they encounter in their busy lives today. A single fishing trip could be the turning point in a young life, and we encourage you to invest the time in New York kids. The rewards are endless and it takes so little effort.
New York offers a wonderful opportunity for kids to experience the joys of fishing. With its diverse fish species and numerous urban fishing locations, the state provides an accessible and engaging fishing experience for young anglers. Many parks throughout New York City and other urban areas have stocked ponds and lakes specifically designed for family-friendly fishing.
One of the most popular fish species for kids to target is the bluegill. These colorful and feisty panfish are abundant in many urban fishing locations and provide excellent opportunities for children to practice their angling skills. Bluegill are known for their willingness to bite and can be caught using simple techniques such as bobber fishing with worms or small baits.
Another popular fish species for kids to pursue is the rainbow trout. Many urban fishing locations in New York, such as Prospect Park Lake in Brooklyn or Central Park's Harlem Meer, are stocked with rainbow trout during the spring and fall seasons. Trout fishing provides an exciting challenge for young anglers, and catching these beautiful fish can be a thrilling experience.
Urban fishing locations in New York also offer opportunities to catch other species like largemouth bass, sunfish, and catfish. These species provide additional variety and excitement for kids as they explore the different techniques and baits needed to attract these fish.
Engaging kids in fishing not only helps them develop patience, coordination, and a love for the outdoors, but it also creates cherished family memories. It's important to provide children with appropriate fishing gear, such as child-sized rods and reels, and ensure they have the necessary safety equipment, including life jackets if fishing near water bodies.
Overall, New York's urban fishing locations and the variety of fish species available make it an ideal destination for kids to discover the joys of fishing. Whether casting a line in a neighborhood pond or exploring the lakes of city parks, children have the opportunity to develop a lifelong passion for angling while enjoying quality time with their families in the heart of the city.

Places in New York to take kids fishing
Consider these small lakes, ponds, creeks and urban fishing locations as places to take a kid fishing in the Empire State.
Albany
- Buckingham Lake Park
- Rensselaer Lake
- Thompson's Lake State Park
- Washington Park
Blue Mountain Lake
- Blue Mountain Lake
Bronx
- Crotona Park Pond
- Hunts Point Riverside Park
- Pelham Bay Park
- Van Cortlandt Lake
Buffalo
- Beaver Island State Park
- Hoyt Lake
Hempstead
- Camaans Pond
- Forest City Park Pond
- Freeport Reservoir
- Grant Park Pond
- Hempstead Lake St Park
- Lower Twin Pond
- Mullener Pond
- Smith Pond
- Upper Twin Pond
- Wantagh Mill Pond
Long Island
- Artist Lake
- Avon Manor Pond
- Beaverdam Creek
- Big Reed Pond
- Canaan Lake
- Forge Pond
- Fresh Pond
- Hither Hills State Park
- Hook Pond
- Lake Ronkonkoma
- Lower Yaphank Lake
- Marratooka Pond
- Millers Pond
- Otis Pike Ponds
- Swan River
- Upper Mills Pond
- Upper Yaphank Lake
- Watermill Pond
- West Lake
New York
- Baisley Pond
- Central Park Ponds
- Bayswater Point State Park
- Kissena Lake
- Meadow Lake
- Oakland Lake
- Willow Lake
Niagra Falls
- Hyde Park
- Niagara River
Piseco
- Piseco Lake
Rochester
- Cobbs Hill Park
- Durand Eastman Park
- Ontario Beach Park
- Seneca Park
- Turning Point Park
Staten Island
- Clove Lakes Park
- Great Kills Park
- Martling Lake
- Silver Lake Reservoir
- Wolfe's Pond Park
Warsaw
- Silver Lake State Park
Top 3 tips for taking kids fishing in NY
1. Make sure that the goal is to have fun. Catching fish is a bonus.
2. Keep it simple. Simple tackle, techniques and locations.
3. Keep the focus on the kids. Be a hero by helping them enjoy the day.
Click here for additional tips to create a successful day of fishing for kids.
Kids Fishing Video
This could be your child, grandchild or any kid you took fishing. Take a picture and send it to us. We will happily post it here for them.
---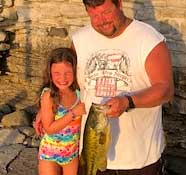 Miss Anna Ivey, age 7, caught this 3 1/2 pound bass while fishing from the dock on the St Lawrence River, in New York.
---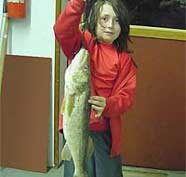 Jeremiah Austin, age 9 with his 6lb walleye caught at the Portlandville Bridge in Otsego County New York.
---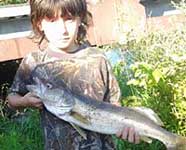 Jeremiah Austin with a nice, 24" walleye he caught in the Susquehanna River, Otsego Co., New York.
---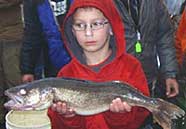 Jason Drozdowski, age 6 shows off this 22" walleye he landed all by himself in a walleye derby at Cuba Lake.
---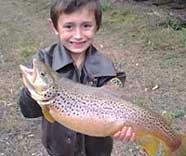 Jeremiah Austin age 8 caught this 8.5 pound 24 inch brown trout the first time trout fishing in the Schenevus Creek in Otsego county New York.
---
Kids, fishing and smiles naturally go together. Take a kid fishing and you just might change the course of their life. Then take pictures and send us one of them holding their prized catch. We will happily post it here.
Kids fishing locations and information, by state.
Help us identify other youth fishing spots in NY.
If you are aware of a great place to take kids fishing in your area, please let us know. We can add it to our list. Every kid that catches a fish will appreciate the fact that you made the effort.
NEW YORK