Guide To Fishing For Crappie In New York
All about fishing for black and white crappie.
New York offers fantastic opportunities for crappie fishing, with both black crappie and white crappie species thriving in various lakes, reservoirs, and rivers across the state. Crappie, known for their delicious taste and willingness to bite, are highly sought after by anglers of all skill levels. One popular destination for crappie fishing is Lake Champlain, where both black and white crappie can be found in abundance. Anglers often have success targeting crappie around submerged structures, such as fallen trees, brush piles, and docks. Crappie are known to congregate in schools, making it possible to have productive fishing sessions with multiple catches. Techniques like vertical jigging, using small jigs, and live minnows are commonly employed to entice these finicky fish.
Black crappie, with their distinctive dark coloration and intricate patterning, are a prevalent species in New York waters. They can be found in lakes, ponds, and slow-moving rivers throughout the state. Black crappie prefer areas with submerged vegetation, such as weed beds and lily pads, where they feed on small fish and insects. Anglers often target black crappie during the spring spawning season when they move to shallower waters near the shoreline. Fishing with small jigs, soft plastics, and live minnows under bobbers is an effective technique to catch black crappie. Their willingness to bite and their excellent table fare make them a favorite among anglers.
White crappie, another popular species in New York, can be found alongside black crappie in many water bodies. They are distinguishable by their lighter coloration and vertical bars along their bodies. White crappie often inhabit clearer waters and prefer areas with submerged woody cover, such as brush piles and fallen trees. Anglers targeting white crappie can use similar techniques as those used for black crappie, such as vertical jigging and live bait presentations. White crappie provide exciting angling opportunities, particularly during the spring and fall when they gather in schools near underwater structures.
Whether pursuing black crappie or white crappie, anglers in New York can enjoy thrilling fishing experiences and the chance to fill their creels with these delectable panfish. The state's diverse waterways offer ample opportunities to connect with these popular and rewarding game fish.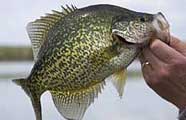 Crappie are actually a member of the sunfish family and can be found in many New York lakes. Crappie can be found through the state in ponds, rivers, small lakes and parks. The bigger schools reside in major lakes like Ashokan Reservoir, Black Lake, Canandaigua Lake, Cannonsville Reservoir, Cayuga Lake, Chautauqua Lake, Great Sacandaga Lake, Keuka Lake, Lake Champlain, Lake George, Long Lake, Oneida Lake, Onondaga Lake, Otsego Lake, Owasco Lake, Pepacton Reservoir, Saratoga Lake, Schroon Lake and Skaneateles Lake.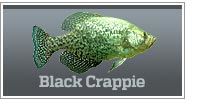 World record: 6 lbs 0 oz
State Record: 4 lbs 1 oz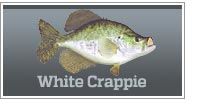 World record: 5 lbs 3 oz
State Record: 3 lbs 13 oz
Click the images and links above for species details.
Top 5 Crappie Fishing Lures For New York
Crappie jigs work well in water from 2' to 40' deep, and are the most popular artificial lure for crappie ever. When crappie are shallow, spinners, small crankbaits and underspins are the often very productive. As they move deeper, spoons are among the top producers if the crappie are active. Review details for the best crappie rig options. Understanding the seasonal movements of crappie can enhance your chances of using these lures in the ideal locations.
New York State Record Crappie
The state record black crappie was caught from Lake Flavia.
The state record white crappie (tie) one came out of Sleepy Hollow Lake, the other from Kinderhook Lake.
Crappie Fishing Basics Video
Crappie are known by many different local names. Paper mouth, goggleye, bridge perch, slabs and speckled perch, are just a few.
Check out crappie information, by state.
The life cycle of crappie.
The more you know about crappie, the easier it will be to locate and catch them in New York lakes and rivers. Visit the crappie fishing page for details about their seasonal migrations.
NEW YORK