New York Bass Fishing
All about fishing for smallmouth and largemouth bass in NY.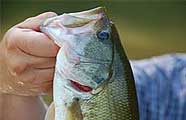 Bass are one of the most sought after of all the game fish. Its appeal spans cultures, age groups and genders to tap on the heart strings of anglers everywhere. Join us in our endeavor to offer information about bass fishing on your favorite bass lake in New York.
Understanding the primary seasonal movements of smallmouth bass and largemouth bass is key to locating them on local lakes in the Empire State.
Bass Fishing Lakes In New York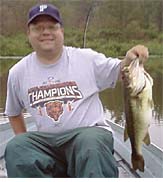 It's hard to find fishing water in New York without bass. Private ponds, small lakes, rivers and parks are potential bass homes. The major lakes in NY with healthy populations of bass include Allegheny Reservoir, Ashokan Reservoir, Black Lake, Canandaigua Lake, Cannonsville Reservoir, Carry Falls Reservoir, Cayuga Lake, Chautauqua Lake, Conesus Lake, Cranberry Lake, Great Sacandaga Lake, Indian Lake, Keuka Lake, Lake Champlain, Lake George, Long Lake, Lows Lake, Oneida Lake, Onondaga Lake, Otsego Lake, Owasco Lake, Pepacton Reservoir, Piseco Lake, Raquette Lake, Saratoga Lake, Seneca Lake, Schroon Lake, Skaneateles Lake, Tupper Lake, Union Falls Pond and Upper Saranac Lake.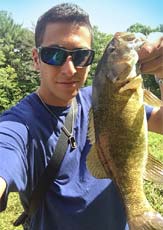 Jake Turner, age 20, from Long Island, NY is a college student at SUNY Oneonta. This is his biggest smallmouth bass to date, at 20 inches long. He was using a Heddon Super Spook Jr, at Oneota Reservoir.

Catch big bass!
The New York state record largemouth bass came from Buckhorn Lake and the NY state record smallmouth bass came out of Lake Erie.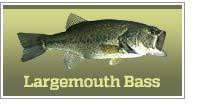 World record: 22 lbs 4 oz
NY State Record: 11 lbs 4 oz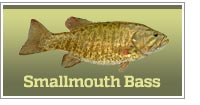 World record: 11 lbs 15 oz
NY State Record: 8 lbs 4 oz
By clicking on the images and links above, you will be taken to a page offering more information about the selected species.
Bass fishing information, by state.
The lifecycle of bass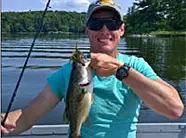 The more you know about the seasonal migration of bass, the more likely you are to be looking in the right area next time you visit New York bass fishing lakes. Visit the bass fishing page for more in-depth information about bass activities.
Best bass fishing lakes in New York!