Guide To Fishing At Owasco Lake
AKA: Lake Owasco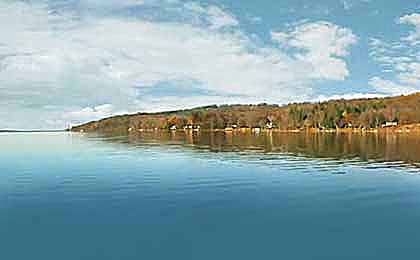 Rainbow, lake and brown trout are stocked annually into Owasco Lake, a 6,600-acre lake in the central part of the state. Sightseers and anglers alike will enjoy the 25 miles of scenic shoreline that is home to bass, northern pike, crappie and sunfish.
Owasco Lake, nestled in the heart of the Finger Lakes region in New York, is a picturesque destination for fishing enthusiasts. Known for its crystal-clear waters and scenic surroundings, Owasco Lake offers a diverse fishery and a tranquil fishing experience.
One of the primary fish species found in Owasco Lake is the lake trout. These deep-dwelling fish are known for their impressive size and their preference for colder waters. Anglers target lake trout by trolling with downriggers or using vertical jigging techniques. These powerful fish provide a thrilling challenge and the opportunity for memorable catches.
Owasco Lake is also home to a healthy population of smallmouth bass. These hard-fighting fish can be found near rocky shorelines, drop-offs, and submerged structures. Anglers can use techniques such as casting with jigs, soft plastics, or crankbaits to entice these feisty bass. Smallmouth bass in Owasco Lake are known for their strong fights and acrobatic leaps, providing an exciting angling experience.
Other fish species found in Owasco Lake include largemouth bass, northern pike, yellow perch, and panfish such as bluegill and pumpkinseed. Largemouth bass can be found near weed beds and submerged vegetation, providing additional opportunities for bass anglers. Northern pike are predatory fish that can reach impressive sizes and provide thrilling battles. Yellow perch and panfish offer enjoyable fishing experiences for anglers of all ages.
Boating is a popular activity on Owasco Lake, with boat ramps available for convenient access to the water. Anglers can explore the lake's scenic beauty, find productive fishing spots, and enjoy the serenity of the surroundings. The calm waters of Owasco Lake are also ideal for kayaking, canoeing, and paddleboarding, allowing visitors to appreciate the natural beauty of the lake up close.
Camping facilities are available near Owasco Lake, allowing anglers and outdoor enthusiasts to extend their stay and fully immerse themselves in the natural surroundings. Campers can enjoy peaceful evenings under starry skies, cook freshly caught fish over a campfire, and wake up to the sounds of nature. The camping options range from primitive campsites to more developed campgrounds, catering to different preferences and comfort levels.
Owasco Lake in New York offers a delightful fishing experience with its diverse fish species and scenic beauty. Whether targeting lake trout, bass, pike, or panfish, anglers can enjoy the thrill of the chase and the rewards of a successful catch. Boating and camping amenities further enhance the outdoor experience, making Owasco Lake an enticing destination for anglers and nature enthusiasts seeking a memorable fishing adventure in a serene and picturesque setting.
Walleye and trout tend to locate in some of the deeper waters offshore. Boat ramps for all types of boats, and boat rentals provide anglers a choice to bring a boat, rent one, or fish from shore. Camping, restaurants, lodging, marinas and shopping are all readily accessible at the lake. Ice fishing can be very good for trout, panfish and northern pike.

What to fish for...
Fishing for largemouth bass, smallmouth bass, black crappie, walleye, rainbow trout, brown trout, lake trout, bluegill, pumpkinseed, rock bass, yellow perch and northern pike at Owasco Lake in New York.
Primary fish species residing in Owasco Lake
Click images for fishing tips and details about each species.
Owasco Lake Amenities
Marina: YES
Boat Rental: YES
Boat Launch Ramp: YES
Campgrounds: YES
RV Hookups: NO
Lodging: YES
Convenience Store: YES
Bait & Tackle: YES
Restaurant: YES
Today's Weather & Forecast
Fishing Boat Rentals
Owasco Marine
Rentals: Fishing boats and pontoon boats
315 258-9096
Owasco Paddles
Rentals: Canoes and kayaks
315 567-1437
Public Boat Launch Ramps & Landings
Emerson Park Boat Launch Ramp
Located at the northern tip of the lake, off Emerson Park Road, this is a four-lane, concrete ramp with docks and paved parking.
Koenig Point Boat Launch Ramp
Located mid lake, east side, off Emmi Drive, this is a one-lane, concrete ramp with a dock and no parking.
Southshore Marina Boat Launch Ramp
Located in the southwest corner of the lake, off Fire 1 Lane, this is a one-lane, concrete ramp with docks and gravel parking.
Marinas
South Shore Marina
2810 Firelane 1, Off Route 38
Moravia, NY 13118
315 497-3006
Click here for a New York Fishing License.
Campgrounds & RV Parks Nearby
Camp Columbus - 315
Owasco Lake NY Map - Fishing & Camping Areas
Lake Video
Contact Information
Owasco Lake
South Shore Marina
2810 Firelane 1, Off Route 38
Moravia, NY 13118
315 497-3006
Fishing lakes in each state.
Owasco Lake in NY
NEW YORK


Fishing for rainbow, brown and lake trout, plus smallmouth bass in central NY.
Owasco Lake, in New York.