Guide To Fishing At Cranberry Lake
AKA: Lake Cranberry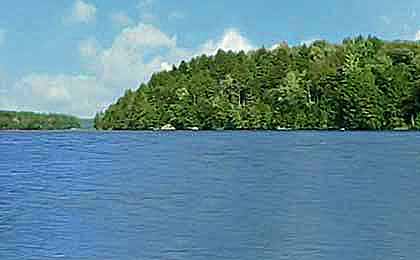 The epitome of natural beauty, Cranberry Lake is nestled in the Adirondacks awaiting your visit. This 7,000-acre lake in the north-central part of the state has so many pockets and coves, it boasts 71 miles of shoreline.
Cranberry Lake, situated in the heart of the Adirondack Mountains in New York, is a pristine and tranquil destination for fishing enthusiasts. Known for its unspoiled beauty and remote wilderness, Cranberry Lake offers a serene fishing experience surrounded by breathtaking scenery. The lake is home to a variety of fish species, making it a popular spot for anglers seeking a diverse range of catches.
One of the primary fish species in Cranberry Lake is the smallmouth bass. These feisty fish are abundant in the lake and provide exciting angling opportunities. Anglers can target smallmouth bass by casting with jigs, crankbaits, or soft plastic baits near rocky structures, submerged logs, or weed edges. The fight and acrobatics of smallmouth bass make them a favorite among anglers.
Cranberry Lake is also known for its populations of northern pike. These predatory fish can reach impressive sizes and provide thrilling battles for anglers. Casting with large spoons, spinnerbaits, or swimbaits in weedy areas or near submerged structures are effective techniques for enticing these toothy predators.
Other fish species found in Cranberry Lake include yellow perch, panfish such as bluegill and pumpkinseed, as well as pickerel. These species offer additional opportunities for anglers looking for a variety of catches. Anglers can use techniques such as bobber fishing with worms, small jigs, or live bait to target these panfish species.
Boating is a popular activity on Cranberry Lake, with motorized and non-motorized watercraft allowed. Anglers can explore the lake's nooks and crannies, find hidden fishing spots, and appreciate the tranquility of the surroundings. The calm waters of Cranberry Lake are also ideal for kayaking or canoeing, allowing visitors to immerse themselves in the natural beauty of the area.
Camping facilities are available near Cranberry Lake, providing an opportunity to fully embrace the wilderness experience. Campers can enjoy peaceful evenings under starlit skies, cook freshly caught fish over a campfire, and wake up to the sounds of nature. The camping options in the area range from primitive campsites to more developed campgrounds, catering to various preferences.
Cranberry Lake in New York offers a serene fishing experience in a remote and picturesque setting. Anglers can enjoy the thrill of catching smallmouth bass, northern pike, and other species while surrounded by the pristine beauty of the Adirondack Mountains. Boating and camping amenities further enhance the outdoor experience, making Cranberry Lake a captivating destination for anglers and nature lovers seeking an escape into wilderness.
Brook trout, largemouth and smallmouth bass, perch and northern pike make up the resident fish species. There is no marina on the lake, but rental boats are available. The public boat launch allows for easy launching. Canoes, row boats, kayaks and car toppers are popular, along with pontoons, pleasure boats and all manner of fishing boats. If you like to rough it, camping and RV hookups are all nearby the water. If you prefer comfort, there are many options for lodging. Also close by are baits shops, fishing tackle, convenience stores and most supplies for boating, fishing and camping. Ice fishing is popular here, once the ice is safe, and annual ice fishing derbys are held by the fire department.

What to fish for...
Fishing for largemouth bass, smallmouth bass, brown trout, yellow perch and northern pike at Cranberry Lake in New York.
Primary fish species residing in Cranberry Lake
Click images for fishing tips and details about each species.
Cranberry Lake Amenities
Marina: NO
Boat Rental: YES
Boat Launch Ramp: YES
Campgrounds: YES
RV Hookups: YES
Lodging: YES
Convenience Store: YES
Bait & Tackle: YES
Restaurant: YES
Today's Weather & Forecast
Public Boat Launch Ramps & Landings
Cranberry Lake Boat Launch Ramp
Located in the northwest section of the lake, off Columbian Road, this is a one-lane, concrete ramp with a dock and gravel parking.
Click here for a New York Fishing License.
Campgrounds & RV Parks Nearby
Cranberry Lake Campground - 315 848-2315
Cranberry Lake NY Map - Fishing & Camping Areas
Lake Video
Contact Information
Cranberry Lake
Cranberry Lake Campground
230 Lone Pine Rd
Cranberry Lake, NY 12927
315 848-2315
Fishing lakes in each state.
Cranberry Lake in NY
NEW YORK


Fishing for brown trout and smallmouth bass in north-central NY.
Cranberry Lake, in New York.