Fishing At Cowanesque Lake
AKA: Cowanesque Reservoir
What to fish for...
Guide to fishing for largemouth bass, smallmouth bass, channel catfish, black crappie, white crappie, bluegill, pumpkinseed sunfish, yellow perch and tiger muskie at Cowanesque Lake in Pennsylvania.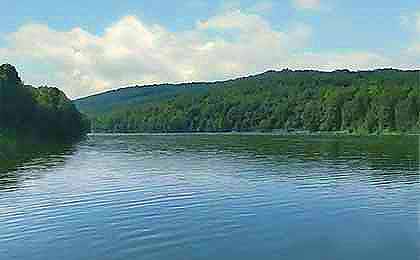 With 17 miles of shoreline at Cowanesque Lake, there is plenty of room for anglers to wet a line. And, with 1,085 surface acres there is plenty of room for boating of all kinds. Whether you prefer a canoe, kayak, bass boat, pontoon or any other fishing boat, you'll have access to a variety of fish species.Bass, perch, crappie, catfish, sunfish and tiger muskie roam these waters. Much of the shoreline is accessible for bank fishing, especially if you don't mind a short walk from the roadways.
The purpose of this page is to deliver an overview of this lake, the fishing options, and area amenities. Our goal is to provide info to first time visitors, as well as beginner and novice anglers. We gathered details from personal experience, numerous trusted websites, and videos of fishing activity on the lake. These websites include the Pennsylvania Fish and Boat Commission, marinas at the lake, campgrounds, boat rental agencies and others. By consolidating this information to one page it allows visitors to see the entire picture, all in one place.
Nestled in the picturesque hills of Tioga County, Pennsylvania, Cowanesque Lake is a hidden gem for fishing enthusiasts. Spanning over 1,085 acres, this serene reservoir offers excellent fishing opportunities for a variety of species. Anglers flock to Cowanesque Lake to target popular fish such as largemouth bass, smallmouth bass, northern pike, walleye, and panfish like crappie and bluegill. The lake's diverse structure, including submerged vegetation, rocky points, and deep channels, provides an ideal habitat for these species, ensuring an exciting and rewarding fishing experience.
Boating enthusiasts will also find plenty to enjoy at Cowanesque Lake. With its expansive waters and multiple boat launches, the lake offers ample space for sailing, powerboating, kayaking, and canoeing. Boaters can cruise along the calm waters, explore the lake's hidden coves, or even try their hand at water skiing and tubing. The scenic beauty surrounding the lake enhances the boating experience, creating a tranquil setting for leisurely rides or adventurous water sports.
Camping is a popular activity at Cowanesque Lake, allowing visitors to fully immerse themselves in the natural beauty of the area. The lake offers several camping options, including both tent and RV sites, as well as primitive camping areas. Whether one prefers a waterfront campsite or a more secluded spot in the woods, there are accommodations available to suit different preferences. Camping at Cowanesque Lake allows visitors to wake up to the sounds of nature, enjoy peaceful strolls along the shoreline, and marvel at the starry night sky.
As visitors explore the lake and its surroundings, they can appreciate the scenic landscapes that envelop Cowanesque Lake. The rolling hills, lush forests, and the sparkling blue waters create a serene backdrop for outdoor activities. Nature enthusiasts can also explore the nearby Cowanesque River and its surrounding trails, offering opportunities for hiking, birdwatching, and wildlife observation. Whether fishing, boating, or camping, visitors to Cowanesque Lake can revel in the tranquility and natural splendor of this hidden gem in Pennsylvania.
Cowanesque Lake, with its abundant fish species, boating opportunities, and camping facilities, offers a peaceful retreat for outdoor enthusiasts. Whether one seeks an exciting fishing excursion, a leisurely boating adventure, or a quiet camping getaway, Cowanesque Lake provides an idyllic setting to connect with nature and create lasting memories.

Primary fish species residing in Cowanesque Lake
Click images for fishing tips and details about each species.
Cowanesque Lake Amenities
Marina: NO
Boat Rental: NO
Boat Launch Ramp: YES
Campgrounds: YES
RV Hookups: YES
Lodging: YES
Convenience Store: NEARBY
Bait & Tackle: NO
Restaurant: NEARBY
Today's Weather & Forecast
Public Boat Launch Ramps & Landings
South Shore Boat Ramp #1 & #2
These are two-lane, concrete ramps with docks and lots of paved parking. It is located mid lake in the south side of the lake.
Tompkins Campground Boat Ramp
Located mid lake on the north side of the lake, this is a two-lane, concrete ramp with paved parking for about twenty vehicles with trailers.
Click here for a Pennsylvania Fishing License.
Campgrounds & RV Parks Nearby
Tompkins Campground Boat Ramp - 570 835-5281
Cowanesque Lake PA Map - Fishing & Camping Areas
Lake Video
Contact Information
Cowanesque Lake
Tompkins Campground
Bliss Rd
Lawrenceville, PA 16929
570 827-2109
Fishing lakes in each state.
Cowanesque Lake in Pennsylvania.
PENNSYLVANIA


Bass, catfish and muskie fishing in north-central PA
Fishing at Cowanesque Lake, in Pennsylvania.