Fishing At Pinchot Lake
AKA: Pinchot Reservoir
What to fish for...
Guide to fishing for largemouth bass, channel catfish, black crappie, walleye, bluegill, yellow perch, hybrid striped bass and muskie at Pinchot Lake in Pennsylvania.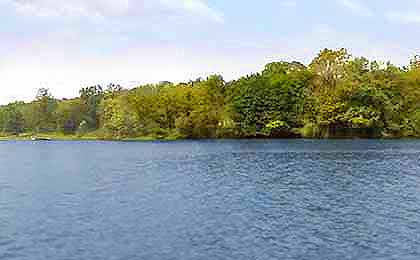 Situated half way between York and Harrisburg, Pinchot Lake is a 340-acre fishing lake with a mixed bag of fish species. Anglers who frequent the lake tend to favor targeting bass and stripers. However, crappie, muskie, perch, sunfish, walleye and catfish also roam these waters. The lake is open to sail boats and pleasure boats, as well as all types of fishing boats - including bass boats, canoes, kayaks, pontoons and others.
Pinchot Lake, situated within Gifford Pinchot State Park in Pennsylvania, is a paradise for fishing enthusiasts seeking an enjoyable angling experience. Spanning over 340 acres, this scenic lake offers excellent fishing opportunities for a variety of species. Anglers are drawn to Pinchot Lake to target popular fish such as largemouth bass, smallmouth bass, walleye, muskie, catfish, and panfish like crappie and bluegill. The lake's diverse underwater structure, including submerged vegetation, rock piles, and drop-offs, provides a thriving habitat for these species, ensuring an exciting and rewarding fishing adventure.
Boating is a popular activity on Pinchot Lake, providing visitors with the opportunity to explore its serene waters and access prime fishing spots. The lake allows for electric-powered boats, creating a peaceful and environmentally-friendly boating experience. Boaters can bring their own canoes, kayaks, or sailboats to enjoy a leisurely paddle across the lake. Additionally, there are boat rentals available at the marina for those looking to explore the lake further. Whether fishing, paddling, or simply enjoying a scenic boat ride, Pinchot Lake offers a tranquil setting to unwind and connect with nature.
Camping options are available within Gifford Pinchot State Park, allowing visitors to extend their stay and fully immerse themselves in the beauty of the area. The park offers both tent and RV camping sites, as well as cabins for those seeking more comfortable accommodations. Camping at Pinchot Lake enables visitors to wake up to the sounds of nature, enjoy lakeside activities, and relish the peaceful ambiance of the park.
As visitors explore Pinchot Lake and its surrounding state park, they can appreciate the natural beauty that envelops the area. The park features rolling hills, wooded areas, and the glistening waters of the lake, providing a picturesque backdrop for outdoor adventures. Nature enthusiasts can take advantage of the park's hiking trails, observe wildlife, or simply relax by the lakeshore and soak in the tranquility of the surroundings.
Pinchot Lake, with its diverse fish species, boating opportunities, and camping amenities, offers a wonderful destination for outdoor enthusiasts in Pennsylvania. Whether one seeks a rewarding fishing experience, a leisurely boating adventure, or a peaceful camping getaway, Pinchot Lake and Gifford Pinchot State Park provide an ideal setting to connect with nature and enjoy the serenity of this picturesque destination.

Primary fish species residing in Pinchot Lake
Click images for fishing tips and details about each species.
Pinchot Lake Amenities
Marina: NO
Boat Rental: YES
Boat Launch Ramp: THREE
Campgrounds: YES
RV Hookups: YES
Lodging: NEARBY
Convenience Store: NO
Bait & Tackle: YES
Restaurant: NEARBY
Today's Weather & Forecast
Public Boat Launch Ramps & Landings
Boat Mooring No. 1
Located just west of the Rosstown Road bridge, in the southwest corner of the lake, this is a single-lane, gravel ramp with docks and limited parking.
Boat Ramp
Located in the Gifford Pinchot State Park Campground, in the southeast corner of the lake, this is a single-lane, gravel ramp with a dock and limited, gravel parking.
Gifford Pinchot Boat Mooring No. 3
Located on the northeast sector of the lake, this is a single-lane, gravel ramp with docks and limited parking.
Public Boat Launch
Located in the northwest corner of the lake, this is a four-lane, concrete ramp with a dock and gravel parking.
Click here for a Pennsylvania Fishing License.
Campgrounds & RV Parks Nearby
Gifford Pinchot State Park Campground - 717 292-4112
Quaker Race Campground - 717 432-1181
Pinchot Lake PA Map - Fishing & Camping Areas
Lake Video
Contact Information
Pinchot Lake
Gifford Pinchot State Park
800 E Camping Area Rd
Wellsville, PA 17365
717 292-4112
Fishing lakes in each state.
Pinchot Lake in Pennsylvania.
PENNSYLVANIA


Striped bass, walleye, muskie and catfish fishing in south-central PA.
Fishing at Pinchot Lake, in Pennsylvania.