Pennsylvania Crappie Fishing
All about fishing for black and white crappie.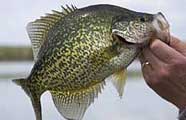 Crappie are actually a member of the sunfish family and can be found in many Pennsylvania lakes. Crappie are known by many different local names. Paper mouth, goggleye, bridge perch, slabs and speckled perch, are just a few.
Crappie Waters In PA
Crappie tend to appear in most waters that stay warm enough for them. PA has it share of ponds, rivers and small lakes containing crappie. The major lakes with healthy schools of crappie include Blue Marsh Lake, Cross Creek Lake, East Branch Lake, Foster Joseph Sayers Lake, Glendale Lake, Green Lick Reservoir, Hammond Lake, High Point Lake, Kahle Lake, Keystone Lake, Lake Arthur, Lake Ontelaunee, Marsh Creek Lake, Octoraro Lake, Pymatuning Lake, Raystown Lake, Shawnee Lake, Shenango River Lake, Stevens Lake, Tamarack Lake and Yellow Creek Lake.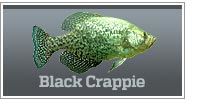 World record: 6 lbs 0 oz
State Record: Unknown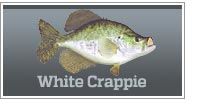 World record: 5 lbs 3 oz
State Record: 4 lbs 3 oz
Click the images and links above for species details.
The state record white crappie was caught out of Hammond Lake.
Crappie Fishing Basics
Check out crappie information, by state.
The life cycle of crappie.
The more you know about crappie, the easier it will be to locate and catch them in Pennsylvania lakes and rivers. Visit the crappie fishing page for details about their seasonal migrations.
PENNSYLVANIA