Fishing At Proctor Lake
AKA: Proctor Reservoir
What to fish for...
Guide to fishing for largemouth bass, channel catfish, flathead catfish, blue catfish, black crappie, white crappie, bluegill, longear sunfish, white bass, hybrid striped bass and spotted gar at Proctor Lake in Central Texas.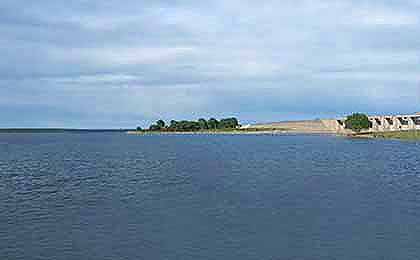 Considered a recreation paradise, Proctor Lake is a 4,500-acre lake in the central part of Texas. The 38 miles of shoreline offer anglers options for catching the many species of fish which reside here. Bass, catfish, crappie, sunfish, white bass, hybrid stripers and gar are scattered throughout the lake.
Proctor Lake, situated in Central Texas, is a hidden gem for fishing enthusiasts seeking a memorable angling experience. The lake offers excellent fishing opportunities, attracting anglers of all levels. Largemouth bass is the prized target for many fishermen at Proctor Lake. With its submerged structure, rocky points, and brush piles, the lake provides an ideal habitat for bass, making it a favored spot for bass fishing enthusiasts. Anglers can also target other popular species such as catfish, crappie, and sunfish, ensuring a diverse and exciting fishing adventure.
Boating is a favored activity on Proctor Lake, as the lake's calm waters and scenic surroundings make it an ideal setting for water-based fun. Whether it's leisurely cruising, water skiing, or fishing from a boat, there is ample space for boaters to indulge in their favorite activities. Proctor Lake features boat ramps, ensuring easy access for boating enthusiasts. The serene ambiance and picturesque landscapes of the lake create a delightful environment for boating adventures.
Camping is a popular pastime at Proctor Lake, offering visitors the opportunity to immerse themselves in the natural beauty of the area and enjoy a peaceful retreat. The lake provides several campgrounds, accommodating both tent and RV campers. Campers can relax amidst the serene ambiance, enjoy nature walks, and spend evenings by campfires beneath the starry sky. Camping at Proctor Lake allows visitors to disconnect from the hustle and bustle of daily life and reconnect with the tranquility of the outdoors.
Proctor Lake offers a well-rounded recreational experience, combining exceptional fishing prospects, boating adventures, and camping facilities. Whether you're an avid angler, a boating enthusiast, or a nature lover seeking a tranquil escape, Proctor Lake provides a serene haven where you can connect with nature, indulge in outdoor activities, and create lasting memories amidst the beauty of Central Texas.
During spring and fall the majority of the fish are shallow, retreating to deeper water in summer and winter. Often the key to locating fish is in finding where the schools of baitfish are hanging out. Chances are the fish will be near the food supply. The upper end of the lake has cover in shallow water plus standing timber which draws crappie and other sunfish. Fishing from shore is open to anglers in much of the lake, particularly at campgrounds and parks. Boat launch ramps facilitate launching of all types of boats - from cruisers to pontoons and water sport vessels to fishing boats. Kayaks and canoes can be launched from many of the same areas where bank fishing opportunities exist. Area resources offer amenities, services and supplies to enhance camping, boating, sightseeing and fishing.
Primary fish species residing in Proctor Lake
Click images for fishing tips and details about each species.
Proctor Lake Amenities
Marina: NO
Boat Rental: NO
Boat Launch Ramp: YES
Campgrounds: YES
RV Hookups: YES
Lodging: NEARBY
Convenience Store: YES
Bait & Tackle: YES
Restaurant: YES
Today's Weather & Forecast
Public Boat Launch Ramps & Landings
Buffalo Springs Public Boat Ramp
Located mid lake, west side, off Reservation Road, this is a one-lane, gravel ramp with gravel parking.
Copperas Creek Boat Launch Ramp
Located mid lake, on the south side of the lake, off Highway 2861, this is a two-lane, concrete ramp with a dock and paved parking.
Copperas East Boat Ramp
Located in the northeast corner of the lake, off Recreational Road 6, this is a two-lane, concrete ramp with a dock and paved parking.
Foleys West Boat Ramp
Located in the northern section of the lake, east side, off Oak Drive, this is a two-lane, concrete ramp with a dock and paved parking.
Promontory North Boat Ramp
Located mid lake, west side, off E FM Road 2318, this is a two-lane, concrete ramp with a dock and paved parking.
Click here for a Texas Fishing License.
Campgrounds & RV Parks Nearby
Copperas Creek Campground - 254 879-2498
Sowell Creek Campground - 254 879-2322
Comanche County RV Park - 254 893-7040
Little Star RV Park - 254 979-4642
Breezy Hill RV Park - 817 201-0096
Proctor Lake TX Map - Fishing & Camping Areas
View a contour map of Proctor Lake here.
Lake Video
Contact Information
Proctor Lake
Sowell Creek Park
2180 FM 2861
Comanche TX, 76442
254 879-2322
Fishing lakes in each state.
Proctor Lake in Central Texas.
Information about fishing lakes in Central Texas
Proctor Lake offers excellent bass, hybrid striped bass and crappie fishing in Central TX.
Fishing on Proctor Lake, in Texas.